Design Pickle

- "Quality design without the cost & complexity"
Company 5 of 5 in our list of the Top 5 Unlimited Illustration Companies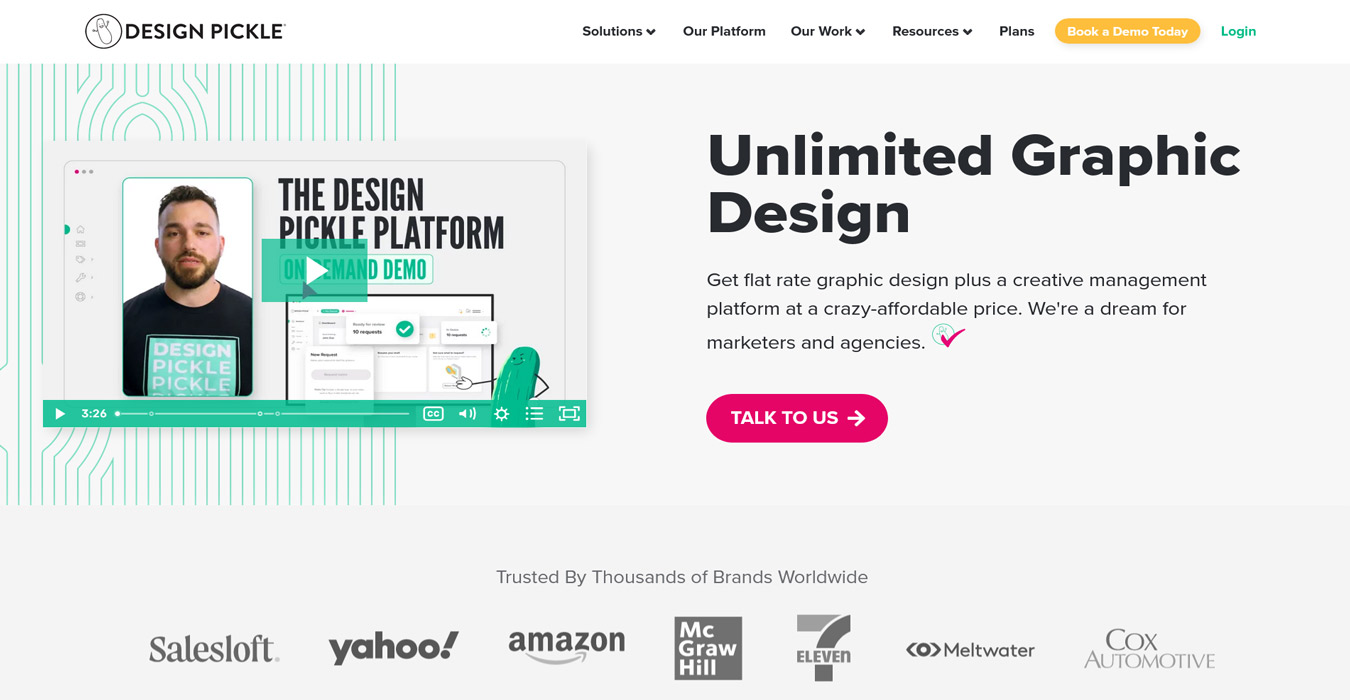 All About Design Pickle
Design Pickle is an unlimited graphic design service that offers premium design services to several brands, businesses, and industries across the spectrum. Their services can be pretty robust on the higher tiers, and they're known for the impressive array of graphics projects they can complete.
The Design Pickle Creative Process:
With Design Pickle, you'll get a dedicated team on the higher plans. That team will work on your projects and provide regular updates. On the starter plan, the system will assign your project to whoever is available to begin working on your projects at that time.

When requesting projects, Design Pickle offers an internal project management dashboard where you can request and oversee active, pending, and completed projects. They also use Zapier integrations to connect their platform to your favorite apps, including Google Drive, Trello, & Slack. Before you begin, you can request a demo, and they also provide an Onboarding Manager at the two higher tiers.

Once you've chosen a plan, you can start requesting projects right away. They'll work through your queue, and you'll have unlimited revisions to ensure the design meets your needs.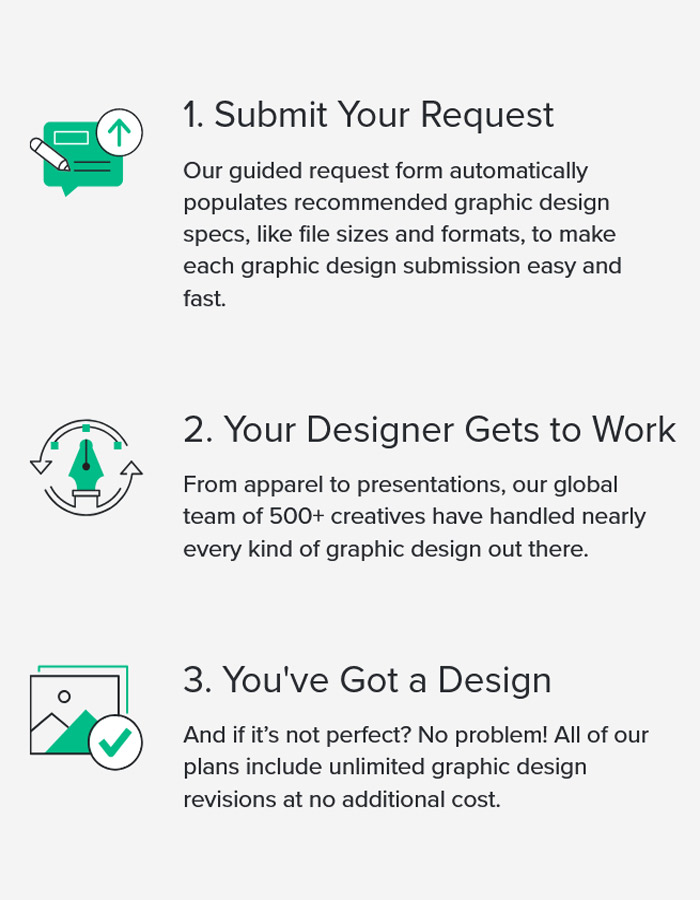 Reasons To Love Design Pickle:
Design Pickle's artists can handle several types of graphics, animations, and custom illustrations. What you can request depends on your plan.

Moreover, their easy-to-use platform allows you to manage your projects seamlessly and quickly get information and updates.
Communicating with your team on the upper tiers is also easier than on the lowest tier because you can use the Zapier integration to connect it to Slack.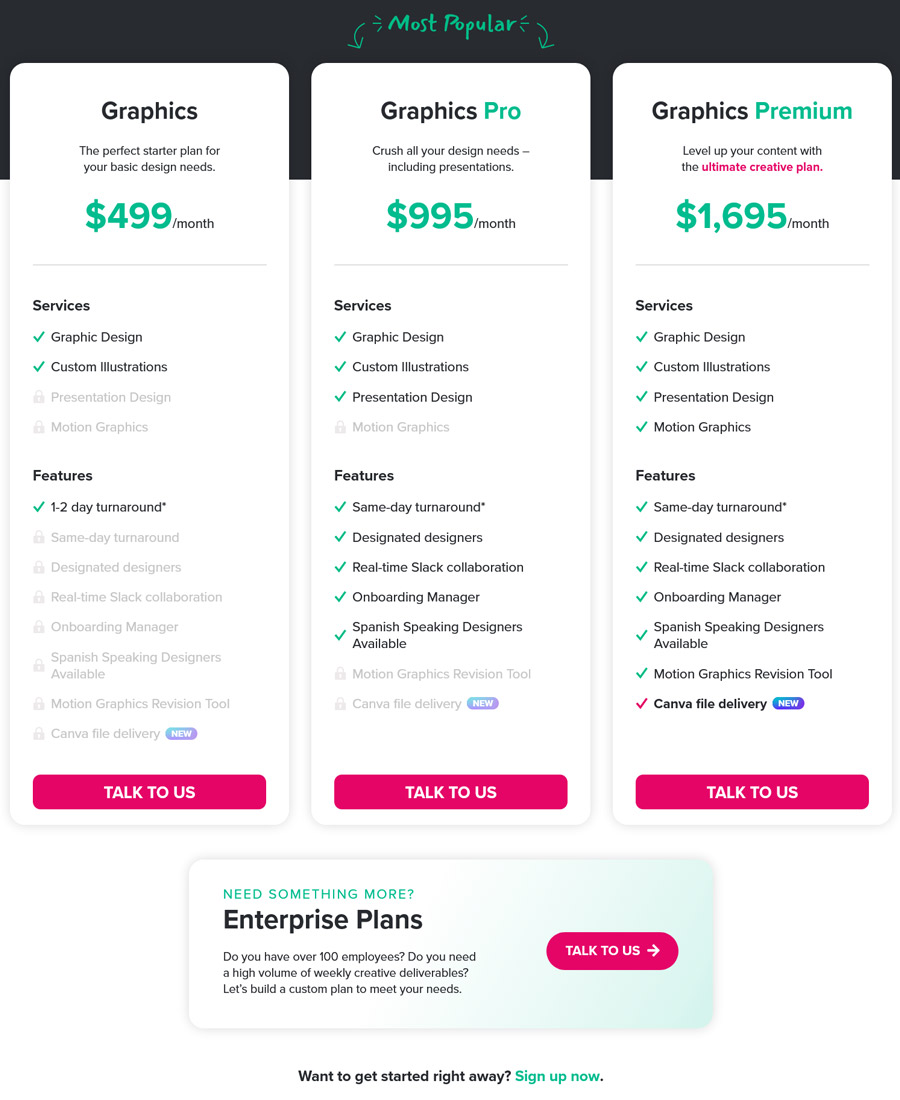 How Soon You'll See Results:
Design Pickle states that most projects come back to you in about 24 to 48 hours unless you have a more detailed request, including motion graphics. Also, Design Pickle offers same-day turnaround on the two higher tiers, and this feature still applies to simple designs.
Design Pickle Pricing and Package Options:
Design Pickle has three plans:

● Graphics- The Graphics Plan includes industry-standard graphic design and custom illustrations with a one to two-day turnaround time on standard projects.

● Graphics Pro- You'll get everything above, plus presentation design options. Additionally, you'll get same-day turnaround on simple designs, designated designers, Slack collaboration via the Zapier integration, an Onboarding Manager, and Spanish-speaking designers are available.

● Graphics Premium- You'll get everything from both the above plans, as well as motion graphics. You can also use a motion graphics revision tool and receive Canva files as well as standard file types.
Benefits of Using Design Pickle
● You can build a working relationship with your design team
● Communication is very accessible (particularly on the Pro plan and higher)
● Straightforward pricing
● Illustration is on the first plan
Why Design Pickle May Not Work For You
● Many design types, such as infographics, GIFs, and presentation decks, only come in the Pro plan or higher.
● They don't provide additional creative services such as video or copywriting.
● Unless you're on the Pro plan or higher, their turnaround time isn't any faster than the competition.
Browse other similar companies
Flocksy

- "Hire Your Perfect Creative Team."

For an all-in-one platform, including custom illustrations, that can handle all the assets and content for your marketing and promotion, look no further than Flocksy. They offer unlimited graphic design, custom illustrations, motion graphics, video editing, copywriting, web dev, and more. Flocksy pre-vets all its artists and offers some of the quickest turnaround times in the industry.
Kimp

- "Unlimited Graphic & Video Design. Flat Monthly Fees. Go Bananas."

Kimp was built to provide unlimited graphic design services and added video, as that became an even more critical part of a business's brand strategy. Their graphic design and video services are offered at a flat monthly rate with no contract so that you can cancel anytime. They also provide a graphics-only, video-only, or combo package base.
UnicornGo

- "Unlimited Graphics Design & Content Writing Service."

UnicornGO provides an unlimited graphic design subscription to help big and small businesses achieve their promotional and growth goals for a flat monthly rate. UnicornGO can help you to create business cards, logos, illustrations, web design, social media posts, and more.