Penji

- "Hiring a designer should be simple."
Company 3 of 5 in our list of the Top 5 Unlimited Illustration Companies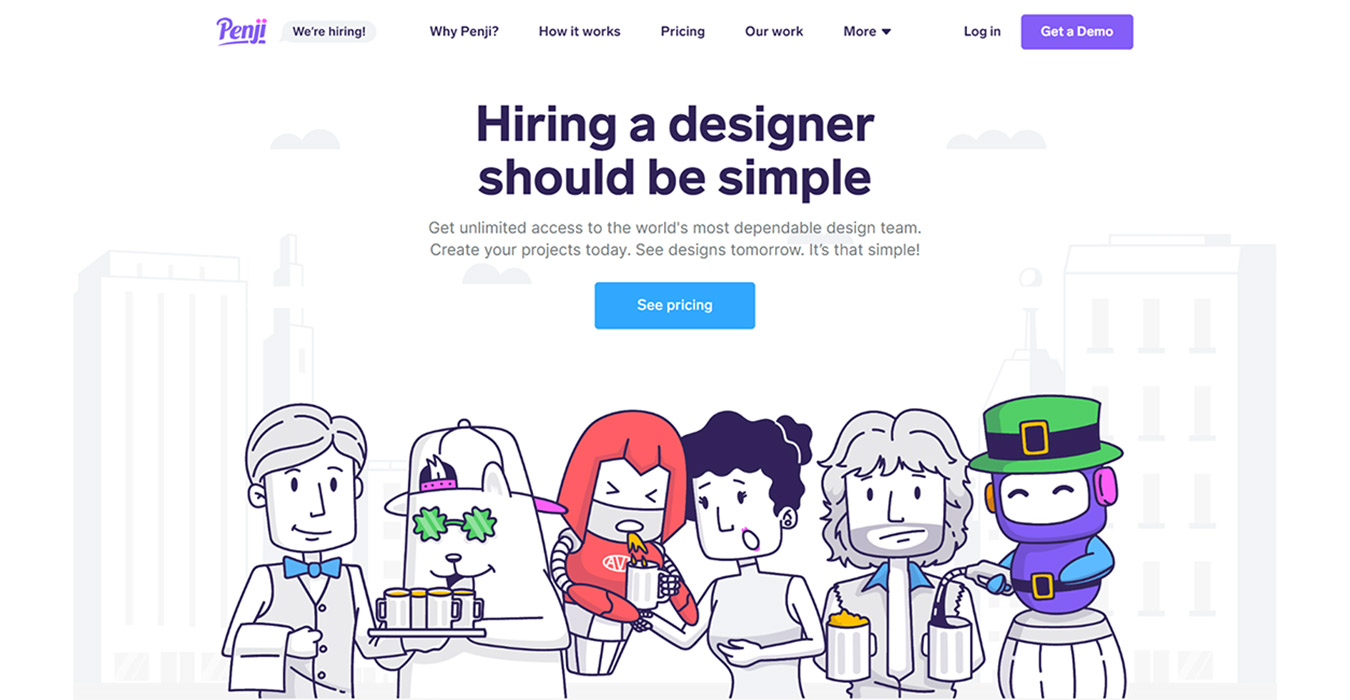 All About Penji
Penji is a subscription-based service for graphic design. Penji was built by entrepreneurs for entrepreneurs and was started as a way to provide smaller businesses and solopreneurs the chance to compete with the big businesses out there.
The Penji Creative Process:
Penji's dashboard is very straightforward and allows you to oversee all your projects from their online portal. To submit new projects on Penji, all you have to do is select the "Create new project" option. Then you can select the right one from several options. If you want to create a custom project, the custom button will allow you to fill in unique design details about what you need.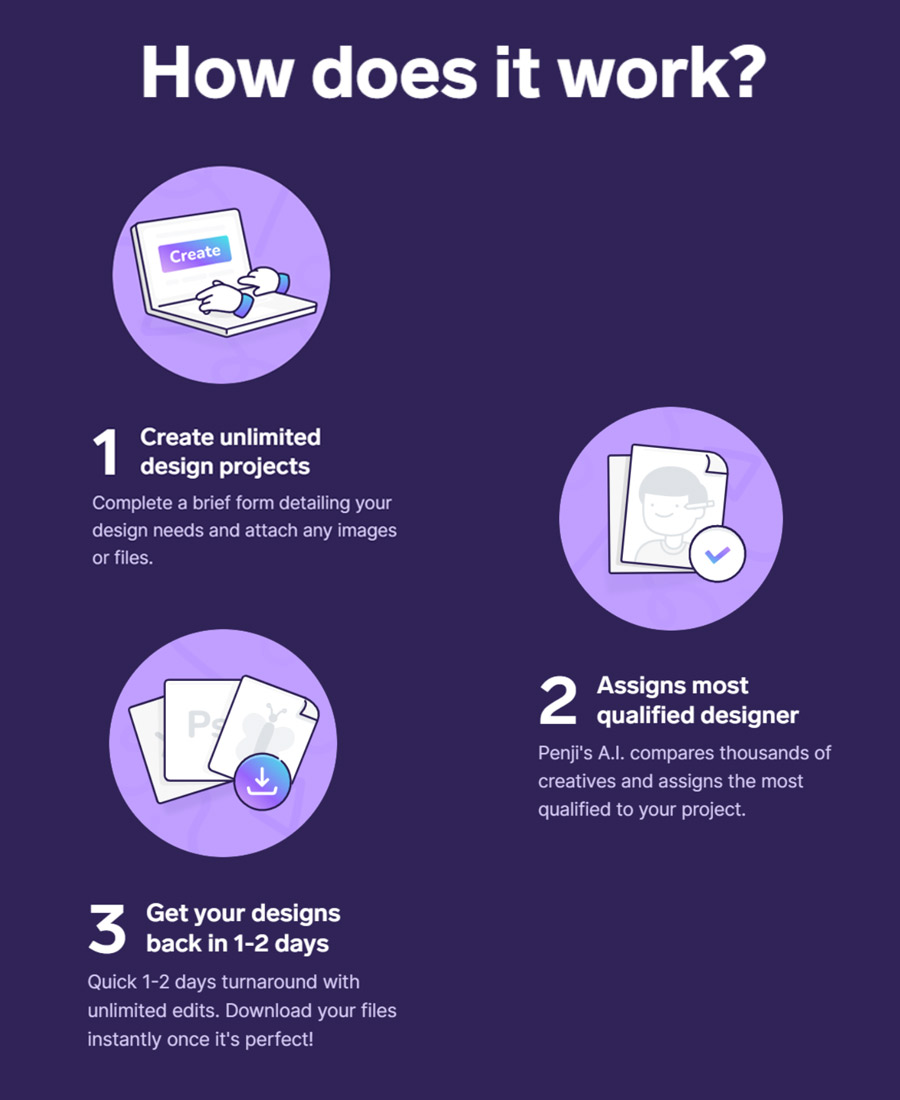 Is Penji Right For You?
Penji's simple portal makes managing your open requests very easy. You can see all your status updates and keep your brand guidelines in the image library within the dashboard. This makes it easy to find all the necessary information about a particular project when you're creating requests for several different brands. Because of this feature, Penji is a good choice for startups, multi-brand companies, or agencies.
Reasons To Love Penji:
When you're onboarding with Penji, you can start by choosing the right plan and filling out the account form.

From there, you're just a few clicks away from creating projects on their dashboard. Plus, you can schedule a demo if you need someone to walk you through it.
Penji's onboarding is built for companies and allows you to pick 10 team members and add them to their design platform. This feature is handy and helps streamline operations.

Additionally, on the Penji dashboard, you can monitor the projects and communicate with your assigned designer without having to leave the app. You'll get unlimited requests and revisions monitored on the dashboard or via email alerts for various account actions. You can also turn these off.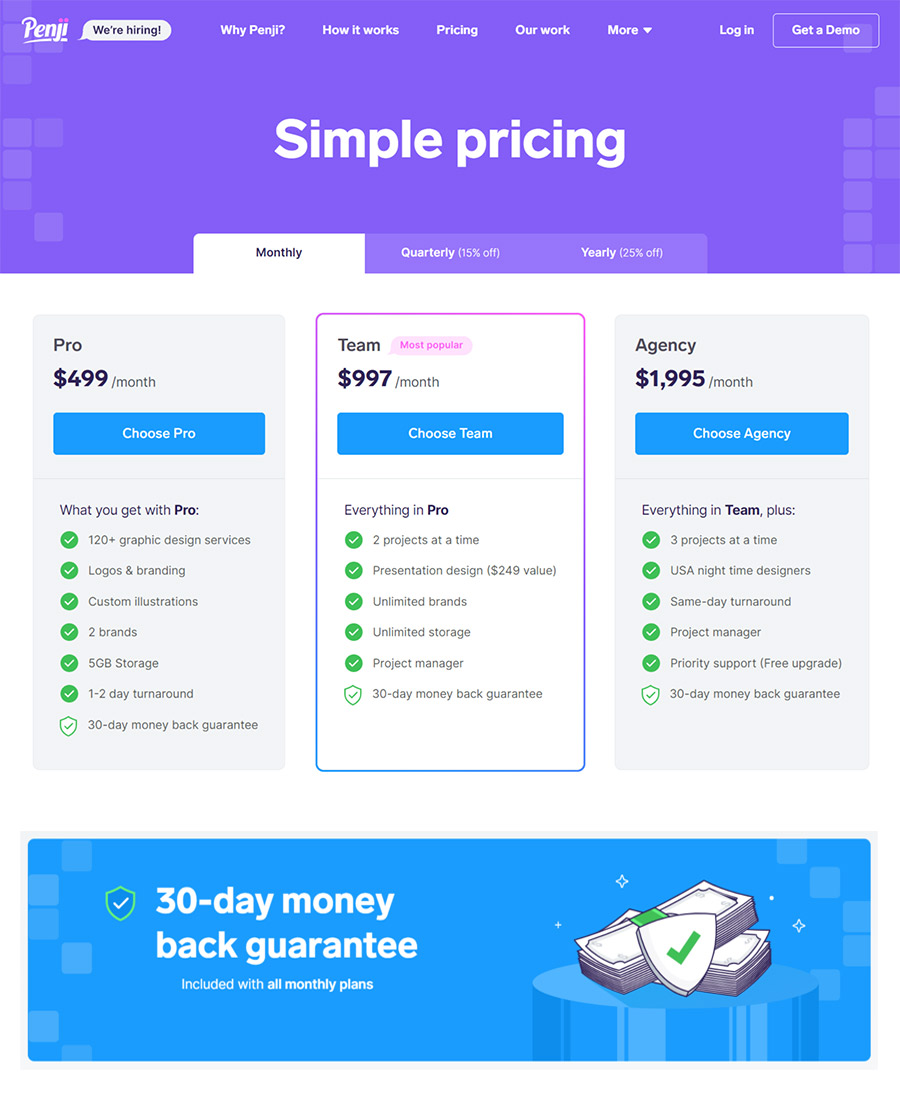 How Soon You'll See Results:
Penji's design team promises the first drafts back on simple designs after 24 hours. However, more complex designs may take about 48 hours.
Penji Pricing And Package Options:
Penji's packages:

● Pro Plan- $499 a month gets you one assigned designer, unlimited users, logos & branding, unlimited graphic designs, unlimited revisions, unlimited brands, free photos & stock assets, and source files for every download.

● Team Plan- $699 a month gets you everything above, as well as Web & App Design, Custom illustrations, Infographics, Animated GIFS, and Presentations & Google Slides.

● Agency Plan- $999 a month includes everything in the above plans, but you'll have two designers and prioritized support.
Benefits Of Using Penji
● Several graphic design services
● Built-in dashboard
● Unlimited revisions and brands
● Free stock photos and included source files
Why Penji May Not Work For You
● Illustration is only available on the second-highest plan and up
● More complex designs, like illustrations, take more than the 24 hours
Browse other similar companies
Flocksy

- "Hire Your Perfect Creative Team."

For an all-in-one platform, including custom illustrations, that can handle all the assets and content for your marketing and promotion, look no further than Flocksy. They offer unlimited graphic design, custom illustrations, motion graphics, video editing, copywriting, web dev, and more. Flocksy pre-vets all its artists and offers some of the quickest turnaround times in the industry.
Kimp

- "Unlimited Graphic & Video Design. Flat Monthly Fees. Go Bananas."

Kimp was built to provide unlimited graphic design services and added video, as that became an even more critical part of a business's brand strategy. Their graphic design and video services are offered at a flat monthly rate with no contract so that you can cancel anytime. They also provide a graphics-only, video-only, or combo package base.
UnicornGo

- "Unlimited Graphics Design & Content Writing Service."

UnicornGO provides an unlimited graphic design subscription to help big and small businesses achieve their promotional and growth goals for a flat monthly rate. UnicornGO can help you to create business cards, logos, illustrations, web design, social media posts, and more.
Design Pickle

- "Quality design without the cost & complexity"

Design Pickle is an unlimited graphic design service that offers premium design services to several brands, businesses, and industries across the spectrum. Their services can be pretty robust on the higher tiers, and they're known for the impressive array of graphics projects they can complete.