UnicornGo

- "Unlimited Graphics Design & Content Writing Service."
Company 4 of 5 in our list of the Top 5 Unlimited Illustration Companies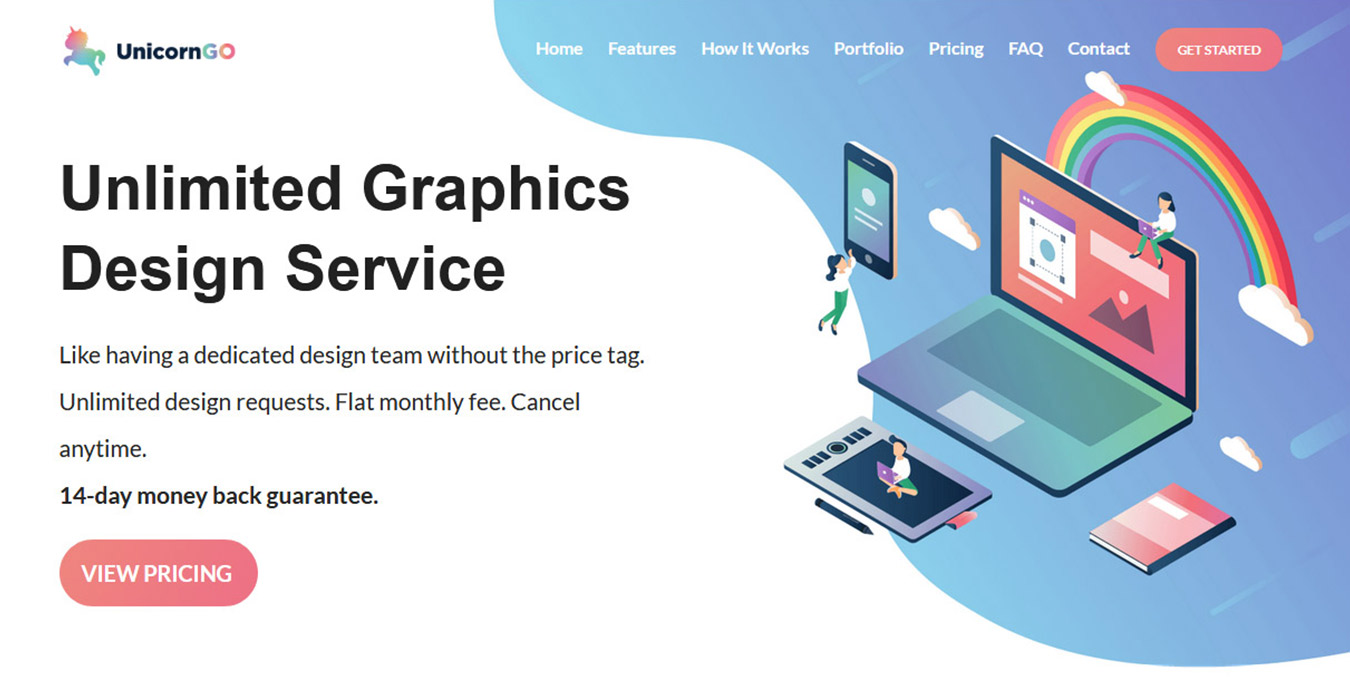 All About UnicornGo
UnicornGO provides an unlimited graphic design subscription to help big and small businesses achieve their promotional and growth goals for a flat monthly rate. UnicornGO can help you to create business cards, logos, illustrations, web design, social media posts, and more.
The UnicornGo Creative Process:
When you start out with UnicornGO, choosing the right plan comes first. Then, you can begin sending your design requests to the team. After you submit a request, a designer will be assigned, and you'll get a "time quote" on when to expect the returned design. The artists send back most designs within 24 hours, and the quote reflects the turnaround time on more complex creations that take longer. They also provide unlimited revisions, which take about one business day.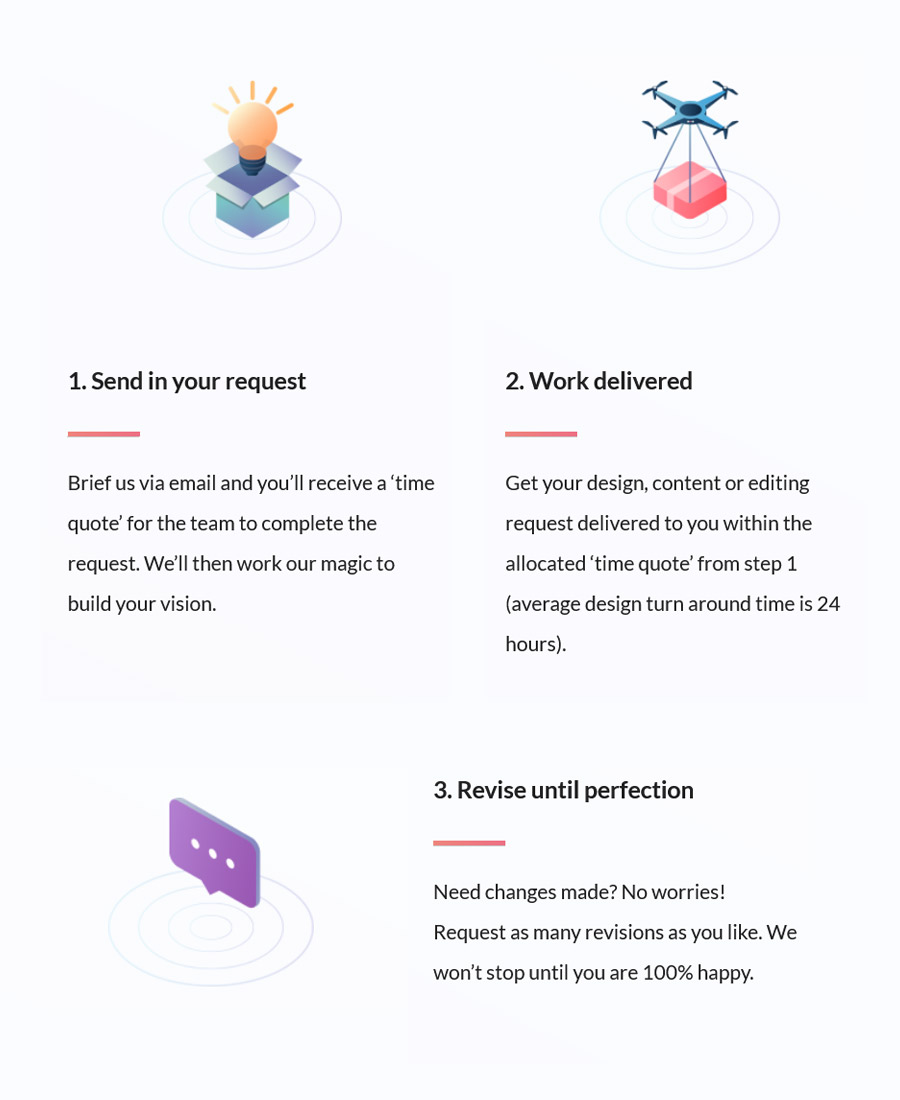 Reasons To Love UnicornGo:
The Australia-based company offers a fixed-fee design service you can scale to meet your specific needs.

You can get the illustrations and graphics you need without hiring a full-time artist or freelancer to handle them.
They'll put in the hours necessary on your designs each day, which means you can spend your time elsewhere and where you're most needed.

The founder is experienced with sales and marketing, so he has experience with the graphics needed for brand promotion. UnicornGO's team can use that knowledge to help achieve their clients' goals.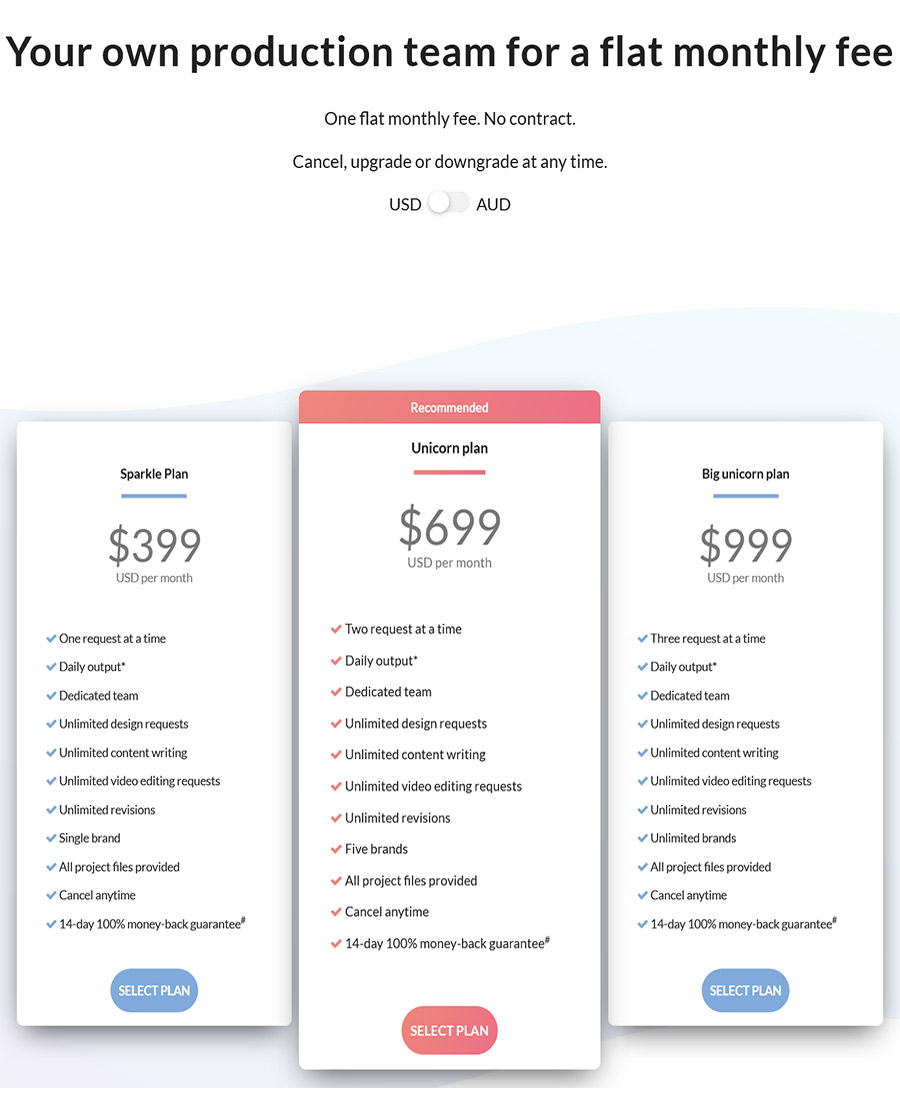 How Soon You'll See Results:
Most projects take between three and five business days. You can request express delivery for certain types of projects.
UnicornGo Pricing and Package Options:
UnicornGO offers three plans that include unlimited designs and revisions. The significant differences between the packages are the number of active projects and the number of brands you can have with each one.

On the Sparkle Plan, you get the following:
● One active request
● A single brand

On the Unicorn plan, users will receive the following:
● Two requests at a time
● Two brand profiles.

On the Big Unicorn plan, users get the following:
● Three requests at a time
● Unlimited brands.

The Sparkle plan is $399 per month, the Unicorn plan is $699 a month, and the Big Unicorn plan is $999 a month.

All plans are no-contract, offer the same 14-day money-back guarantee, and you can cancel at any time. UnicornGO also offers custom one-off job quotes, quotes for more extensive services, and more complex projects as well.

However, the estimated cost or time frame for these projects isn't listed and will be evaluated on a case-by-case basis. You will get an estimate when you formally request a quote from them.
Benefits of Using UnicornGo
● Unlimited requests & revisions
● Dedicated account manager & design team
● 14-day risk-free guarantee
● No contract. You can cancel at any time.
● Unlimited Express Delivery is available for a faster turnaround and an additional fee.
Why UnicornGo May Not Work For You
● UnicornGO works Monday to Friday in Australia, so weekend revisions are impossible.
● UnicornGO limits the number of active projects based on your package. The Sparkle Plan provides one project at a time that will take three to five days to come back to you, which seems especially slow. The Unicorn Plan allows two projects at a time, and the Big Unicorn allows three.
Browse other similar companies
Flocksy

- "Hire Your Perfect Creative Team."

For an all-in-one platform, including custom illustrations, that can handle all the assets and content for your marketing and promotion, look no further than Flocksy. They offer unlimited graphic design, custom illustrations, motion graphics, video editing, copywriting, web dev, and more. Flocksy pre-vets all its artists and offers some of the quickest turnaround times in the industry.
Kimp

- "Unlimited Graphic & Video Design. Flat Monthly Fees. Go Bananas."

Kimp was built to provide unlimited graphic design services and added video, as that became an even more critical part of a business's brand strategy. Their graphic design and video services are offered at a flat monthly rate with no contract so that you can cancel anytime. They also provide a graphics-only, video-only, or combo package base.
Design Pickle

- "Quality design without the cost & complexity"

Design Pickle is an unlimited graphic design service that offers premium design services to several brands, businesses, and industries across the spectrum. Their services can be pretty robust on the higher tiers, and they're known for the impressive array of graphics projects they can complete.