Flocksy

- "Hire Your Perfect Creative Team."
Company 1 of 5 in our list of the Top 5 Unlimited Illustration Companies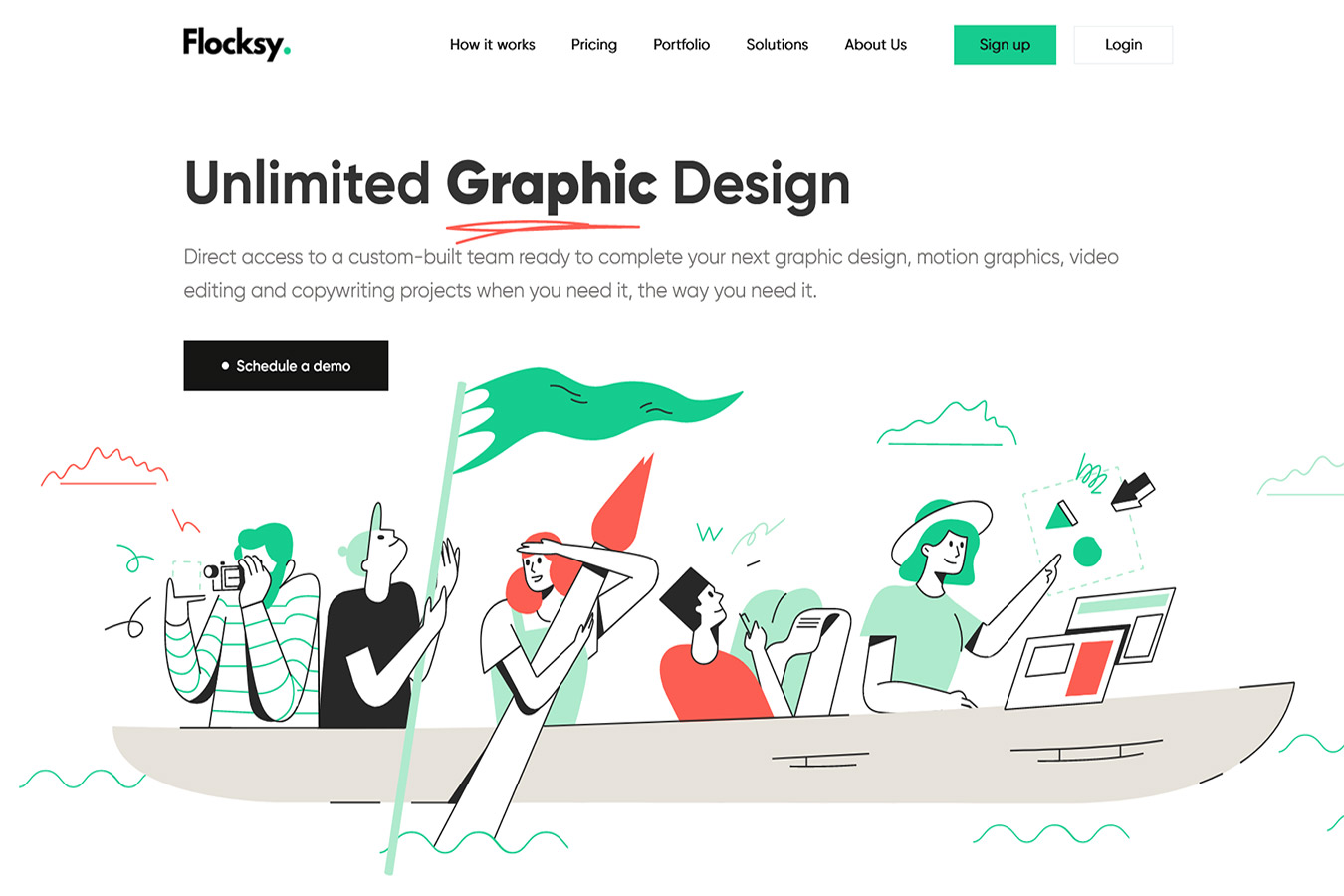 All About Flocksy
For an all-in-one platform, including custom illustrations, that can handle all the assets and content for your marketing and promotion, look no further than Flocksy. They offer unlimited graphic design, custom illustrations, motion graphics, video editing, copywriting, web dev, and more. Flocksy pre-vets all its artists and offers some of the quickest turnaround times in the industry. The team at Flocksy consists of some incredibly talented designers and artists, and they help you create the images you need to wow your audience and keep their attention.
The Flocksy Creative Process:
Signing up with Flocksy is easy. You'll first choose the appropriate plan for your needs on their website and create a login. From there, you can start requesting video projects, among several others. They work on a monthly subscription basis with a flat rate for unlimited services, and you can cancel anytime. Flocksy also offers a 14-day money-back guarantee.

When you start projects with Flocksy, their intuitive briefs make the project request process simple and guide you through it so that you know you give your illustrator everything they need to create your perfect mascot, avatar, or any brand illustration. You'll also get to cultivate a dedicated team of creatives that will get to know you and your brand for even better results.

Flocksy will assign your project to an artist, and you can message them right within their Message Center chat in both a general threat and one that's project specific. This is where you can go back and forth with questions, revisions, and feedback. You can also check the project timer here, which shows you when you can expect your first drafts back.

Better still, your dedicated project manager will help ensure your requests go smoothly and can provide guidance, address concerns, and help you manage your account.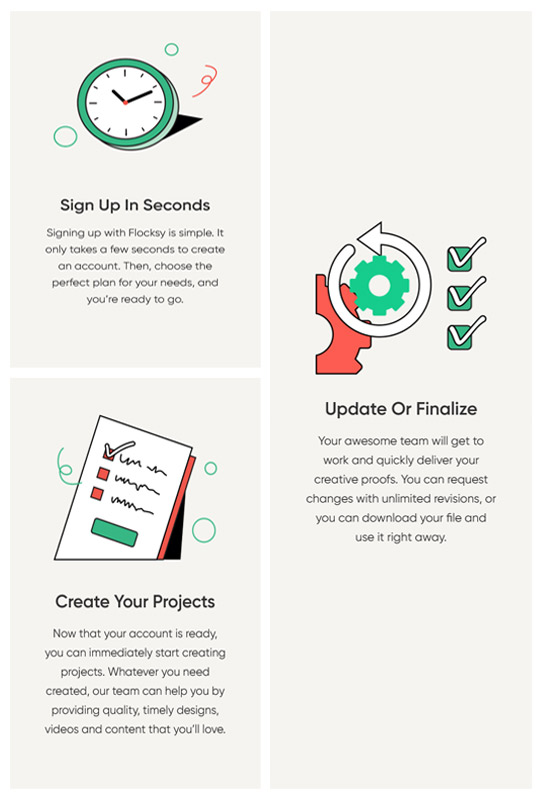 Is Flocksy Right For You?
Thanks to their impressive vetting procedures and expectation of quality, Flocksy creatives can deliver great work. These dedicated professionals work quickly and can incorporate your feedback and desires to create something beautiful. They offer unlimited projects and revisions with other desirable asset-creation services, including motion graphics and video. They are perfect for startups growing their content, more prominent companies with consistent content needs, and agencies looking to outsource some of their internal burdens. Whenever you need consistent graphics or creative services, Flocksy is an excellent choice.
Reasons To Love Flocksy:
With all their packages being no-contract and flat-rate, Flocksy provides great illustration services for an affordable monthly payment when combined with all their other services. .

You don't have to juggle service providers with different deadlines and quality. You'll know exactly when to expect your drafts and pay the same monthly fee for all of their services.

Instead of hiring an in-house team, paying for several subscriptions, or working with three or four separate freelancers for a much higher cost, you can work with an experienced team of illustrators who will help you create eye-catching, personalized images on your deadline.
And when you've found a favorite illustrator, inviting them back to your next project is easy. You can add them to your team and invite them back to all your projects with a single click. You can also grow your team so that you have a crew of creatives you can count on for great results. Thanks to the long-term relationships you build with your artists, you'll work with people who understand your brand, and you can learn about their unique strengths and style. This collaboration shortens turnarounds, lowers revisions, and creates the highest quality work.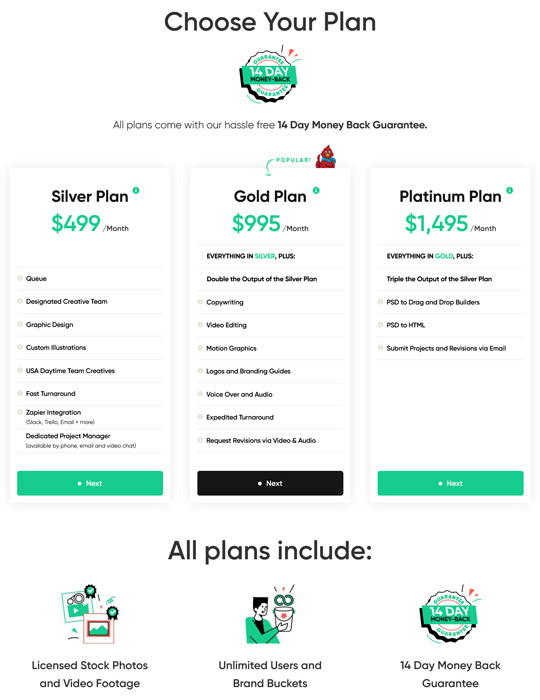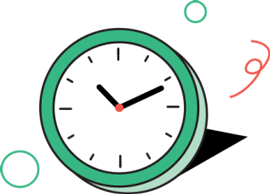 How Soon You'll See Results:
When you want fast, you want Flocksy. In about 24 to 48 hours, you'll get quality results for your video projects. Some shorter projects and many graphic design assets come back quicker, even under 12 hours.
Flocksy Pricing And Package Options:
Flocksy has three packages that offer different creative services. Here is the breakdown:

The Silver Plan:
● Unlimited graphic design
● Custom illustrations
● A designated Creative Team
● USA Daytime Team Creatives
● Turnaround of 24 to 48 hours
● Zapier integration (Slack, Trello, email, & more)
● A Dedicated Project Manager (communicate via phone, email, and video chat)

The Gold Plan:
● Everything in the Silver Plan
● Double the Output of the Silver Plan
● Expedited Turnaround
● Request Revisions via Video & Audio
● Copywriting
● Video Editing
● Motion Graphics
● Logos & Branding Guides
● Voice-Overs &Audio

The Platinum Plan:
● Everything in the Silver Plan
● Triple the Output of the Silver Plan
● Web Projects
● PSD/Figma/Sketch to Drag and Drop Builders
● PSD/Figma/Sketch to HTML

Plus, with every plan, you'll always get Unlimited Users and Brand Buckets, Licensed Stock Photos and Video Footage, and the 14-Day Money-Back Guarantee.
Benefits Of Using Flocksy
● 14-Day Money-Back Guarantee
● No Contracts
● Expert artists
● Additional content & design services like motion graphics & web development
● Zapier integration
● Excellent communication via Zapier, Loom video messaging, & Message Center
● Long-term relationships
● Lightning-fast
● Illustration is on the base plan
Why Flocksy May Not Work For You
● For animated illustrations, like motion graphics, you need to subscribe to one of the higher tiers.
Browse other similar companies
Kimp

- "Unlimited Graphic & Video Design. Flat Monthly Fees. Go Bananas."

Kimp was built to provide unlimited graphic design services and added video, as that became an even more critical part of a business's brand strategy. Their graphic design and video services are offered at a flat monthly rate with no contract so that you can cancel anytime. They also provide a graphics-only, video-only, or combo package base.
UnicornGo

- "Unlimited Graphics Design & Content Writing Service."

UnicornGO provides an unlimited graphic design subscription to help big and small businesses achieve their promotional and growth goals for a flat monthly rate. UnicornGO can help you to create business cards, logos, illustrations, web design, social media posts, and more.
Design Pickle

- "Quality design without the cost & complexity"

Design Pickle is an unlimited graphic design service that offers premium design services to several brands, businesses, and industries across the spectrum. Their services can be pretty robust on the higher tiers, and they're known for the impressive array of graphics projects they can complete.