UnicornGo

- "Unlimited Graphics Design & Content Writing Service."
Company 4 of 5 in our list of the Top 5 Unlimited Graphic Design Companies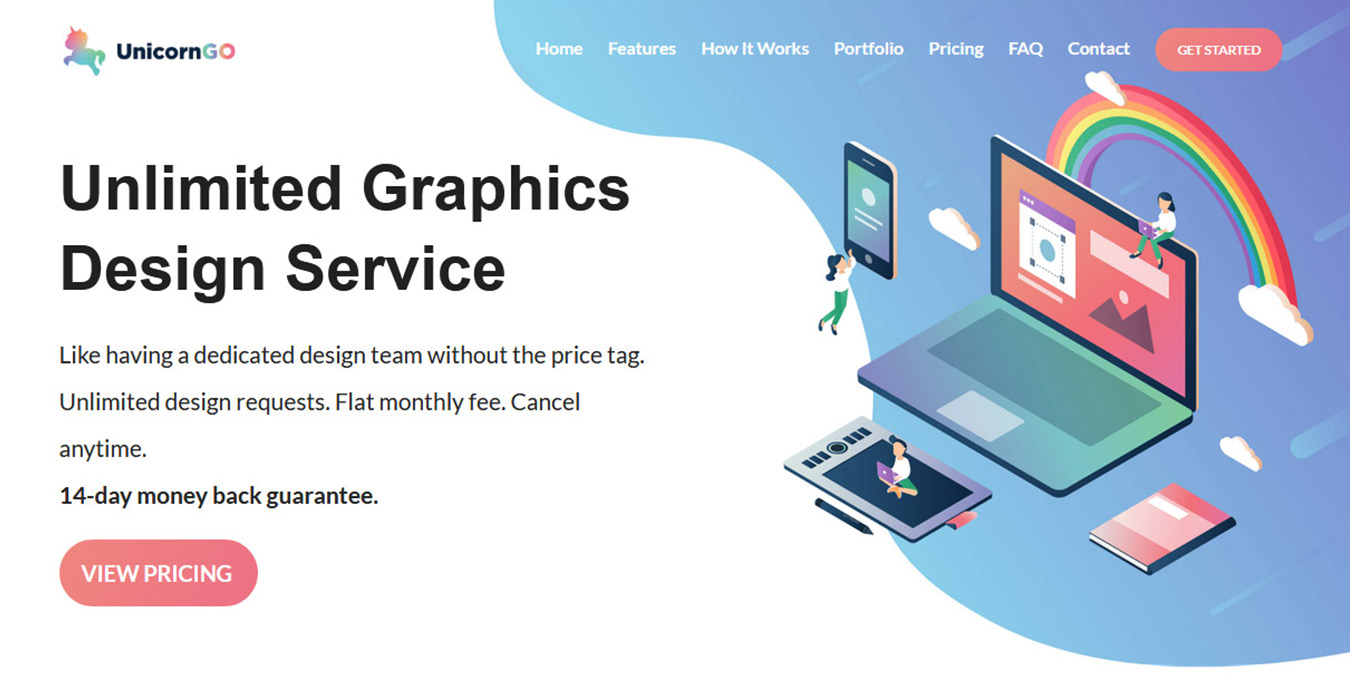 All About UnicornGo
UnicornGO provides an unlimited graphic design program to assist small and large businesses in achieving their marketing goals for a flat monthly fee. UnicornGO can help you to create business cards, logos, infographics, web design, social media posts, and more.
The UnicornGo Creative Process:
When you start out with UnicornGO, you'll first choose a plan and can then begin sending your design requests to their team. After you submit a request, they'll send you a "time quote" and start working on the design. The designers send back most designs within 24 hours, according to the site, and the quote reflects the turnaround time on more complex designs that will take longer. They also provide unlimited revisions to ensure you're happy with the asset.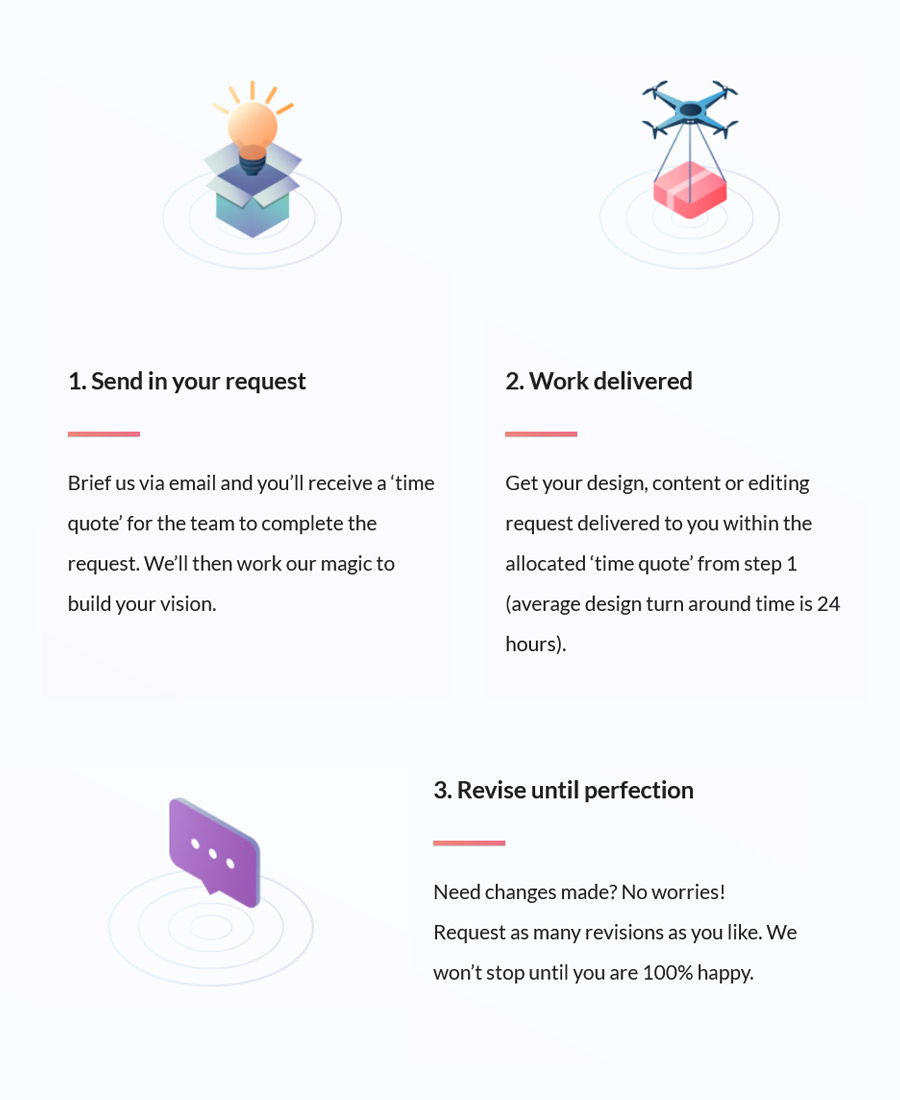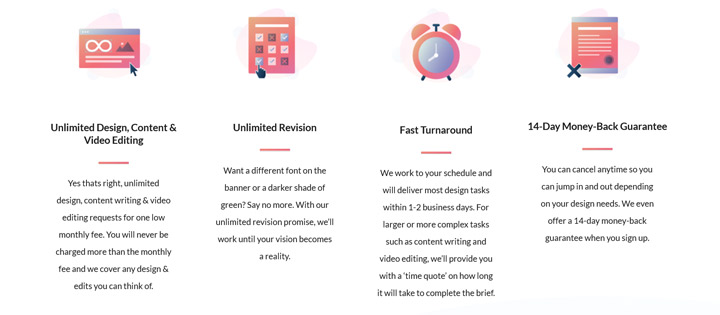 Reasons To Love UnicornGo:
The Australia-based company provides a fixed-fee design service that you can scale based on your needs. You can get the graphics work you need without hiring a full-time artist to handle it. They'll put in the hours necessary on your designs each day, freeing up your time for other operations. The founder is experienced with sales and marketing, so he understands the graphic needed for brand promotion, and the company can use that knowledge to help accomplish clients' goals.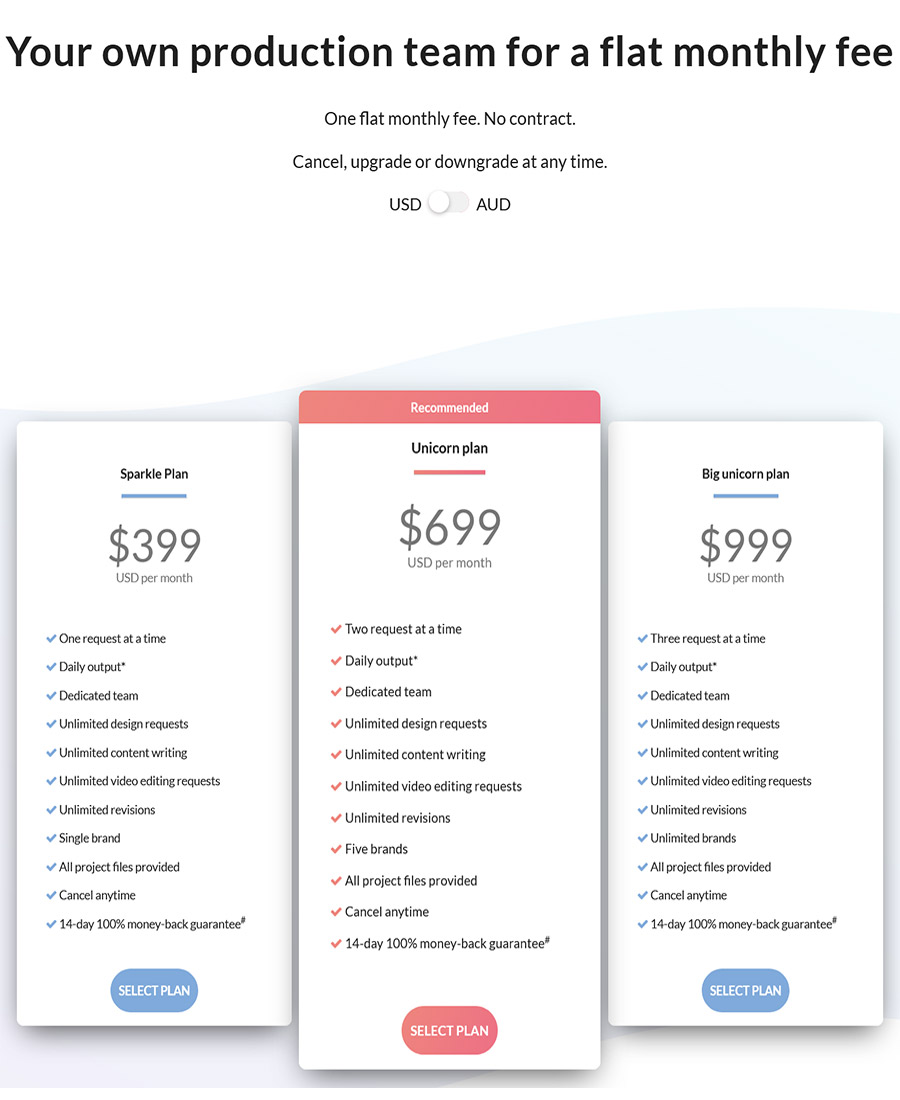 How Soon You'll See Results:
UnicornGO says that most work takes three to five business days to complete. Express delivery can be requested.
UnicornGo Pricing and Package Options:
UnicornGO offers three plans that include unlimited design creation and revisions. There is the Sparkle Plan, Unicorn Plan, and Big Unicorn plan. The major differences between them are the number of active projects and brands you can have with each one.

Users get one active request and a single brand on the Sparkle plan. On the Unicorn plan, users will receive two requests at a time and two brand profiles. Third, on the Big Unicorn plan, users get three requests at a time and unlimited brands.

The Sparkle plan is $399 per month, the Unicorn plan is $699 each month, and the Big Unicorn plan is $999 a month. All plans are no-contract, provide the same 14-day money-back guarantee, and you can cancel at any time.

UnicornGO offers custom one-off job quotes, quotes for larger services, and more complex projects as well. However, the estimated cost or time frame for these projects is unavailable on the site. You will see these when you formally request a quote from them.
Benefits of Using UnicornGo
● 14-day risk-free guarantee
● No contract. You can cancel at any time
● Unlimited requests and revisions
● Dedicated account manager & design team
● Unlimited Express Delivery is available for a faster turnaround for an additional fee
Why UnicornGo May Not Work For You
● The design team at UnicornGO works Monday to Friday in Australia, so weekend revisions are impossible.
● UnicornGO limits the number of projects you can submit based on your package. The Sparkle Plan only provides one project at a time that will take three to five days to come back to you for review. The Unicorn Plan allows two projects at a time, and the Big Unicorn allows three.
Browse other similar companies
Flocksy

- "Unlimited Graphic Design, Video Editing, and Copywriting Best for All-in-One Creative Service Platform"

Flocksy is a US-based company that offers nearly every creative service you need. They work with companies and brands of every shape and size, including small businesses, entrepreneurs, and agencies. Flocksy provides on-demand creative services, too. You'll get unlimited graphic design, copywriting, video editing, and much more.
Delesign

- "Unlimited Custom Graphic Design, Motion Graphics, and More."

Delesign is a subscription service that provides unlimited custom graphic design, motion graphics, and more. When you sign up, you're matched with a dedicated designer who they believe will be a good fit for your brand. The company also offers two a la carte web development and writing options for an additional monthly fee.
Hero Design

- "Unlimited Creative Solution Made For Digital Agencies."

Hero Design is a graphic design services firm that creates creative assets for your products and brand. They focus on graphic design and video, with motion graphics, web design, and animation in the higher tiers. Hero Design specializes in merchandise and product design assets, including eCommerce Graphics, Banners & Social Media Content, Print & Marketing Collaterals, and Product Mockups & Packaging.