Flocksy

- "Unlimited Graphic Design, Video Editing, and Copywriting Best for All-in-One Creative Service Platform"
Company 1 of 5 in our list of the Top 5 Unlimited Graphic Design Companies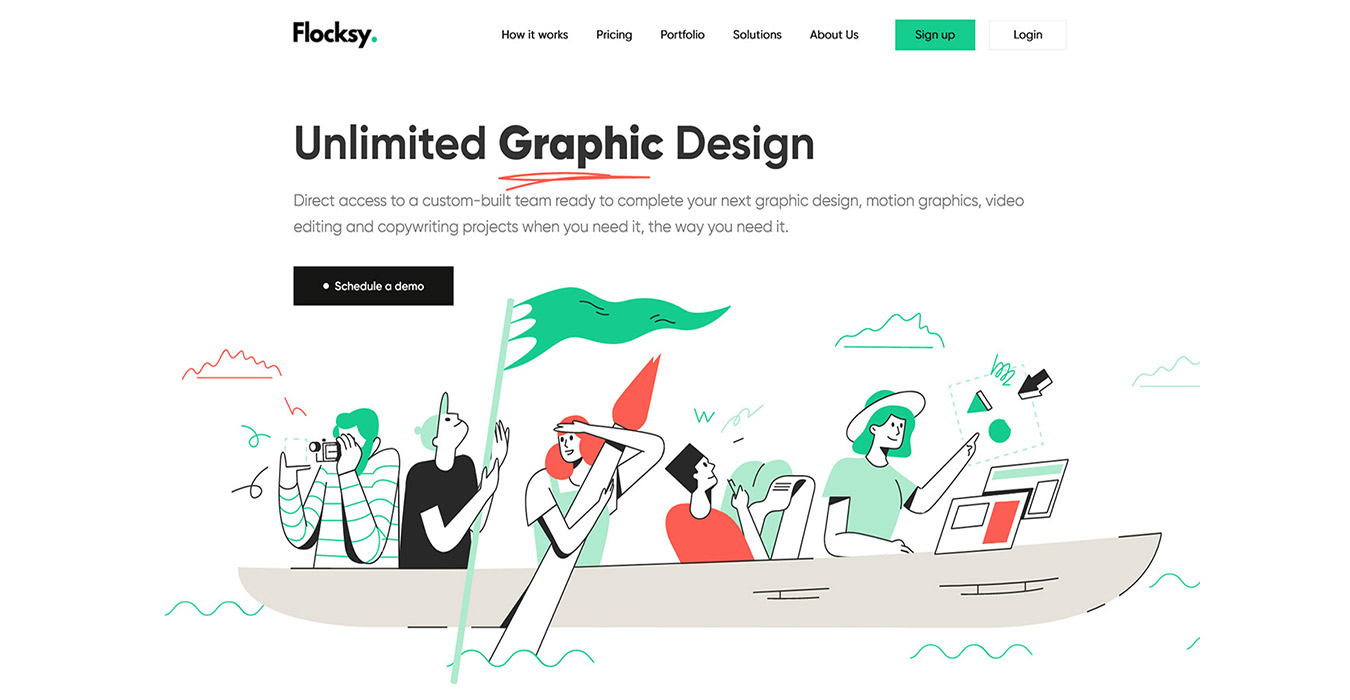 All About Flocksy
Flocksy is a US-based company that offers nearly every creative service you need. They work with companies and brands of every shape and size, including small businesses, entrepreneurs, and agencies.

Flocksy provides on-demand creative services, too. You'll get unlimited graphic design, copywriting, video editing, and much more. For a flat monthly fee, you'll get not only graphic designs but also additional services like web development, voice-overs, and motion graphics. You can even find website design, app design, custom illustrations, and logos. It's a fantastic one-stop shop for all your brand's creative needs.

When you need the full gamut of marketing assets and content, Flocksy is where it's at.
The Flocksy Creative Process:
Flocksy's portal is very easy to use and allows you to start and monitor projects from a straightforward dashboard. When you begin, each project is assigned to a creative, and you'll get a dedicated project manager who'll be there to help you oversee your projects and answer any questions that may come up.

Flocksy's online portal is available as soon as you create an account. Your project manager will also set up a demo call with you to walk you through the dashboard. From there, you can start requesting projects using their intuitive briefs and get results back fast. If you need revisions, you can click right on the design to detail the necessary changes. The dashboard will also store your completed projects and files, so you can always go back to them.

Plus, you'll always be able to reach your dedicated project manager and creative team through the message center and communicate with them through the Zapier integration.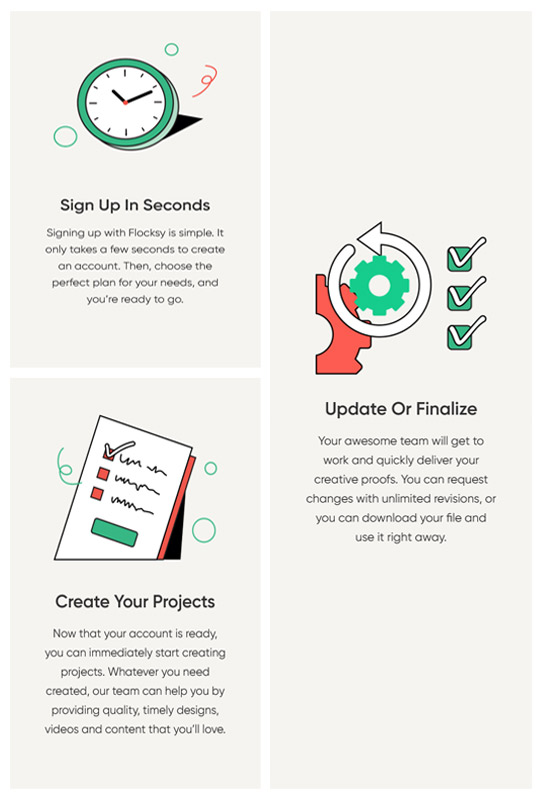 Reasons To Love Flocksy:
With Flocksy, you build lasting relationships with creatives that have been pre-vetted for quality. You can get projects done for an affordable cost while adding a professional creative to your team who'll get to know your brand. You get unlimited brands, graphics, and revisions to ensure you love every design. You can also invite your favorite artists back to each project, building a team of experienced designers who're ready to collaborate with you. And better relationships mean better art and better turnaround times.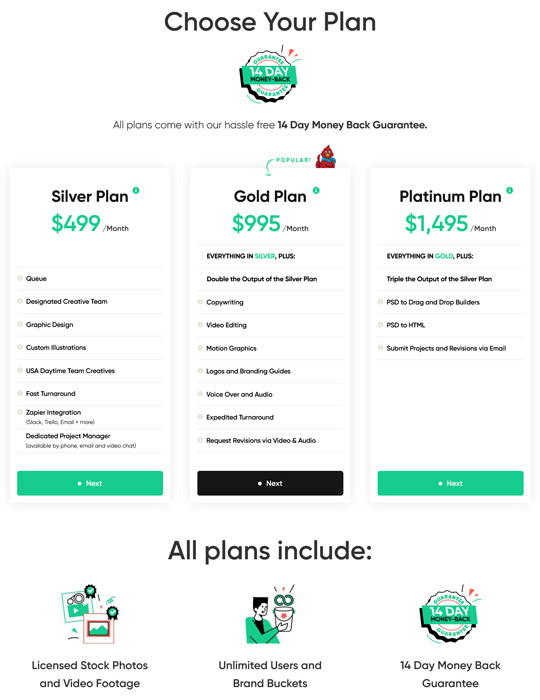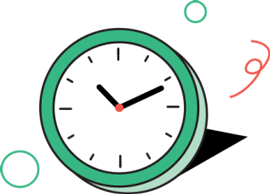 How Soon You'll See Results:
Flocksy gets your designs back fast. They can provide a less than 24-hour turnaround time for simple designs and a 24 to 48-hour timeframe for more intricate designs and videos. Social media posts, certain print materials, eBook covers, brochures, ads, and emails are usually returned to you for approval very quickly. The aforementioned timer also lets you see exactly when to expect your design proof.
Flocksy Pricing And Package Options:
Flocksy has three different tiers that include a variety of services- Silver, Gold, and Platinum.

● Silver- $499 per month- The Silver Plan includes unlimited project requests and revisions. Creatives will work on one task at a time on a first-come, first-served basis. You'll get a designated creative team, including a project manager, for whatever type of graphic design or custom illustration project you need. The US daytime team will provide fast turnaround times with a timer placed on each project. Flocksy also offers fantastic communication and updates via the Zapier integration, where you can get messages and updates via your favorite linked apps, including Trello, Slack, Gmail, & more.
○ Creative services you can request include:
■ Custom Graphic Design
■ Custom Illustration Design

● Gold- $995 per month- Everything on the Silver Plan, plus even better speed, revisions via video and audio messaging, and more project types, including:
○ Copywriting
○ Video editing
○ Motion graphics,
○ Logos & brand guides
○ Voice-overs
○ Double the output

● Platinum- $1,495 per month- You'll get everything above and triple the output of the silver plan. You can also request the following web development projects.
○ PSD/Figma/Sketch to HTML
○ PSD/Figma/Sketch to Elementor
○ PSD/Figma/Sketch to Drag-and-Drop Builders
○ PSD/Figma/Sketch to Divi

Benefits Of Using Flocksy
● 14-day money-back guarantee
● No Contract; cancel any time
● Straightforward billing
● Excellent graphic artists
● Exceptional turnaround time
● Zapier integration for easy communication and updates
● Motion graphics and web development are available
● A dedicated project manager
● Long-term relationships for impeccable quality and even quicker turnaround times
Why Flocksy May Not Work For You
● You'll need to sign up for the Gold Plan for logos, branding guides, motion graphics, and video.
Browse other similar companies
Delesign

- "Unlimited Custom Graphic Design, Motion Graphics, and More."

Delesign is a subscription service that provides unlimited custom graphic design, motion graphics, and more. When you sign up, you're matched with a dedicated designer who they believe will be a good fit for your brand. The company also offers two a la carte web development and writing options for an additional monthly fee.
Hero Design

- "Unlimited Creative Solution Made For Digital Agencies."

Hero Design is a graphic design services firm that creates creative assets for your products and brand. They focus on graphic design and video, with motion graphics, web design, and animation in the higher tiers. Hero Design specializes in merchandise and product design assets, including eCommerce Graphics, Banners & Social Media Content, Print & Marketing Collaterals, and Product Mockups & Packaging.
UnicornGo

- "Unlimited Graphics Design & Content Writing Service."

UnicornGO provides an unlimited graphic design program to assist small and large businesses in achieving their marketing goals for a flat monthly fee. UnicornGO can help you to create business cards, logos, infographics, web design, social media posts, and more.