Hero Design

- "Unlimited Creative Solution Made For Digital Agencies."
Company 3 of 5 in our list of the Top 5 Unlimited Graphic Design Companies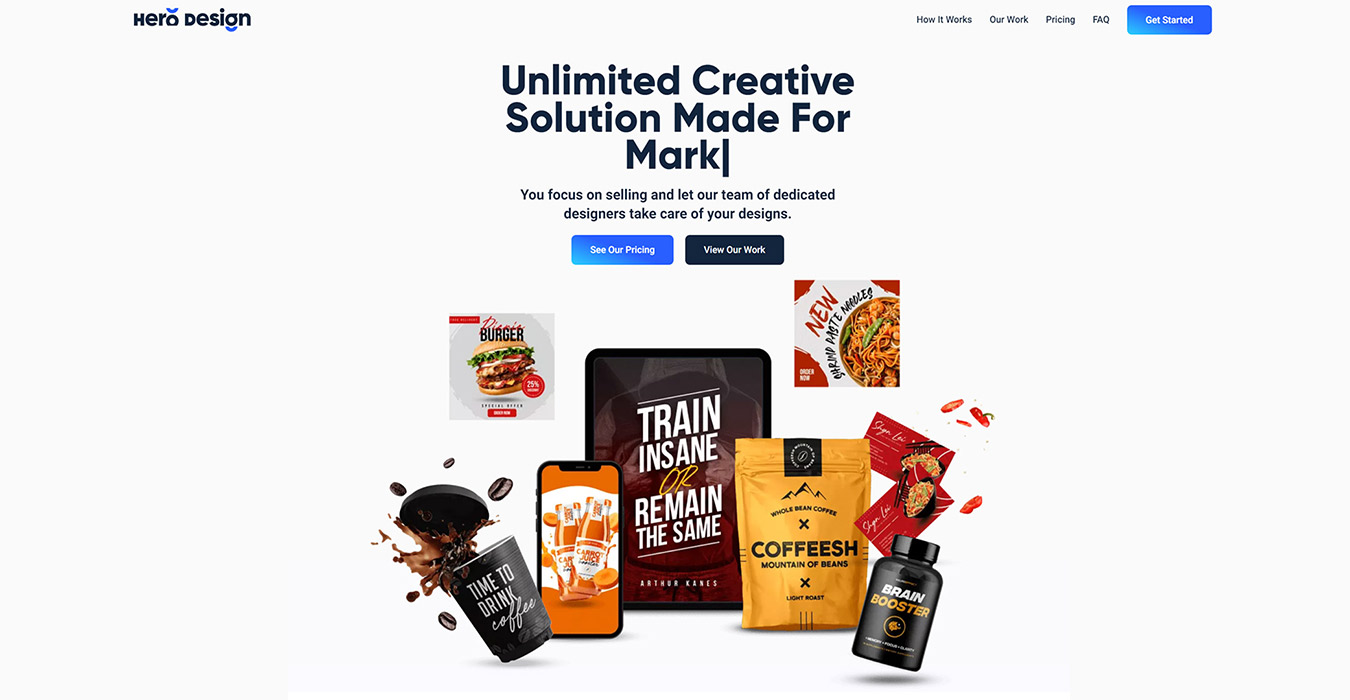 All About Hero Design
Hero Design is a graphic design services firm that creates creative assets for your products and brand. They focus on graphic design and video, with motion graphics, web design, and animation in the higher tiers. Hero Design specializes in merchandise and product design assets, including eCommerce Graphics, Banners & Social Media Content, Print & Marketing Collaterals, and Product Mockups & Packaging.
The Hero Design Creative Process:
You request your design projects through their portal, and they'll assign them to the best artist for the request. As long as you can describe it to the team, they'll usually be able to create a beautiful, custom graphic for your business's visual needs, including:

● Brochures
● Social Media Campaigns
● Landing Pages
● Carousel ads
● Logo Design
● Label Design
● Marketing collateral
● Illustrations
● Ebook cover art

They also provide unlimited revisions, and you can choose when you want your designer to work from two available schedules- 9 am - 5 pm EST (US) or 9 am - 5 pm AEST (Australia) Monday - Friday.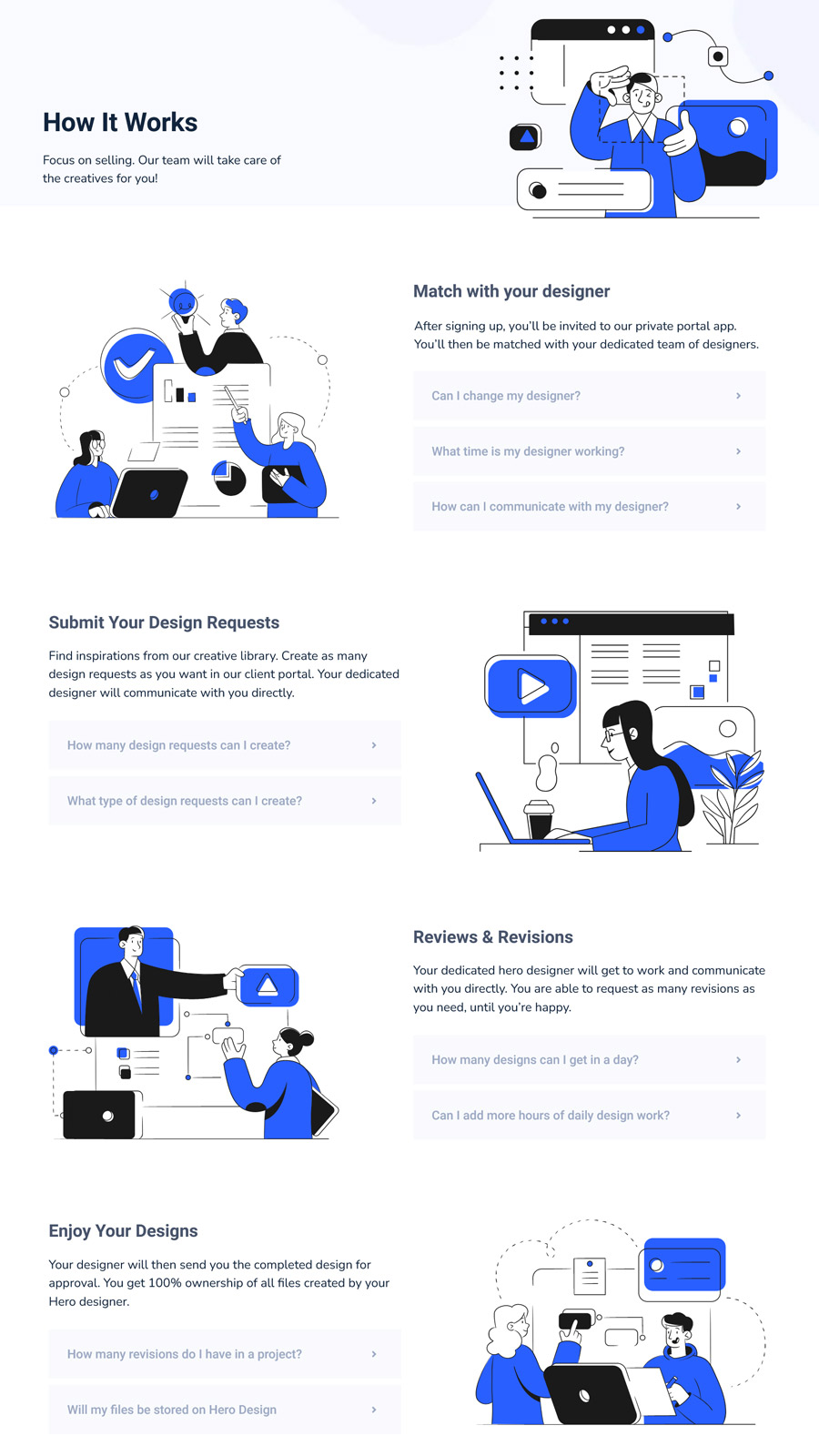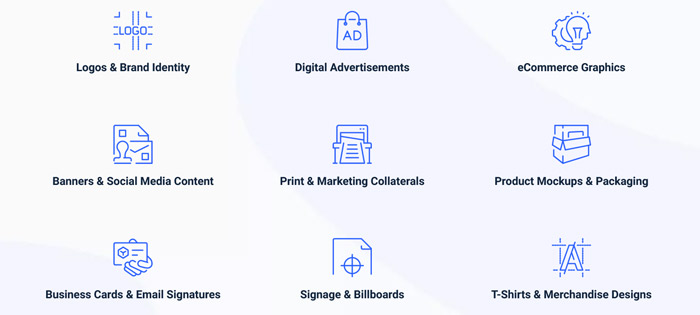 Reasons To Love Hero Design:
The ability to choose which timezone you want your dedicated designer to work in is awesome. You can also switch out your designer if they're not working. Your dedicated Hero Designer can work and communicate with you through their private portal app, where you'll also get daily updates about your requests. They also provide a 14-day money-back guarantee.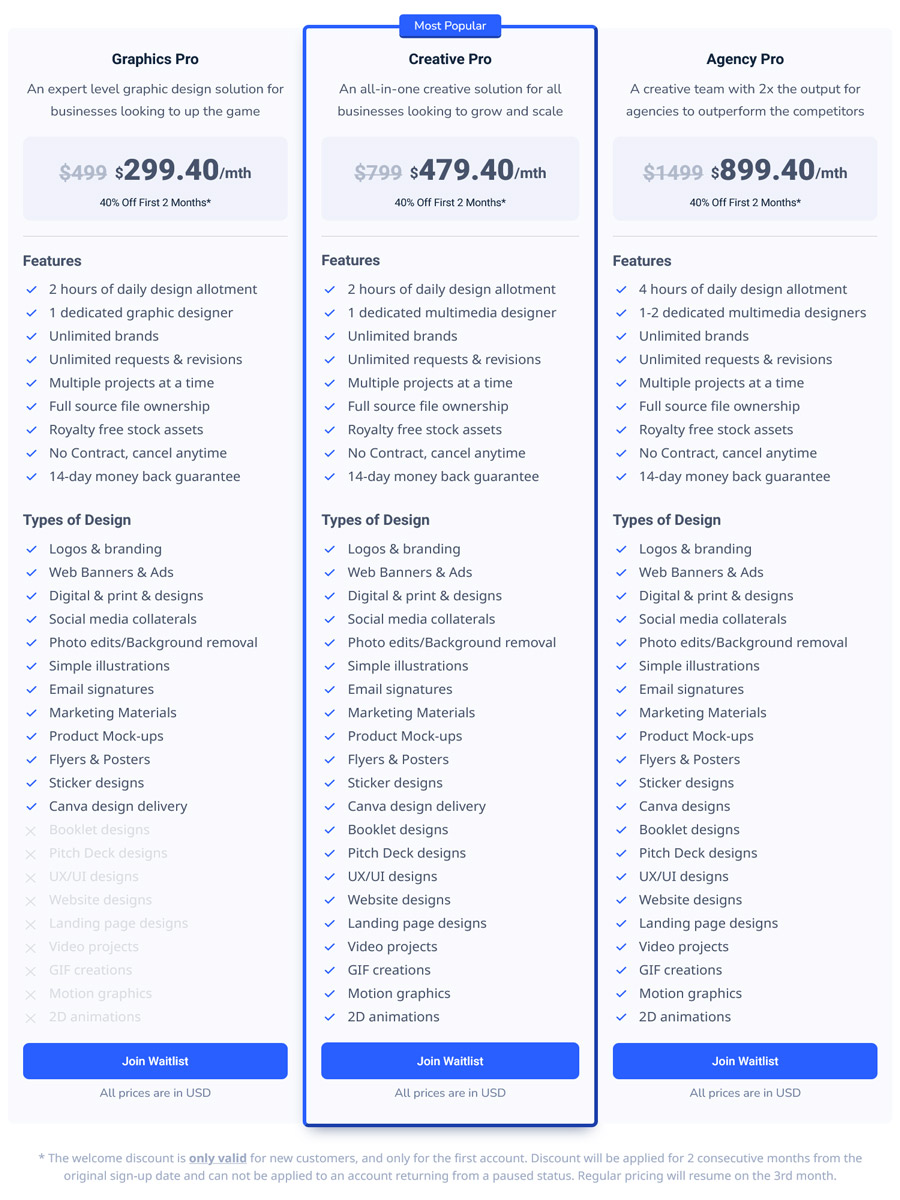 How Soon You'll See Results:
Hero Design says that most requests are finished in less than 24 hours, which means if you have a few simple projects, you could get multiple returned each day. However, complex requests require additional time.

They state an example of a one-minute animated explainer video with custom-drawn characters and images. At Hero Design, these can take roughly seven to 15 days to create and return back to you for approval. Hero Design suggests signing up for more than one subscription to expedite the completion timeframe of simple projects.
Hero Design Pricing and Package Options:
There are three Hero Design packages. Currently, you'll find a 40% discount, but the prices are listed without it below.

● Graphics Pro- $499 per month- Current sale price: $299.40 as of 02/07/2023- one dedicated graphic designer, more than one project at a time, and the following project types:
○ Two hours of daily design allotment
○ Logos & branding
○ Web Banners & Ads
○ Flyers & Posters
○ Sticker designs
○ Digital & print & designs
○ Social media collaterals
○ Simple illustrations
○ Email signatures
○ Marketing Materials
○ Photo edits
○ Background removal
○ Product Mock-ups
○ Canva design delivery

● Creative Pro- $799 per month- Current sale price of $479.40 as of 02/07/2023- Everything from tier one, with additional services that include:
○ Booklet designs
○ Pitch Deck designs
○ Video projects
○ GIF creations
○ Motion graphics
○ 2D animations
○ UX/UI designs
○ Website designs
○ Landing page designs

● Agency Pro- $1,499 per month- Current sale price of $899.40 as of 02/07/2023- Everything from the above plans and an increase to:
○ Four hours of daily design allotment
○ One to two dedicated multimedia designers

All packages also come with the following:
● Full Source File Ownership
● Royalty-Free Stock Assets
● No Contract; Cancel Any Time
● Quick Turnaround
● A Dedicated Hero Designer
● Pick-Your-Schedule

Slack communication is also available for Hero Design subscribers. However, this comes at an additional monthly fee of $50.
Benefits of Using Hero Design
● 14-day money-back guarantee
● Dedicated designer
● Choose-your-schedule format
● Up to four hours daily project work time
● Unlimited revisions
Why Hero Design May Not Work For You
● Longer turnaround on larger projects
● Slack communication is an extra charge
Browse other similar companies
Flocksy

- "Unlimited Graphic Design, Video Editing, and Copywriting Best for All-in-One Creative Service Platform"

Flocksy is a US-based company that offers nearly every creative service you need. They work with companies and brands of every shape and size, including small businesses, entrepreneurs, and agencies. Flocksy provides on-demand creative services, too. You'll get unlimited graphic design, copywriting, video editing, and much more.
Delesign

- "Unlimited Custom Graphic Design, Motion Graphics, and More."

Delesign is a subscription service that provides unlimited custom graphic design, motion graphics, and more. When you sign up, you're matched with a dedicated designer who they believe will be a good fit for your brand. The company also offers two a la carte web development and writing options for an additional monthly fee.
UnicornGo

- "Unlimited Graphics Design & Content Writing Service."

UnicornGO provides an unlimited graphic design program to assist small and large businesses in achieving their marketing goals for a flat monthly fee. UnicornGO can help you to create business cards, logos, infographics, web design, social media posts, and more.