Delesign

- "Unlimited Custom Graphic Design, Motion Graphics, and More."
Company 2 of 5 in our list of the Top 5 Unlimited Graphic Design Companies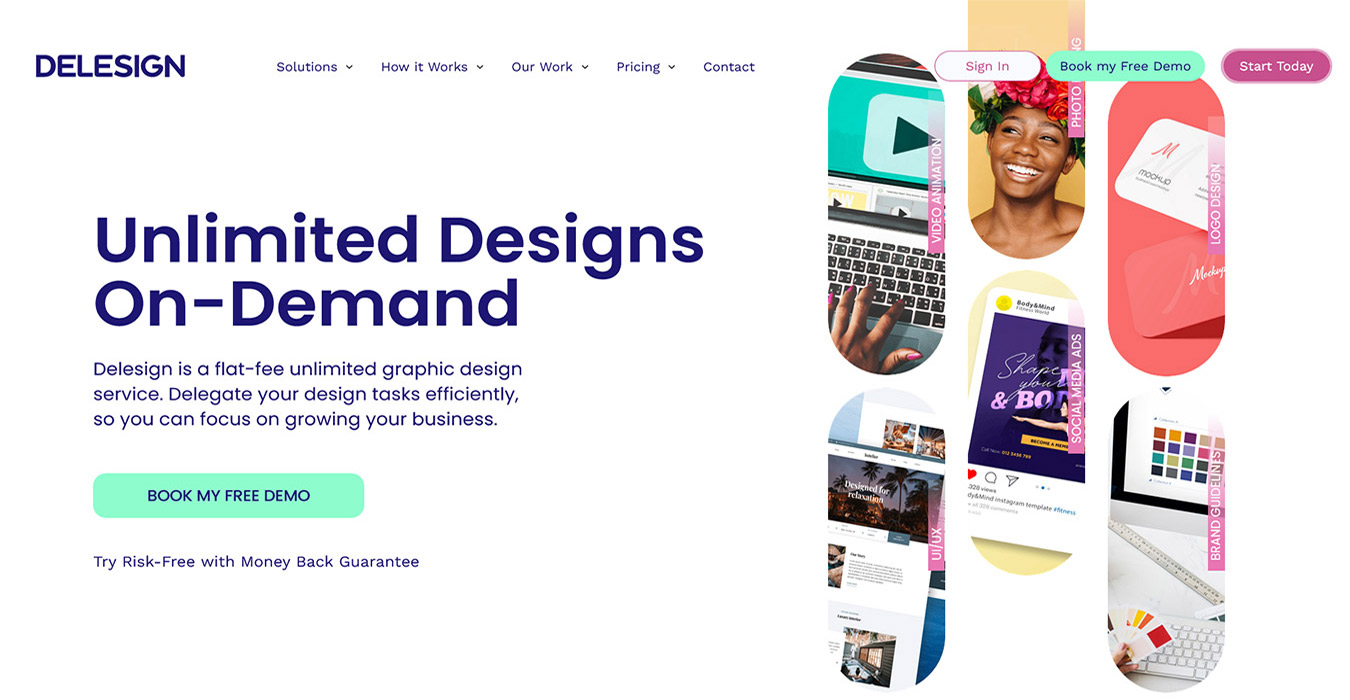 All About Delesign
Delesign is a subscription service that provides unlimited custom graphic design, motion graphics, and more. When you sign up, you're matched with a dedicated designer who they believe will be a good fit for your brand. The company also offers two a la carte web development and writing options for an additional monthly fee.
The Delesign Creative Process:
Delesign's process is straightforward
● Submit your request on their portal
● Your assigned designer gets to work
● The artist delivers your proofs for revisions or approval

You can schedule a demo with them if you have questions when you're starting out.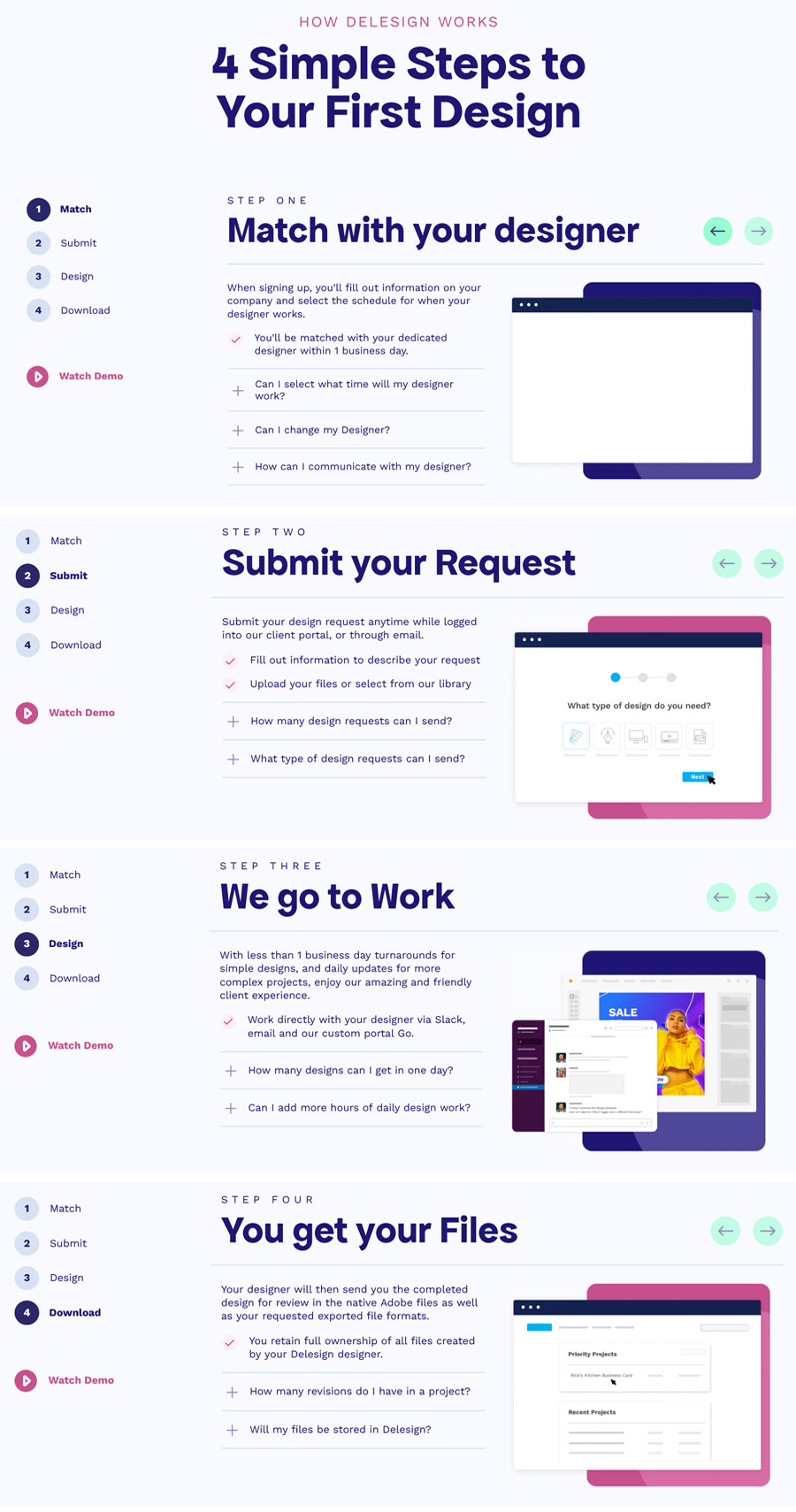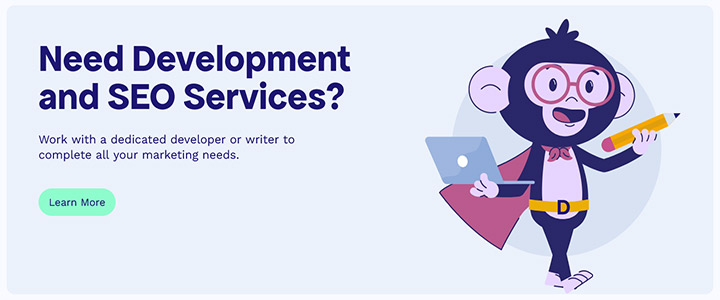 Reasons To Love Delesign:
The company boasts experienced, professional senior-level designers. Delesign also offers a 15-day money-back guarantee. You get unlimited design projects and revisions for one price, and most projects are delivered within 24 hours. The Delesign support team is also available for clients 24/7.

One unique feature of Delesign is the designer schedule. You can choose time zone preferences, and the options break down as follows. There are two designer schedules, 6 am to 4 pm or 6 pm to 4 am Pacific Time. These run during a typical business week, Monday through Friday. With one subscription, your designer will put in two hours each day on your projects during the timeframe you choose.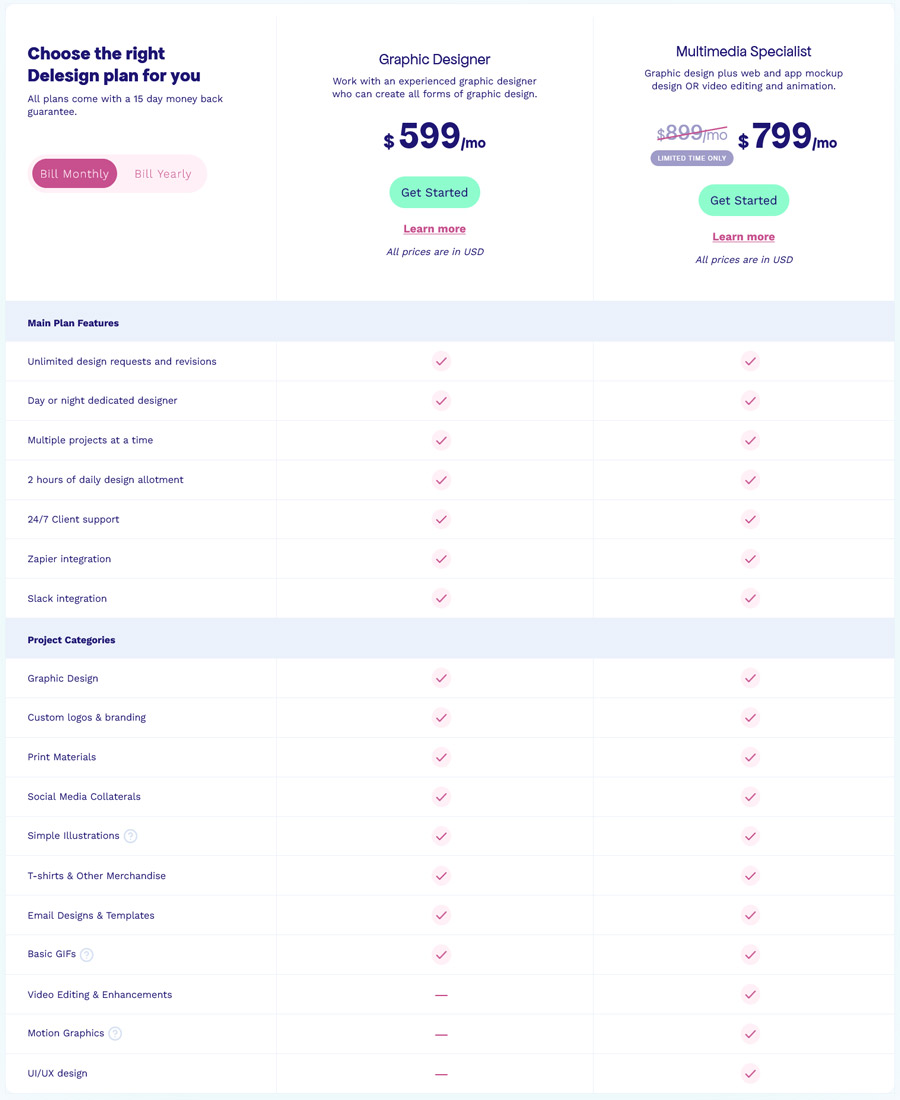 How Soon You'll See Results:
Simple projects typically come back in 12 to 24 hours, even with multiple projects worked on simultaneously. Additionally, Delesign does state that video editing, logo designs, infographics, UI designs, and similar requests take roughly two business days to finish and that complex projects, including animated explainer videos, motion graphics, and web portal designs, can take approximately seven to 15 days to complete.
Delesign Pricing And Package Options:
Delesign offers three monthly packages that each offer its own benefits. They include:

● Graphic Designer- $599 per month- 1 assigned graphic designer, unlimited graphic designs, unlimited revisions, choose your preferred designer time zone, and the following asset types:
○ Corporate Branding
○ Product design
○ Marketing Materials
○ Outdoor graphics
○ Web banners
○ Social Media Ads
○ Email Designs & Templates
○ Book & Magazine Layouts
○ Other Digital Assets

● Multimedia Specialist- Presently $799 per month, which may be for a limited time- Everything from the first plan, and you'll be working with a senior designer who can perform Web and App Design, Video Editing, and Animation services. These can include:
○ Video Editing & Enhancements
○ Motion Graphics
○ UI/UX Design

● Every plan includes:
○ Team Member Accounts
○ Built-in-messaging
○ Shareable design link
○ Slack Collaboration
○ 100% copyright ownership
○ White-labeled designs
○ Zapier integration
Benefits Of Using Delesign
● Most projects are delivered in one business day
● You can pick a preferred designer schedule
● You can communicate with your designer on the company's platform or via Slack
Why Delesign May Not Work For You
● Video projects, website design, and application design are on the more expensive package
● Especially long turnaround time on video and motion graphics projects
Browse other similar companies
Flocksy

- "Unlimited Graphic Design, Video Editing, and Copywriting Best for All-in-One Creative Service Platform"

Flocksy is a US-based company that offers nearly every creative service you need. They work with companies and brands of every shape and size, including small businesses, entrepreneurs, and agencies. Flocksy provides on-demand creative services, too. You'll get unlimited graphic design, copywriting, video editing, and much more.
Hero Design

- "Unlimited Creative Solution Made For Digital Agencies."

Hero Design is a graphic design services firm that creates creative assets for your products and brand. They focus on graphic design and video, with motion graphics, web design, and animation in the higher tiers. Hero Design specializes in merchandise and product design assets, including eCommerce Graphics, Banners & Social Media Content, Print & Marketing Collaterals, and Product Mockups & Packaging.
UnicornGo

- "Unlimited Graphics Design & Content Writing Service."

UnicornGO provides an unlimited graphic design program to assist small and large businesses in achieving their marketing goals for a flat monthly fee. UnicornGO can help you to create business cards, logos, infographics, web design, social media posts, and more.