Design Pickle

- "Quality design without the cost & complexity"
Company 5 of 5 in our list of the Top 5 Unlimited Graphic Design Companies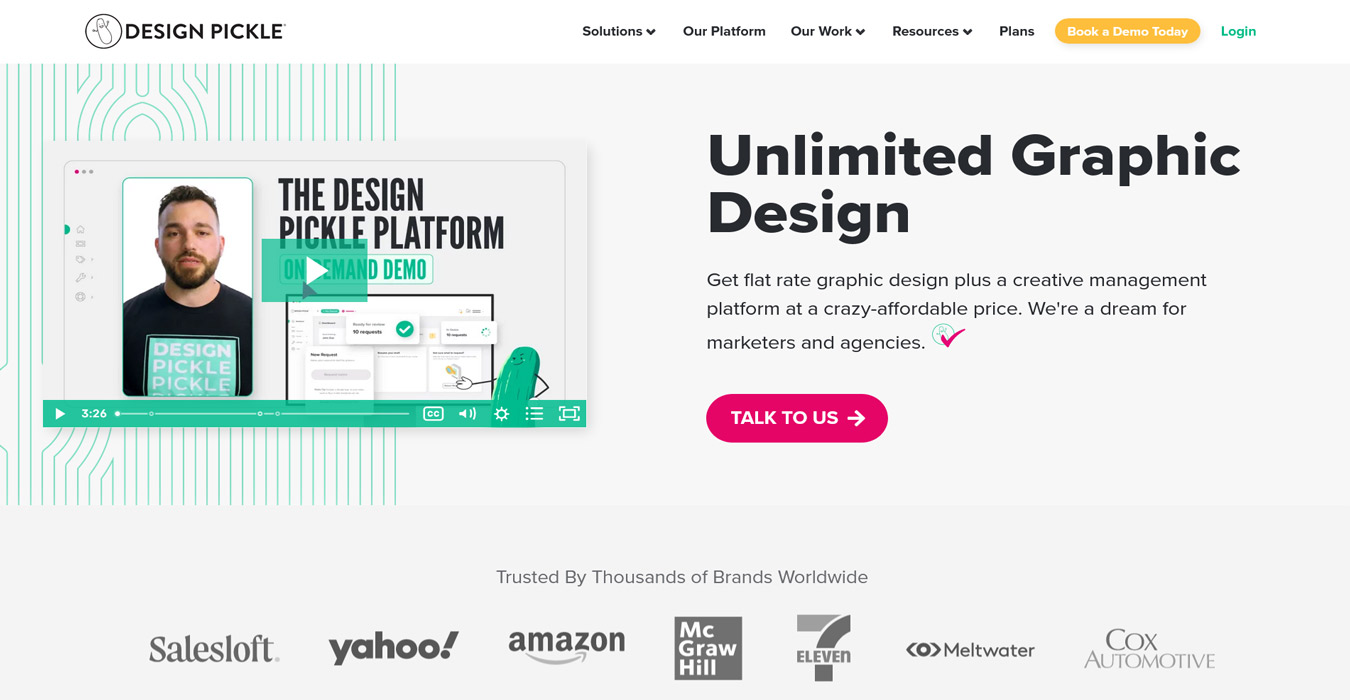 All About Design Pickle
Design Pickle is an unlimited graphic design service that leverages premium design services to various businesses in several industries. Their services can be quite robust on the higher tiers.
The Design Pickle Creative Process:
With Design Pickle, you'll get a dedicated design team at the higher plans who'll work on your projects. On the starter plan, the site suggests that whoever is available will work on your projects.

When requesting projects, they'll provide an internal project management board where you can start and manage your active and completed projects. They also use Zapier to connect their management platform to your favorite apps, such as Google Drive, Trello, & Slack. You can also request a demo, and they provide an Onboarding Manager at the two higher-priced tiers.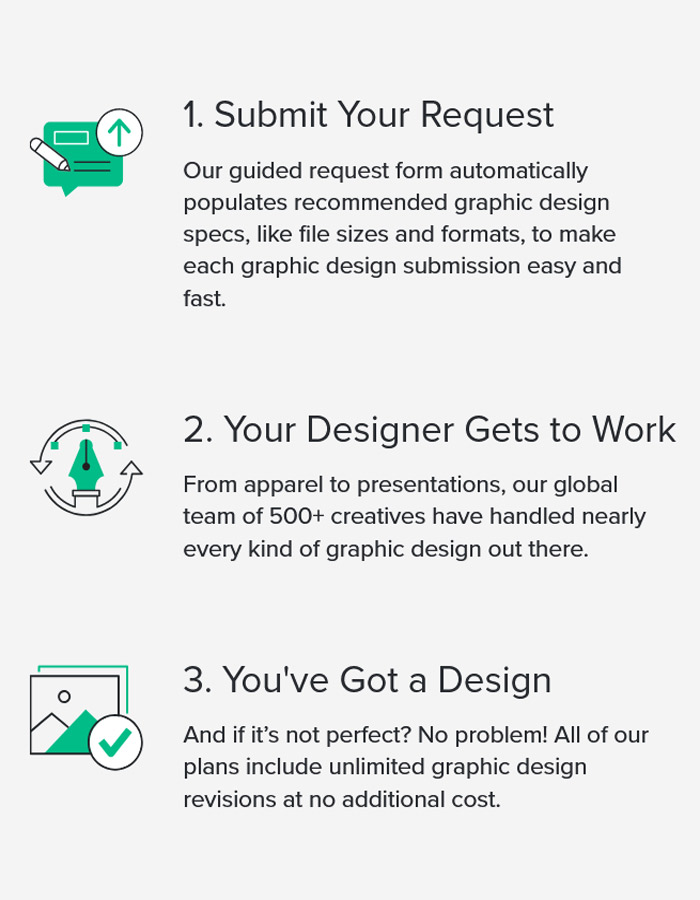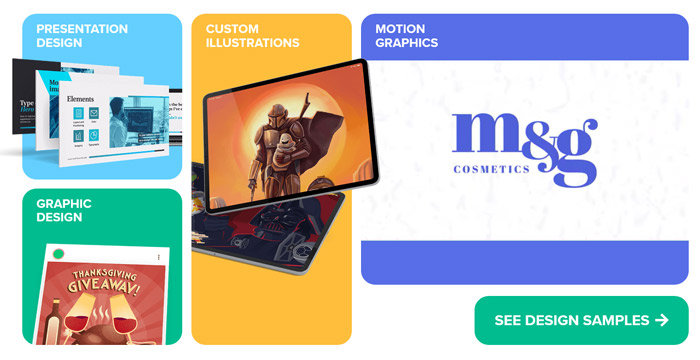 Reasons To Love Design Pickle:
DesignPickle's artists can provide many types of graphics, animations, and custom illustrations, depending on your plan. Thanks to their easy-to-use platform, you can manage your projects seamlessly and quickly get information and updates about them. Communicating with your team on the upper tiers is also easier than on the lowest tier, thanks to the Zapier integration.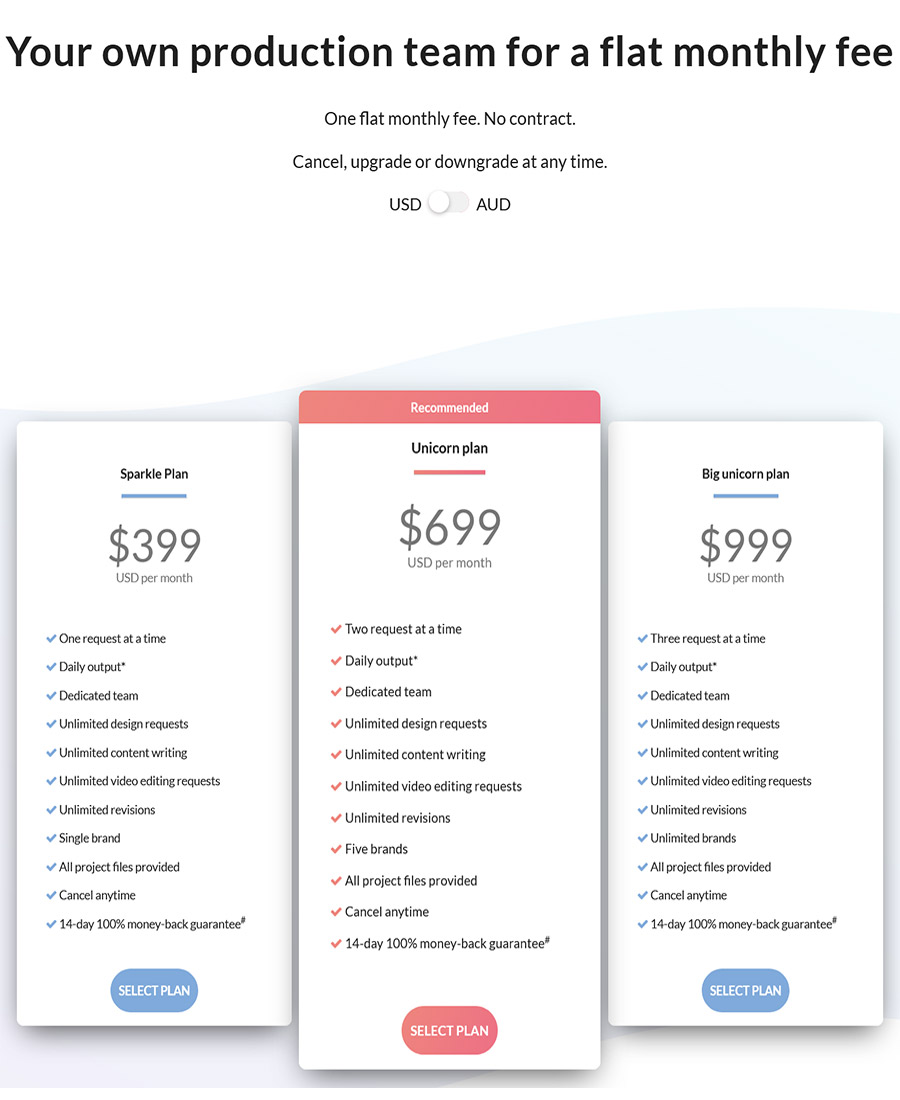 How Soon You'll See Results:
Design Pickle states that most projects are delivered within 24 to 48 hours unless you have a more complex request, such as motion graphics. Additionally, Design Pickle provides same-day turnaround on the two higher tiers for standard designs.
Design Pickle Pricing and Package Options:
Design Pickle offers three plans:

● Graphics- The Graphics Plan includes industry-standard graphic design and custom illustrations with a one to two-day turnaround on most projects.

● Graphics Pro- You'll get everything in the above plan, plus presentation design options. Additionally, your user experience does get better with the same-day turnaround on simple designs, designated designers, Slack collaboration via the Zapier integration, an Onboarding Manager, and the availability of Spanish-speaking designers.

● Graphics Premium- You'll get everything from the aforementioned plan, as well as motion graphics. You can also use a motion graphics revision tool and get Canva files delivered in your completed projects.
Benefits of Using Design Pickle
● You can develop a strong working relationship with a designer
● There's easy communication (particularly on the Pro plan and higher)
● Their pricing is transparent for unlimited design
Why Design Pickle May Not Work For You
● There are many types of design (infographics, GIFs, presentation decks) that they only provide in the Pro plan or higher
● Illustrations are billed separately
● They don't offer other creative services like video
● There are longer turnaround times unless you're on the Pro plan or higher
Browse other similar companies
Flocksy

- "Unlimited Graphic Design, Video Editing, and Copywriting Best for All-in-One Creative Service Platform"

Flocksy is a US-based company that offers nearly every creative service you need. They work with companies and brands of every shape and size, including small businesses, entrepreneurs, and agencies. Flocksy provides on-demand creative services, too. You'll get unlimited graphic design, copywriting, video editing, and much more.
Delesign

- "Unlimited Custom Graphic Design, Motion Graphics, and More."

Delesign is a subscription service that provides unlimited custom graphic design, motion graphics, and more. When you sign up, you're matched with a dedicated designer who they believe will be a good fit for your brand. The company also offers two a la carte web development and writing options for an additional monthly fee.
Hero Design

- "Unlimited Creative Solution Made For Digital Agencies."

Hero Design is a graphic design services firm that creates creative assets for your products and brand. They focus on graphic design and video, with motion graphics, web design, and animation in the higher tiers. Hero Design specializes in merchandise and product design assets, including eCommerce Graphics, Banners & Social Media Content, Print & Marketing Collaterals, and Product Mockups & Packaging.
UnicornGo

- "Unlimited Graphics Design & Content Writing Service."

UnicornGO provides an unlimited graphic design program to assist small and large businesses in achieving their marketing goals for a flat monthly fee. UnicornGO can help you to create business cards, logos, infographics, web design, social media posts, and more.