Unbound

- "Unlimited Video Editing For A Fixed Monthly Fee"
Company 3 of 5 in our list of the Top 5 Unlimited Video Editing Companies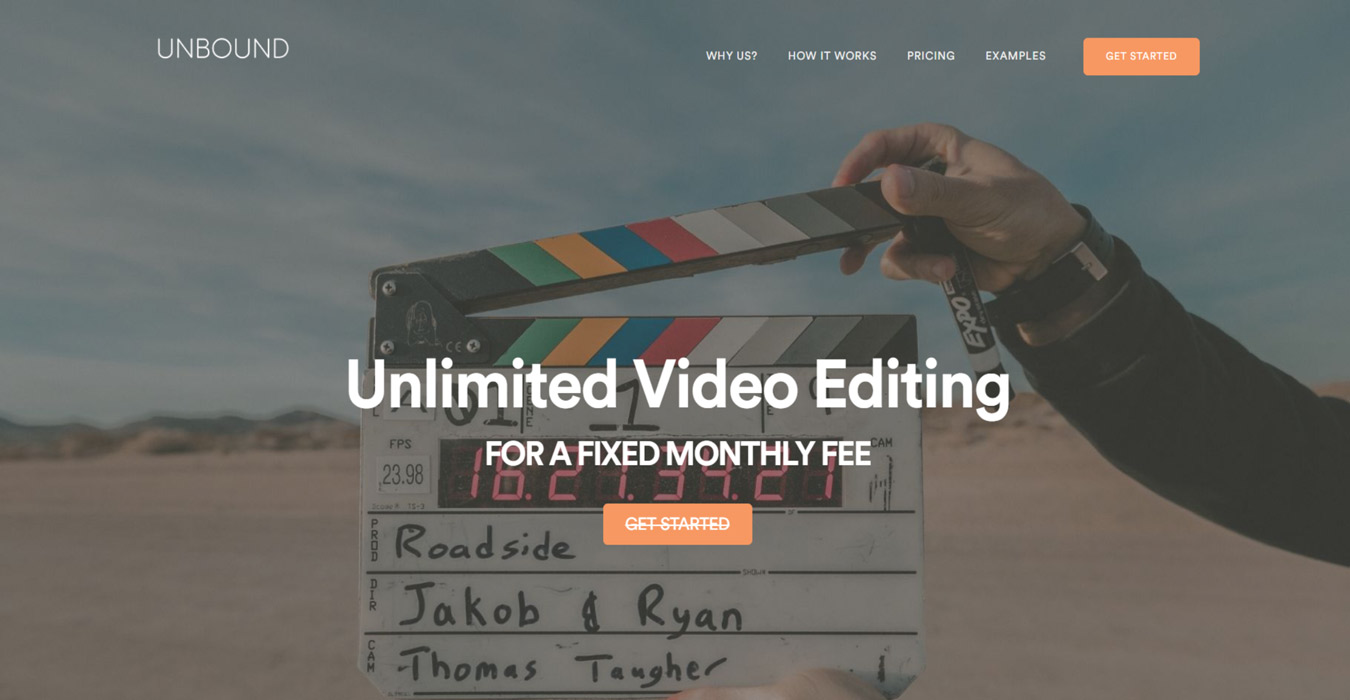 All About Unbound
Unbound is an internationally renowned video production agency. They currently offer professional editing services for a monthly subscription fee. They have over a decade of experience in content production and marketing. That kind of experience is hard to beat.
The Unbound Creative Process:
When you choose one of their plans and create an account, you'll get professional editing of your video in just five steps.

● Step 1: Detail what you need in their brief form.
● Step 2: Upload the raw cut and all footage you need to be edited
● Step 3: Sit back and let them work their magic
● Step 4: Ask for revisions if necessary
● Step 5: Get the final cut and use it wherever you want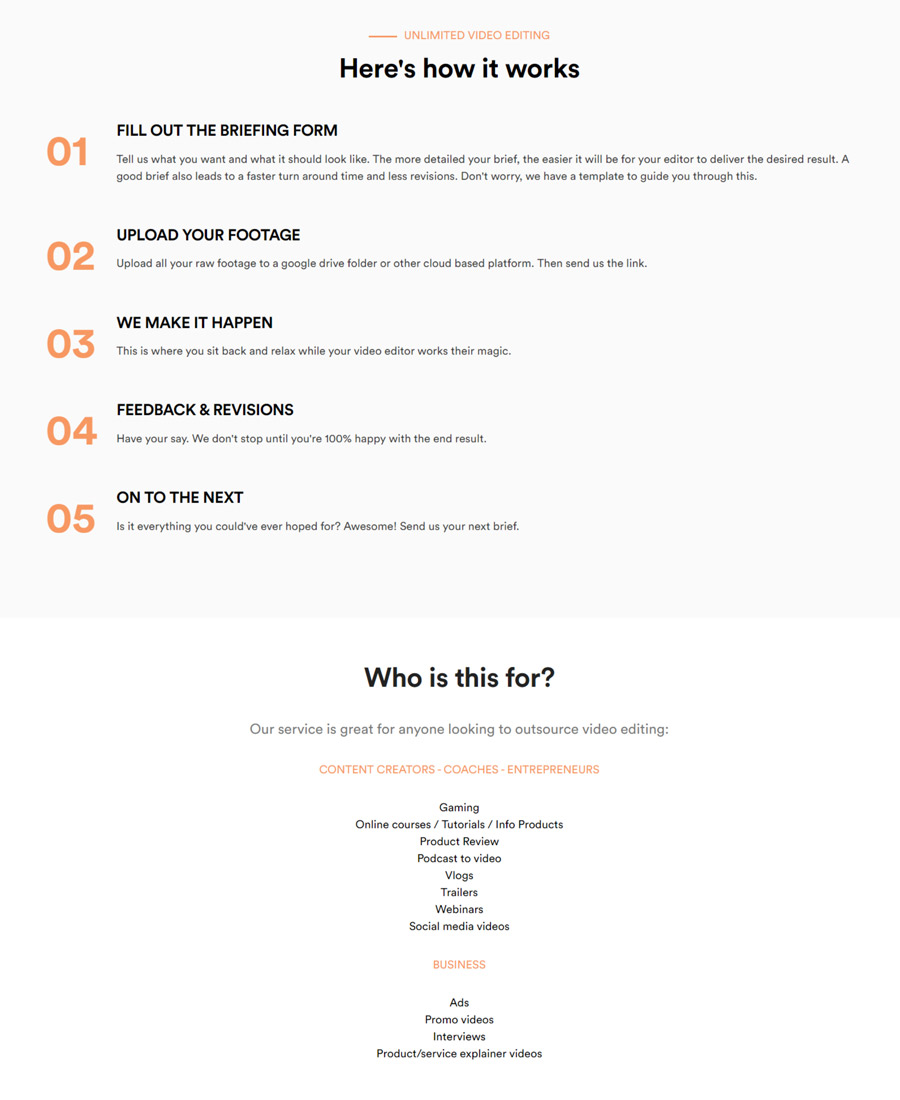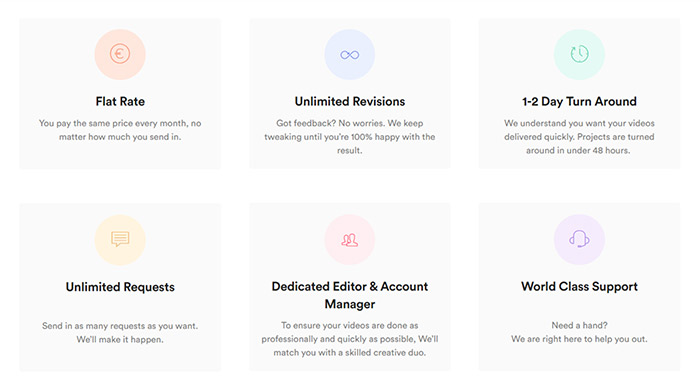 Is Unbound Right For You?
Do you want the best of the best in editing for your video? Do you want years of marketing and video production experience ready to go to work for you on a regular basis? Then Unbound can be a great choice for your editing needs. Their services for video are comprehensive, and they can get results back to you quickly. When you need consistent projects, a subscription can be a smart decision.
Reasons To Love Unbound:
Beyond their wealth of experience, they also know what it is like to run your business while trying to create aggressive marketing tools to enhance your traffic and exposure.
They are not only in your corner, but have lived your life, endured your professional struggles, and through it, have developed a keen sense of what the client needs.
How Soon You'll See Results:
The standard is 1 to 2 days, with revisions often done in less than 24 hours.
Unbound Pricing And Package Options:
Unbound's prices are set, so you know exactly what you will pay with either plan. As a side note, these packages are priced in Euros. There are also add-ons for additional services that also come with a monthly fee.

UNLIMITED MONTHLY
● €495 Monthly
● Unlimited Job Requests
● Unlimited Revisions
● Dedicated Editor & Account Manager
● 1-2 Day Turn Around
● Up to 30 minutes of Video Output Per Request
● World Class Support
● 14-Day No-Risk Guarantee
● No Contract

UNLIMITED YEARLY
● €395 Monthly
● 20% discount
● Unlimited Job Requests
● Unlimited Revisions
● Dedicated Editor & Account Manager
● 1-2 Day Turn Around
● Up To 30 minutes Video Output Per Request
● World Class Support
● 14-Day No-Risk Guarantee

Each plan comes with all the source files used as well.

Addons
● Extended Duration- €197/Month
● Transcriptions & Subtitles- €97/Month
● Thumbnail Creation- €67/Month
● Royalty-Free Libraries- €47/Month
Benefits Of Using Unbound
● Quick turnaround time
● No risk guarantee for 14 days
● Unlimited requests
● Unlimited revisions
● Yearly package offers discount
Why Unbound May Not Work For You
● Located in Bali- GMT+8 can be challenging to work around
● Have to pay for separate addons
● Up to 30 minutes of video for each edit, which is common
● The yearly plan doesn't state no-contract
Browse other similar companies
Flocksy

- "Hire Your Perfect Creative Team."

When looking for an all-in-one creative services platform that includes every type of marketing and promotional asset creation, you want Flocksy. They provide unlimited video editing, graphic design, video, motion graphics, web dev, and more. Flocksy pre-vets all its creatives and offers fast turnarounds with a focus on providing great quality.
Edit Video

- "A Subscription-based Video Editing Service for Content Creators."

Edit Video is a subscription-based video editing service that focuses on helping you with creating videos to post and showcase across platforms. They can use your raw footage to cut and edit a final draft that wows your audience and get it back to you quickly. They pride themselves on being quick, easy, and efficient.
Unlimited Video Editing

- "UNLIMITED Video Editing is your little secret to making better videos and making a lot of them."

Unlimited Video Editing really is all about the name. They edit your videos for a flat monthly rate, which can be great when you truly have a lot of videos to edit and release throughout the month. They are an exclusive service, and only work with those they feel would be a good match for their services.
Video Husky

- "Your videos edited right,100% stress-free"

At Video Husky, the editors are there to help create quality videos that are on-brand and as stress-free as possible. They take the hassle of editing off your shoulders. As a premier outsourcing service, Video Husky has editing down to a science and can produce videos that engage, convert, and gain attention.