Edit Video

- "A Subscription-based Video Editing Service for Content Creators."
Company 2 of 5 in our list of the Top 5 Unlimited Video Editing Companies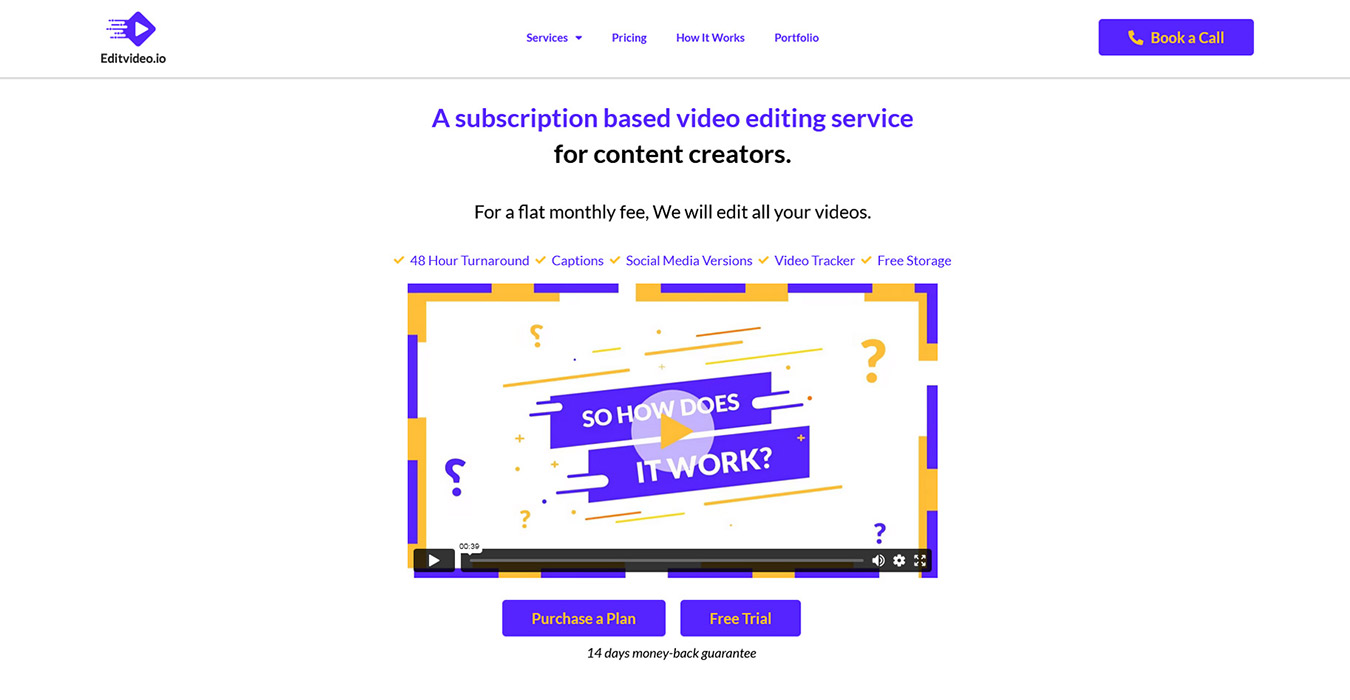 All About Edit Video
Edit Video is a subscription-based video editing service that focuses on helping you with creating videos to post and showcase across platforms. They can use your raw footage to cut and edit a final draft that wows your audience and get it back to you quickly. They pride themselves on being quick, easy, and efficient.
The Edit Video Creative Process:
Edit Video works in a three-step process. Once you've signed up for a plan and created an account, you can do the following to start your first video project.

● Step 1: Upload all your video files and assets for the team to use during editing.
● Step 2: The editors begin work and return your first draft to you in roughly 48 hours.
● Step 3: You review the draft and request any revisions necessary. If you're ready to go, you approve the work and receive your final files.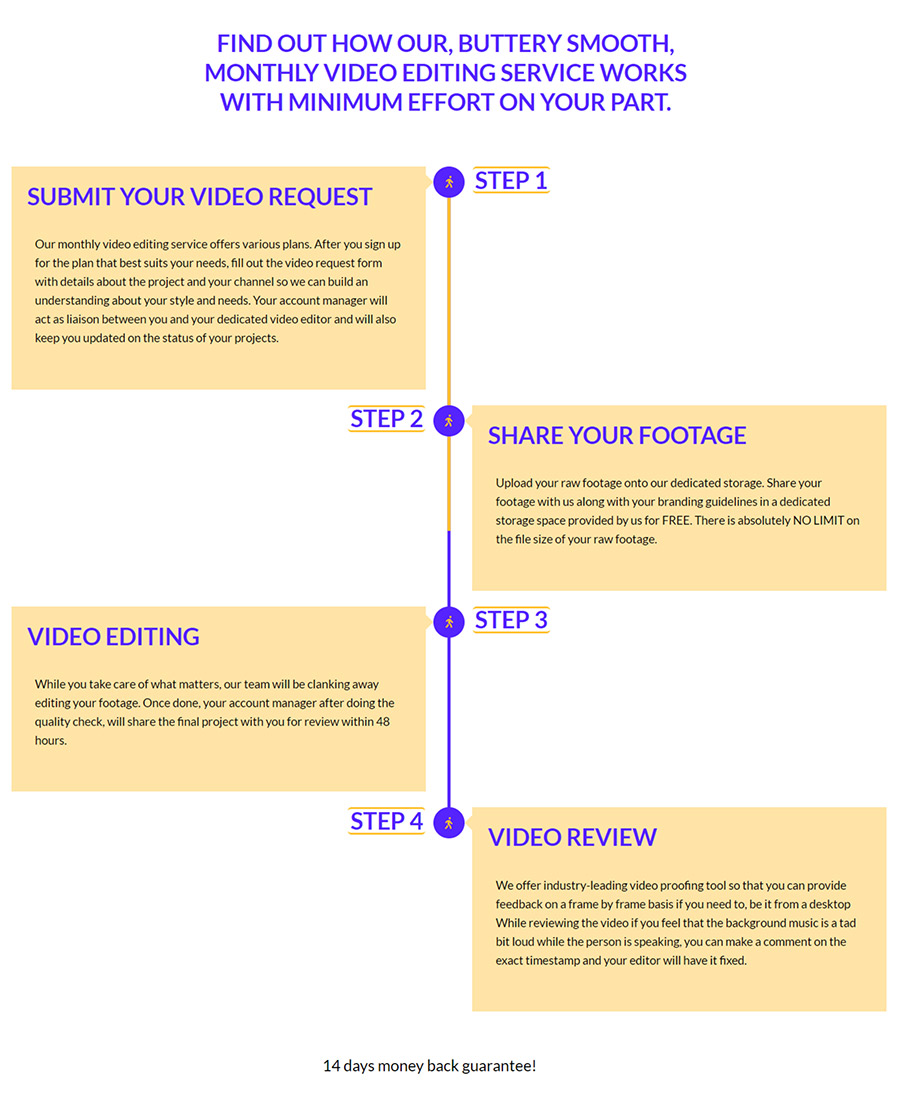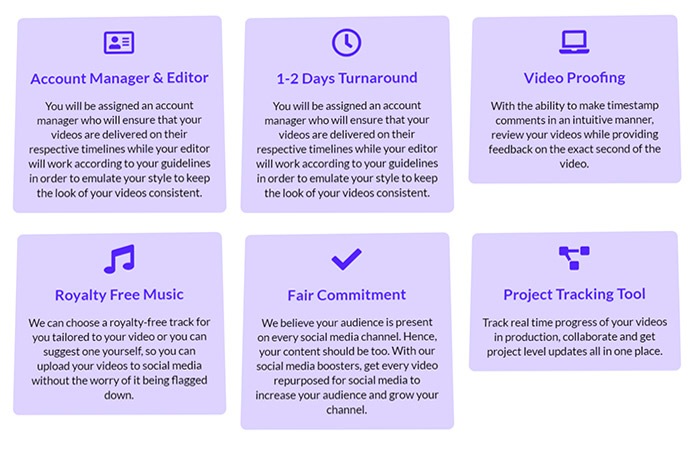 Is Edit Video Right For You?
All they do is edit video. They've made it a point to dedicate all their time and service to doing just that. They can provide a dedicated team of video editors to work on your content regularly when you don't have the time. Because it's the company's number one priority, you can rest assured that they've hired people passionate about that craft.
Reasons To Love Edit Video:
As many people are aware, video files are pretty big.

With this in mind, Edit Video offers clients plenty of space for raw footage file uploads for free, and you can add more if you to.
With their industry-leading video proofing tools, you can check out video details more thoroughly, including frame-by-frame looks into the footage.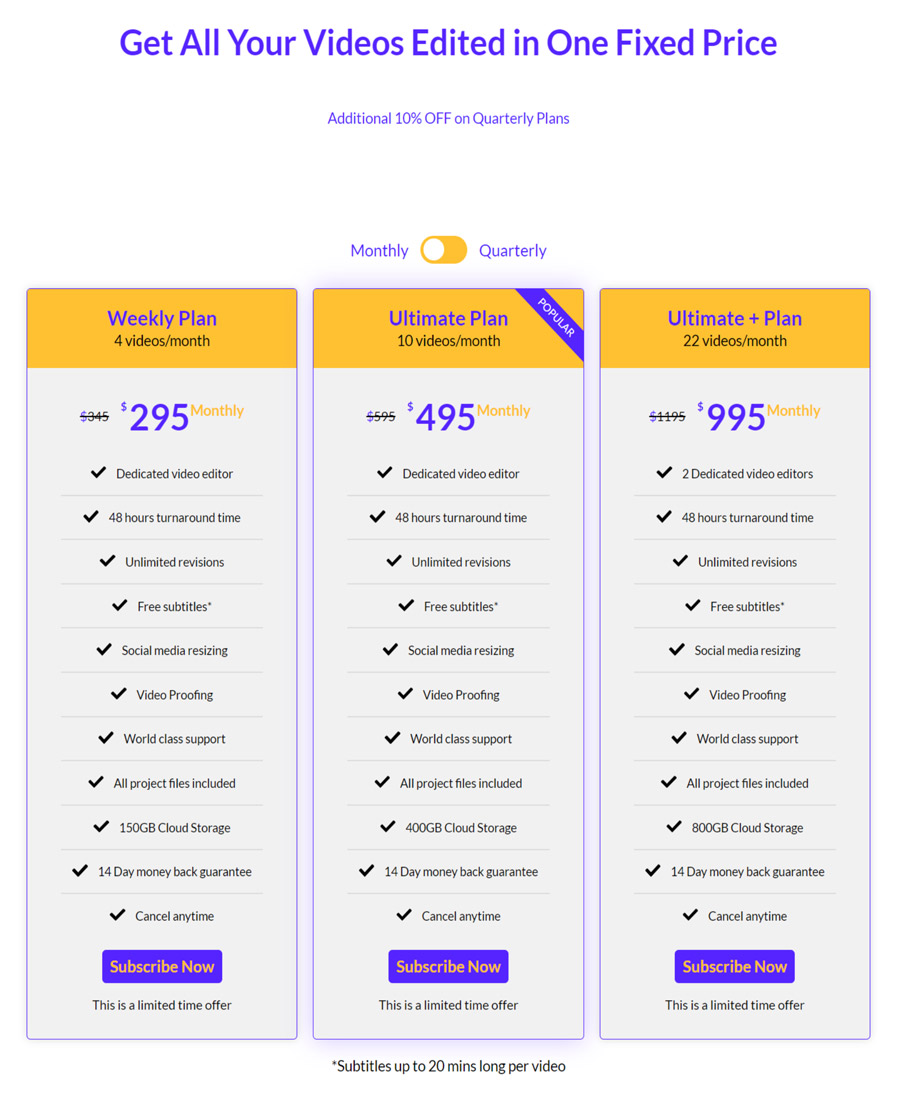 How Soon You'll See Results:
Edit Video promises the first drafts of your video within 48 hours. At that point, you'll get a file to review and provide any revisions necessary. Some simple projects may be able to come back in as little as 24 hours.
Edit Video Pricing And Package Options:
Edit Video offers three subscription plans tailored to your needs:

Weekly Plan
● 4 videos/month
● $295/Monthly
● Dedicated video editor
● 48 hours turnaround time
● Unlimited revisions
● Free subtitles
● 4 social media boosters
● 150GB Cloud Storage

Ultimate Plan
● 10 videos/month
● $495/Monthly
● Dedicated video editor
● 48 hours turnaround time
● Unlimited revisions
● Free subtitles
● 10 social media boosters
● 400GB Cloud Storage

Ultimate + Plan
● 22 videos/month
● $995/Monthly
● 2 Dedicated video editors
● 48 hours turnaround time
● Unlimited revisions
● Free subtitles
● 22 social media boosters
● 800GB Cloud Storage

With each plan, you'll get:
● 14-Day money-back guarantee
● Cancel anytime
● Video Proofing
● World-class support
● All project files included
● Free Subtitles and Captions
● Instagram Story Content
● Complete Project Management
● 1:1 Gary Vee Style Video
● Unlimited Revisions Per Video
● Free Trial
Benefits Of Using Edit Video
● Industry-standard monthly prices
● Quick turnaround
● 14-day money-back guarantee
● Social media boosters, growing for each plan
● Dedicated video editor
Why Edit Video May Not Work For You
● Not truly unlimited, as there's a fixed number of videos per month per plan, which can be an issue if you have more videos than their monthly amount can handle
● Unclear if they can use stock videos to create a video for you
Browse other similar companies
Flocksy

- "Hire Your Perfect Creative Team."

When looking for an all-in-one creative services platform that includes every type of marketing and promotional asset creation, you want Flocksy. They provide unlimited video editing, graphic design, video, motion graphics, web dev, and more. Flocksy pre-vets all its creatives and offers fast turnarounds with a focus on providing great quality.
Unbound

- "Unlimited Video Editing For A Fixed Monthly Fee"

Unbound is an internationally renowned video production agency. They currently offer professional editing services for a monthly subscription fee. They have over a decade of experience in content production and marketing. That kind of experience is hard to beat.
Unlimited Video Editing

- "UNLIMITED Video Editing is your little secret to making better videos and making a lot of them."

Unlimited Video Editing really is all about the name. They edit your videos for a flat monthly rate, which can be great when you truly have a lot of videos to edit and release throughout the month. They are an exclusive service, and only work with those they feel would be a good match for their services.
Video Husky

- "Your videos edited right,100% stress-free"

At Video Husky, the editors are there to help create quality videos that are on-brand and as stress-free as possible. They take the hassle of editing off your shoulders. As a premier outsourcing service, Video Husky has editing down to a science and can produce videos that engage, convert, and gain attention.