Flocksy

- "Hire Your Perfect Creative Team"
Company 1 of 5 in our list of the Top 5 Unlimited Video Editing Companies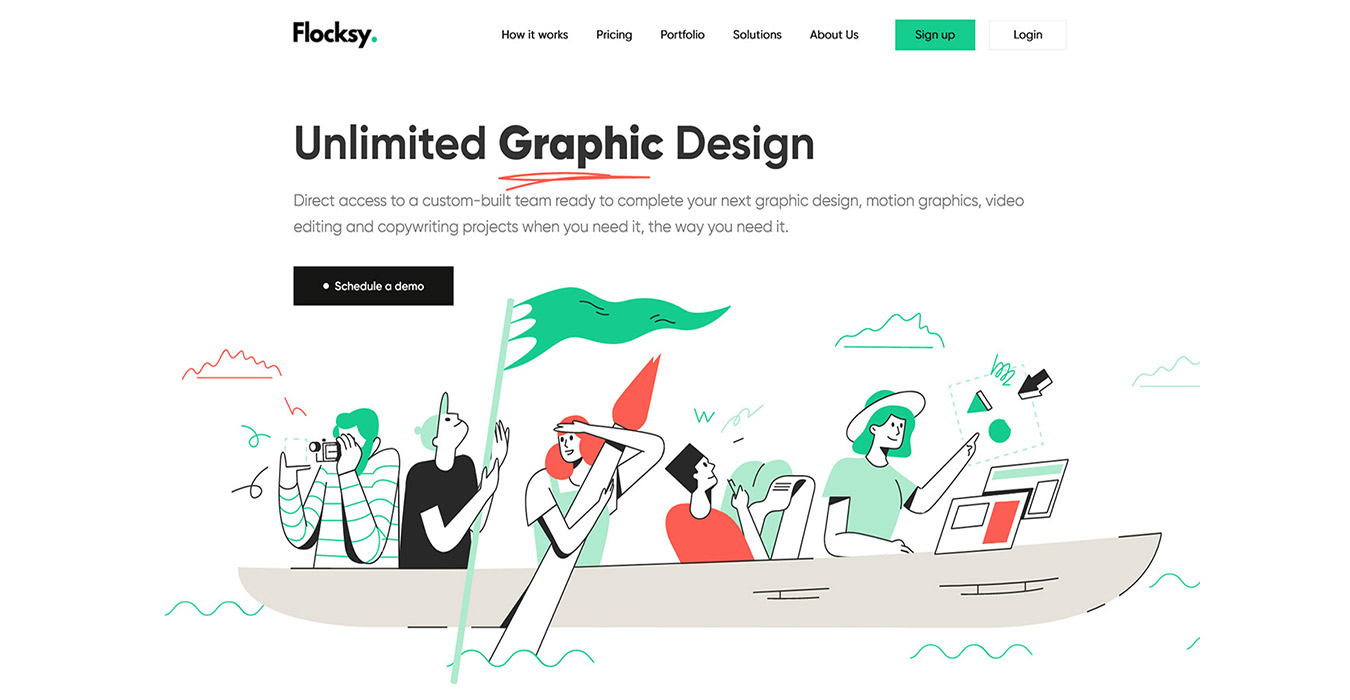 All About Flocksy
When looking for an all-in-one creative services platform that includes every type of marketing and promotional asset creation, you want Flocksy. They provide unlimited video editing, graphic design, video, motion graphics, web dev, and more. Flocksy pre-vets all its creatives and offers fast turnarounds with a focus on providing great quality. Their team of professionals has excellent insight and experience in video editing and creation and can help you produce the content you need to sell, promote, engage, and convert.
The Flocksy Creative Process:
When you sign up and choose the plan with video editing (Gold) on the website, you'll be able to create a login and begin requesting video projects, among several others. They have a flat monthly rate for unlimited video editing, and you can cancel anytime. They also offer a 14-day money-back guarantee.

Flocksy also provides intuitive briefs. These briefs ensure your video editor has everything they need to create and/or edit your video and provide you with the final piece you need to achieve your goals. You'll work with a dedicated team of creatives, including editors, who will tackle your projects and provide proofs for you to review.

Each project is assigned to a video editor, and you can message them right on the project page if you have questions or updates. You'll also see your daily progress on the project page and can check the project timer. The project timer shows you when you can expect the final video.

Better still, you'll get a dedicated project manager who will help ensure all your projects go smoothly and be your contact for questions, guidance, concerns, and managing your account.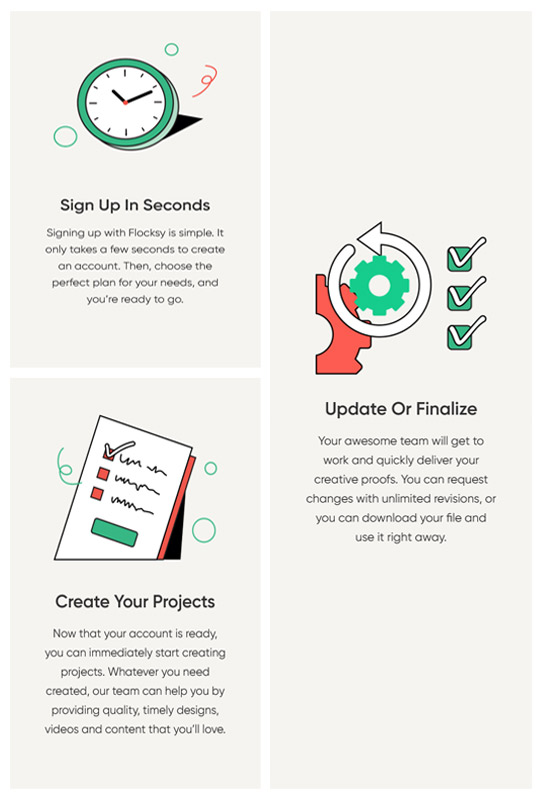 Is Flocksy Right For You?
Flocksy only employs the best creatives and pre-vets everyone they hire. You'll be working with dedicated professionals who are committed to providing quality work quickly. They offer unlimited video editing projects and revisions in combination with other highly desirable marketing asset creation services. This feature makes them perfect for startups who need an entire site's worth of content, bigger companies with consistent content needs, and agencies that want to outsource work.
Reasons To Love Flocksy:
For no contract, Flocksy provides not only video editing services but also copywriting, graphic design, illustrations, and more. They make it possible for brands to get all their creative assets without juggling several companies and different deadlines.

Because of this, using their service can be much less expensive than hiring an in-house team or working with three or four separate content creators. You'll work with an exceptional team of videographers who can help create the modern, beautiful video content you need quickly.
And when you've found a favorite video editor, you can invite them back to all your projects and add them to your team so that you can keep working with them. This feature allows you to build a long-term relationship with your creative and learn their strengths and specialties. They'll also get to know you and what style works best for your brand and needs. It'll shorten turnaround times, lower the revisions needed, and create the best quality work.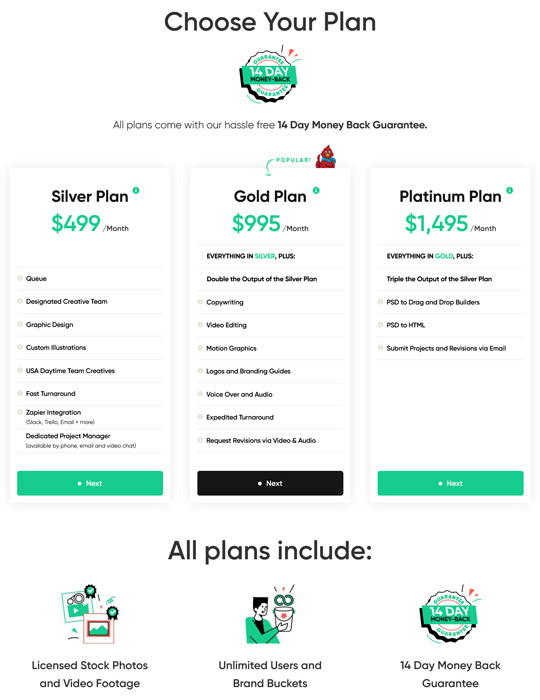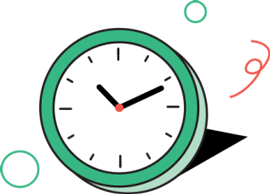 How Soon You'll See Results:
This is where Flocksy truly shines. In about 24 to 48 hours, you'll get quality results that you can count on consistently. Some shorter projects can also be done quicker.
Flocksy Pricing And Package Options:
Flocksy has three packages for a regular monthly rate that offer varying services. Here is the breakdown:

The Silver Plan:
● Unlimited graphic design
● A designated Creative Team
● Custom illustrations
● USA Daytime Team Creatives
● Turnarounds of about 24 to 48 hours
● Zapier integration with Slack, Trello, email, and more
● A Dedicated Project Manager (communication via phone, email, and video chat)

The Gold Plan:
● Everything above
● Double the Output of the Silver Plan
● Expedited Turnaround
● Request Revisions via Video & Audio
● Copywriting
● Video Editing
● Motion Graphics
● Logos & Branding Guides
● Voice-Overs &Audio

The Platinum Plan:
● Triple the Output of the Silver Plan
● Web Projects
● PSD/Figma/Sketch to Drag and Drop Builders
● PSD/Figma/Sketch to HTML

No matter which plan you choose, you'll always get licensed stock photos and video footage, unlimited users and brand buckets, and the 14-day money-back guarantee.
Benefits Of Using Flocksy
● 14-day money-back guarantee
● No contracts
● Expert video editors
● Many content & design services available
● Zapier integration
● Motion graphics & web development are available
● Great communication on the dashboard and through your favorite apps thanks to Zapier and Loom video messaging
● Long-term relationships with your creatives for enhanced quality and turnaround times
Why Flocksy May Not Work For You
● Video is available on the Gold plan and up
Browse other similar companies
Edit Video

- "A Subscription-based Video Editing Service for Content Creators."

Edit Video is a subscription-based video editing service that focuses on helping you with creating videos to post and showcase across platforms. They can use your raw footage to cut and edit a final draft that wows your audience and get it back to you quickly. They pride themselves on being quick, easy, and efficient.
Unbound

- "Unlimited Video Editing For A Fixed Monthly Fee"

Unbound is an internationally renowned video production agency. They currently offer professional editing services for a monthly subscription fee. They have over a decade of experience in content production and marketing. That kind of experience is hard to beat.
Unlimited Video Editing

- "UNLIMITED Video Editing is your little secret to making better videos and making a lot of them."

Unlimited Video Editing really is all about the name. They edit your videos for a flat monthly rate, which can be great when you truly have a lot of videos to edit and release throughout the month. They are an exclusive service, and only work with those they feel would be a good match for their services.
Video Husky

- "Your videos edited right,100% stress-free"

At Video Husky, the editors are there to help create quality videos that are on-brand and as stress-free as possible. They take the hassle of editing off your shoulders. As a premier outsourcing service, Video Husky has editing down to a science and can produce videos that engage, convert, and gain attention.