Video is ever-increasing in its power across digital marketing and promotion efforts.
If you're looking to stand out amongst your competition and want to attract new people to your brand, it's almost necessary to have a video presence online, at least on your website. By joining images, copywriting, music, and even a story, you can do the work of several content assets with a single video.
Video is just so powerful. You can convey so much in a quick, 30-second video that you just can't with an image or text alone. But producing videos regularly, even short ones, is a significant task.
That's where an Unlimited Video Editing service can be an incredibly valuable tool.
These unique video creation and editing subscriptions can take off the creative burden when you have an ongoing need for video content to produce across several platforms, including social media and your own site.
But with so many unlimited video subscriptions to choose from, how do you decide which one is right for your brand?
We've compared some of the top flat-rate video editing services to help you decide which one can handle your creative needs.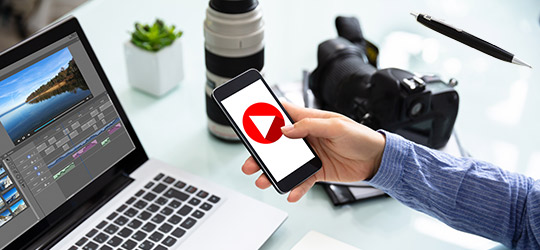 1. Flocksy

- "Hire Your Perfect Creative Team."

When looking for an all-in-one creative services platform that includes every type of marketing and promotional asset creation, you want Flocksy. They provide unlimited video editing, graphic design, video, motion graphics, web dev, and more. Flocksy pre-vets all its creatives and offers fast turnarounds with a focus on providing great quality.
2. Edit Video

- "A Subscription-based Video Editing Service for Content Creators."

Edit Video is a subscription-based video editing service that focuses on helping you with creating videos to post and showcase across platforms. They can use your raw footage to cut and edit a final draft that wows your audience and get it back to you quickly. They pride themselves on being quick, easy, and efficient.
3. Unbound

- "Unlimited Video Editing For A Fixed Monthly Fee"

Unbound is an internationally renowned video production agency. They currently offer professional editing services for a monthly subscription fee. They have over a decade of experience in content production and marketing. That kind of experience is hard to beat.
4. Unlimited Video Editing

- "UNLIMITED Video Editing is your little secret to making better videos and making a lot of them."

Unlimited Video Editing really is all about the name. They edit your videos for a flat monthly rate, which can be great when you truly have a lot of videos to edit and release throughout the month. They are an exclusive service, and only work with those they feel would be a good match for their services.
5. Video Husky

- "Your videos edited right,100% stress-free"

At Video Husky, the editors are there to help create quality videos that are on-brand and as stress-free as possible. They take the hassle of editing off your shoulders. As a premier outsourcing service, Video Husky has editing down to a science and can produce videos that engage, convert, and gain attention.