Growmodo

- "Hire Your Whole Design & Dev Team With a Few Clicks"
Company 4 of 5 in our list of the Top 5 Unlimited Web Development Companies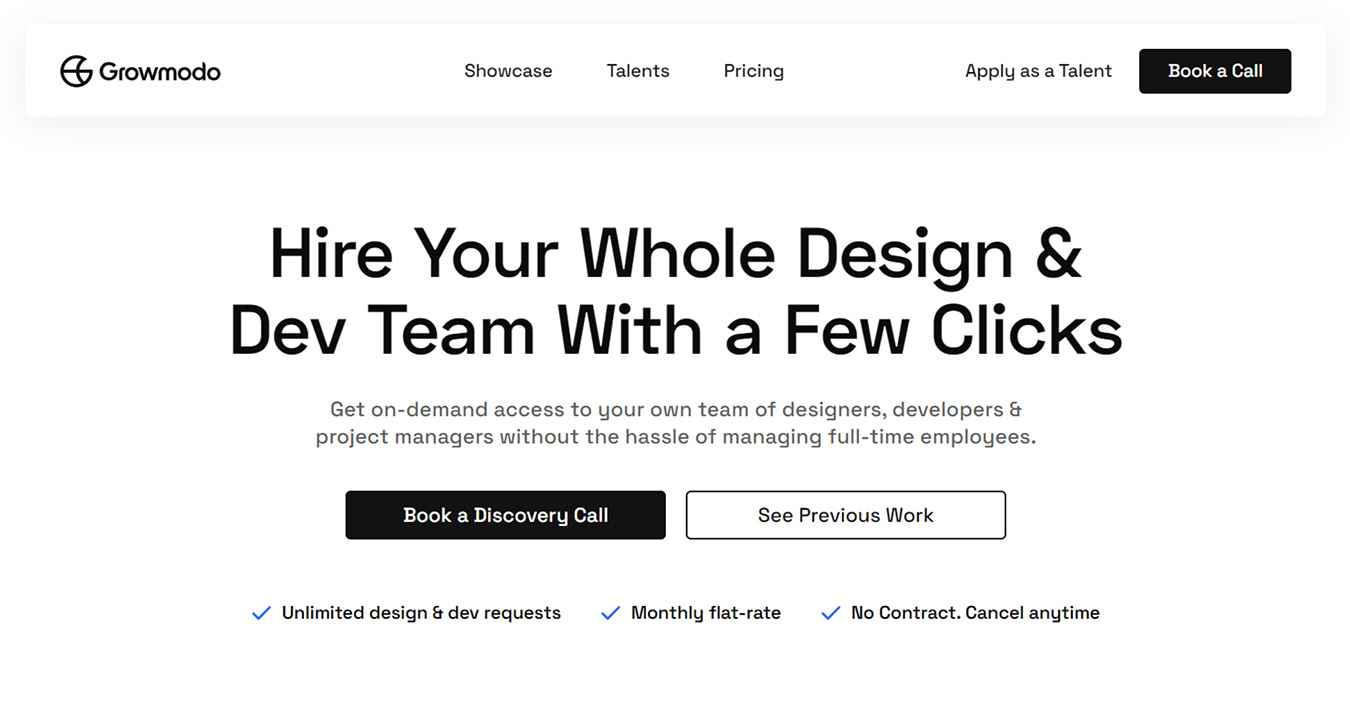 All About Growmodo
Growmodo has aimed to provide on-demand access to a team of designers, developers, and project managers without needing to manage full-time employees. They do things a little differently but still provide unlimited design, development, revisions, and brands, a dedicated project manager, daily updates & progress reports, and no contract. You can pause, upgrade, downgrade, or cancel your service anytime.
The Flocksy Creative Process:
Growmodo provides an unlimited design & development subscription that comes with a dedicated team and project manager for a flat rate. When you subscribe, the project request process is as follows:

● Sign up- Subscribe to a plan based on the number of people you want working on your account at any given time. Once you create an account with them, you can request your first project or task. They do this all through the Asana app.
● Start requesting- You'll get matched with a vetted designer or developer (as many as you choose based on your chosen plan), and they'll get to work on your project. They can help you with a number of design and development projects, including Webflow development, Shopify, WordPress, UX/UI, frontend and backend development, and eCommerce stores.
● Revise/Approve- You'll typically get a project update or finished task within 24 to 48 hours. You can also provide feedback or ask questions via text messages or screen-recording videos with your team.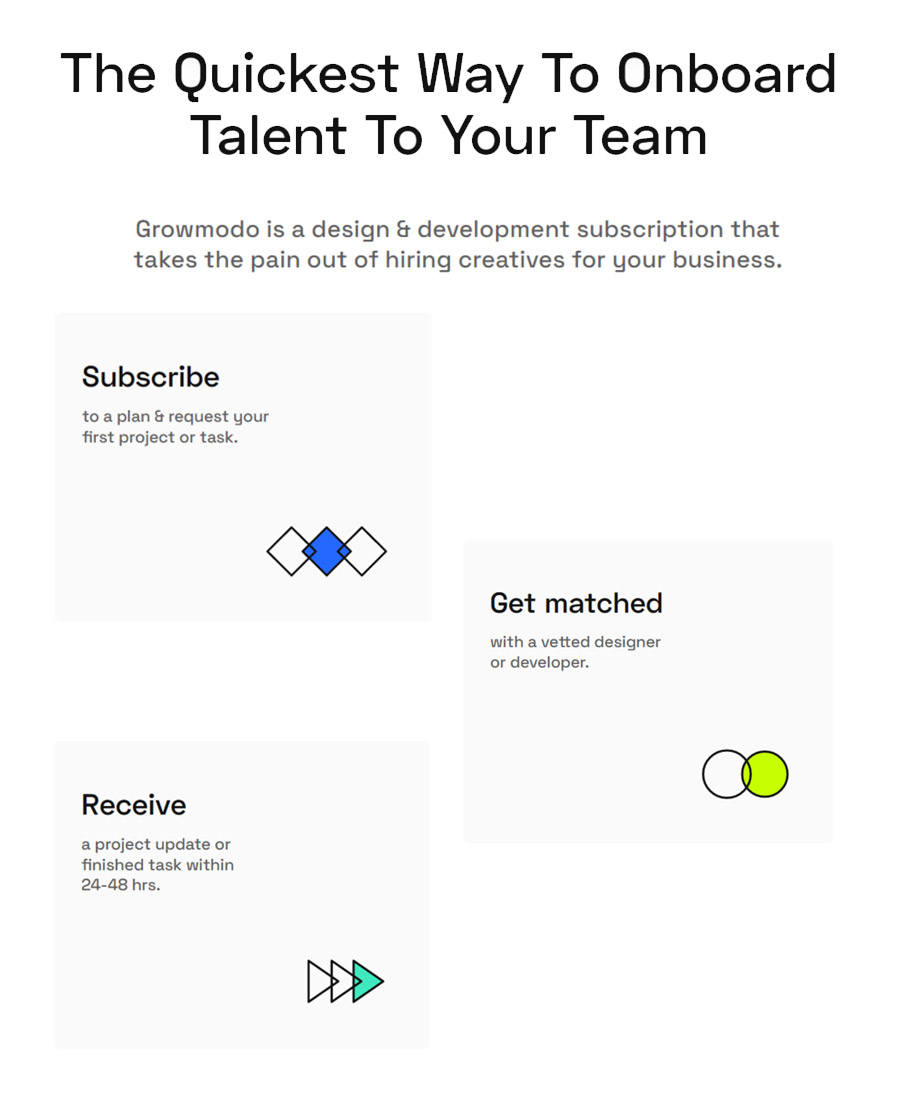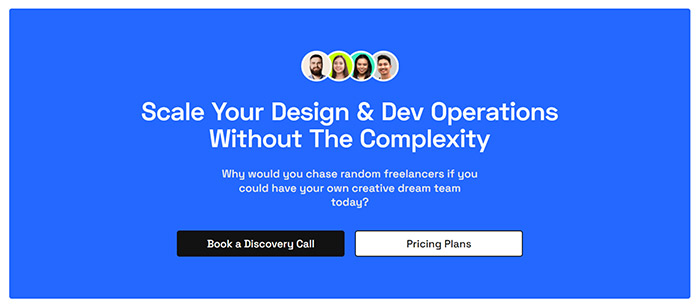 Is Growmodo Right For You?
If you're looking for a very robust web design and development offering, Growmodo can be a great selection. They work on many different platforms and within several different programs, including InDesign, Photoshop, Illustrator, WordPress, Shopify, WooCommerce, Canva, Figma, and Elementor. If you're looking for something more bespoke with several automation, design, email, and maintenance project types available, Growmodo can provide that.
Reasons To Love Growmodo:
They provide premier web maintenance and audit offerings to ensure your web pages are functioning properly and doing their job correctly after they've been beautifully designed and developed.
They also have a unique 100% Satisfaction Guarantee that states they'll put in additional time and assign more designers or developers to the project if something doesn't turn out how you want until you're happy with the results.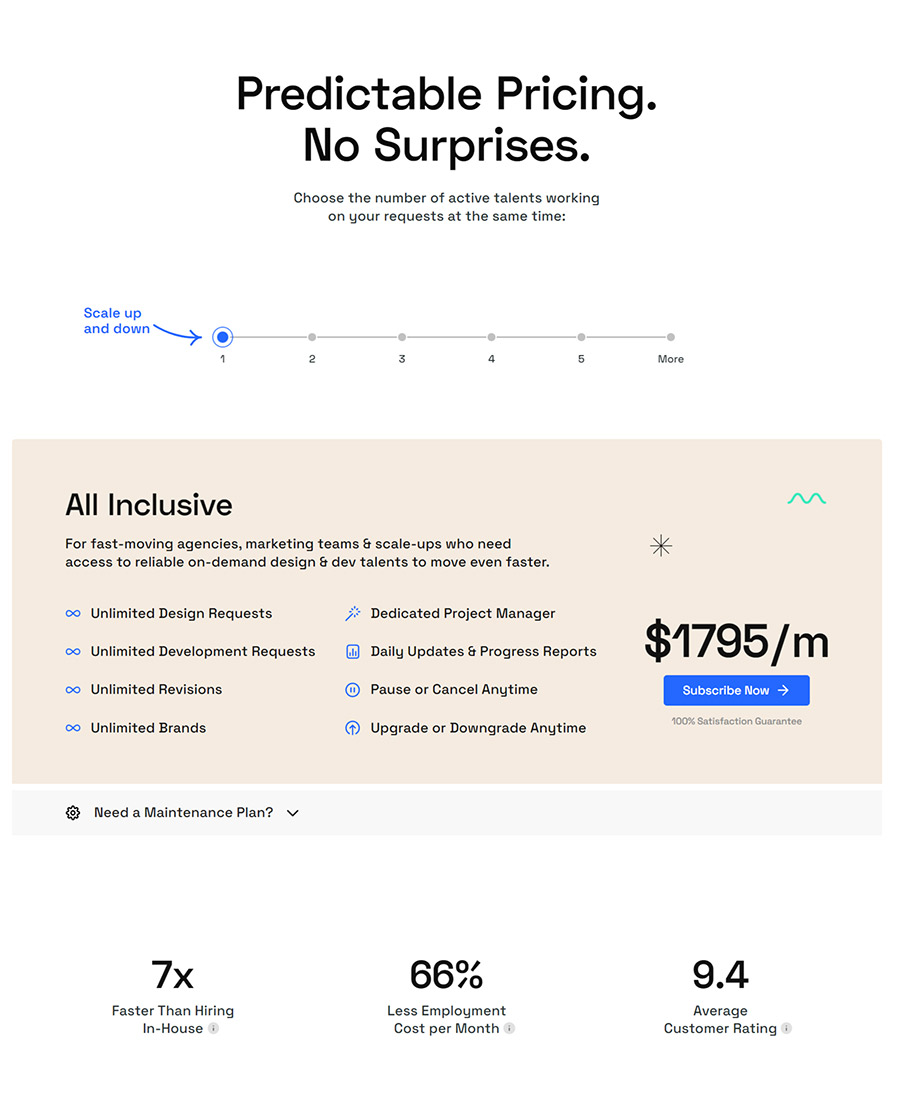 How Soon You'll See Results:
Growmodo doesn't have an explicit turnaround time listed on their site. They state that the total hours worked in an account is usually 6 to 8 hours per day per plan, depending on your workload. If you email them your content brief using their template, they can provide you with a time estimate.
Growmodo Pricing And Package Options:
There are technically six pricing options available. They dictate the number of people you'll have working on your projects from one to five and then an option for more. Each plan offers the same features outside of that, which include:
● Unlimited Design Requests
● Unlimited Development Requests
● Unlimited Revisions
● Unlimited Brands
● Dedicated Project Manager
● Daily Updates & Progress Reports
● Pause or Cancel Anytime
● Upgrade or Downgrade Anytime
● Scalable Remote Workforce
● Top 3% Designers & Developers
● You Own 100% of Everything We Do

The starting plan with one "talent" associated with the account is $1795/month, and it goes up from there.
● 2 talents- $3590/month
● 3 talents- $5385/month
● 4 talents- $7180/month
● 5 talents- $8975/month
● Custom- Contact them for a quote
Benefits Of Using Growmodo
● They can perform a number of design and development tasks as well as development
● They can work on nearly every type of platform or creator
● They can code from scratch or use template designs
● You can have multiple people working on your account at once
Why Growmodo May Not Work For You
● They're one of the most expensive options out there
● There isn't a strict expectation for turnaround time. Your results will depend on the complexity of your project or task.
● They use Asana as the only messaging source, so if you have questions or concerns, you'll need to leave them in the Asana chat and wait for your team to see them.
Browse other similar companies
Flocksy

- "Hire Your Perfect Creative Team."

When you need nearly every type of creative service taken care of to design and develop your website, Flocksy's all-in-one platform can handle all the assets and content your site requires and keep it stocked with amazing graphics and copy consistently. They provide unlimited web development, graphic design, motion graphics, video editing, copywriting, and more. Flocksy pre-vets all its developers and creatives, and you'll find some of the fastest turnaround times in the industry. With Flocksy's team of highly trained designers and coders, you'll get the custom web page you want to wow your target audience.
Devlevate

- "We are Devlevate. We are here to elevate your brand."

Devlevate is an unlimited web development company that focuses on providing advanced web design and development services to allow brands to get back to operations while they handle building the site. They can provide Shopify, WordPress, and custom web development services, including skills in WooCommerce, HTML/CSS, Elementor, Bootstrap, Tailwind, and more.
Thrive Pix

- "Unlimited web development for your business"

ThrivePix's mission is to provide you with a consistent flow of website development and updates for your business that allows you to maximize output and scale your business without having to recruit, interview, and hire a development team. They offer unlimited development projects with a team of varied and vetted experts. You'll have a project manager to guide you through the request process and can work on anything from building a new website to creating a sales funnel, eCommerce, or landing page, to updating an existing website.
Chek Creative

- "A Web Studio Without Limits"

Chek Creative helps businesses by creating custom sites tailored to your specific needs. You'll find unlimited pages created on modern interfaces through Webflow, WordPress, Shopify, and more. You can also create custom campaign and landing pages that promise to have good performance. They can even set up useful automations with Zapier integrations that allow you to link your favorite tools, run custom code when you want, parse out and filter data, and create unique "next step" experiences.