Devlevate

- "We are Devlevate. We are here to elevate your brand."
Company 2 of 5 in our list of the Top 5 Unlimited Web Development Companies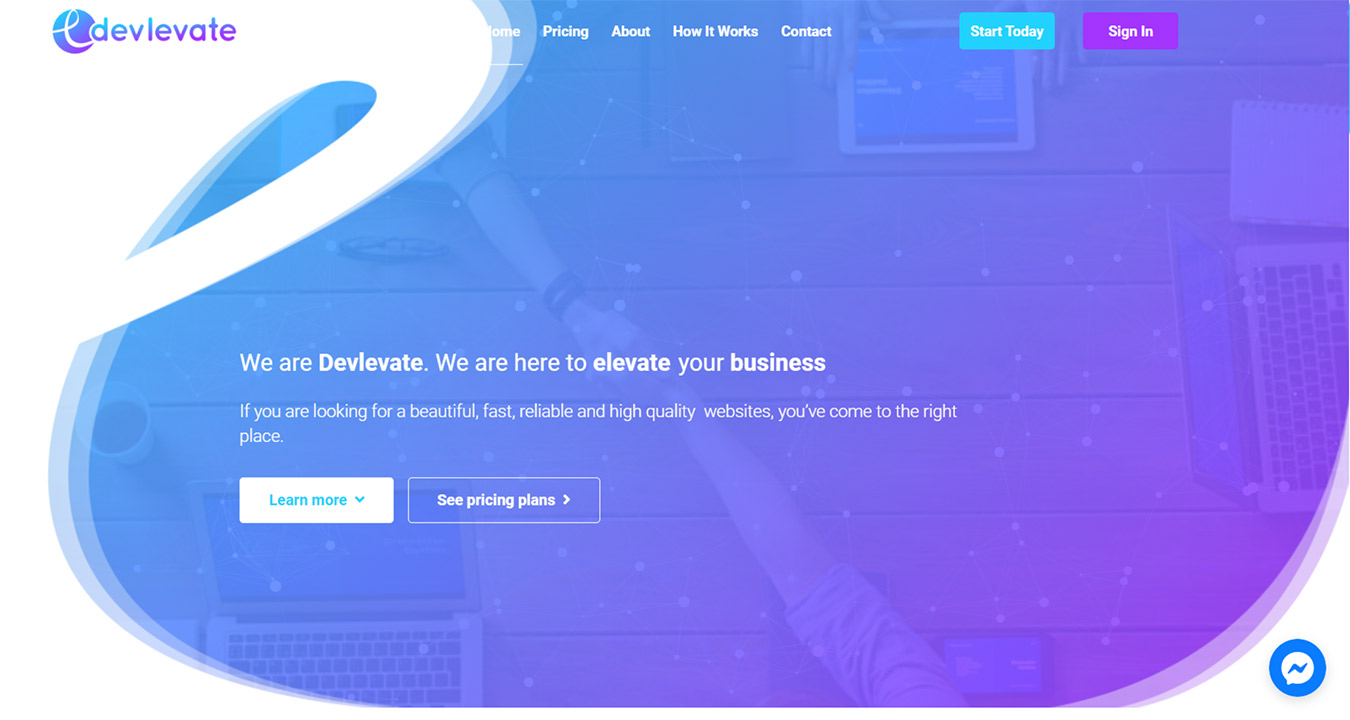 All About Devlevate
Devlevate is an unlimited web development company that focuses on providing advanced web design and development services to allow brands to get back to operations while they handle building the site. They can provide Shopify, WordPress, and custom web development services, including skills in WooCommerce, HTML/CSS, Elementor, Bootstrap, Tailwind, and more.
The Devlevate Creative Process:
Working with Devlevate is simple and straightforward.

● Match with your developer- When you sign up for their service, you'll first fill out the information about your company and select the developer schedule you want. Then, they'll match you with a dedicated developer within one business day.
● Submit your request- Anytime while logged into the client portal or through email, you can request unlimited projects. You'll describe your development request and upload your relevant files or select from their library.
● They go to work- With typically less than one business day turnarounds for simple tasks, and daily updates for more complex development projects, you'll be able to watch the progress in the portal and chat with your developer via Slack, email, and their portal App.
● Review & Approve- Your developer will send the completed development for you to review. You'll get constant updates during your development and can request unlimited revisions. When you approve of the project, it'll be packaged up and made ready for you.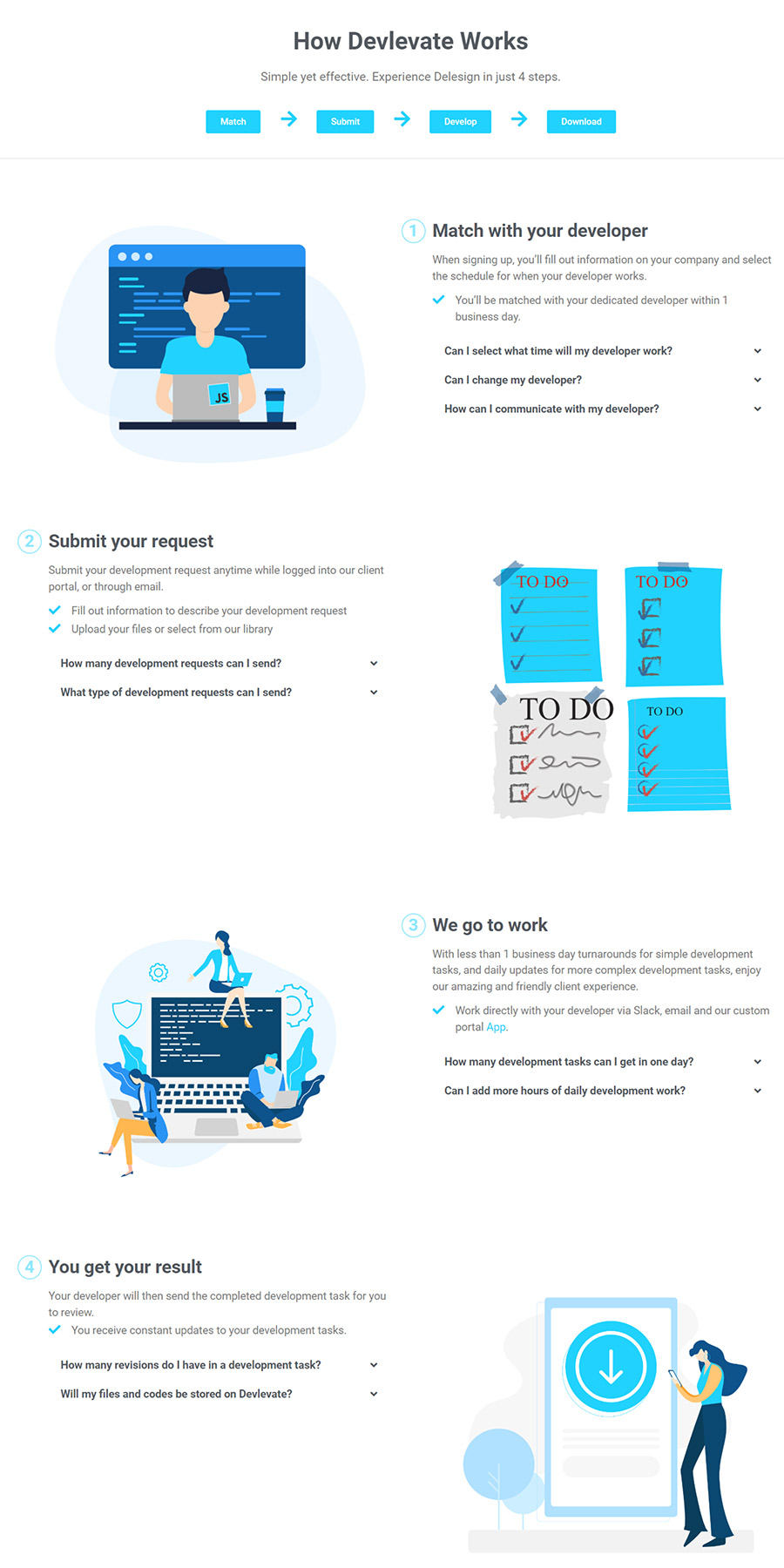 Is Devlevate Right For You?
If you have a consistent need for web development projects but already have the assets and content to fill it up, Devlevate could be a great option for your brand. They do offer white-label development services as well, so if you need help with your current backlog of client development projects, they can help with that as well. They can also provide a custom quote for a one-time project that's more complex and requires more work than their two packages cover.
Reasons To Love Devlevate:
Devlevate provides very affordable services when you need regular assistance with building your website or several others.

This price point can be especially attractive to those starting out or rebranding their sites.
You can also choose which schedule you want your developers to work in for you, which can be helpful when you're across the world from them. Between the three options, there is likely to be a good option for you, as long as you have the graphics and content to populate your site.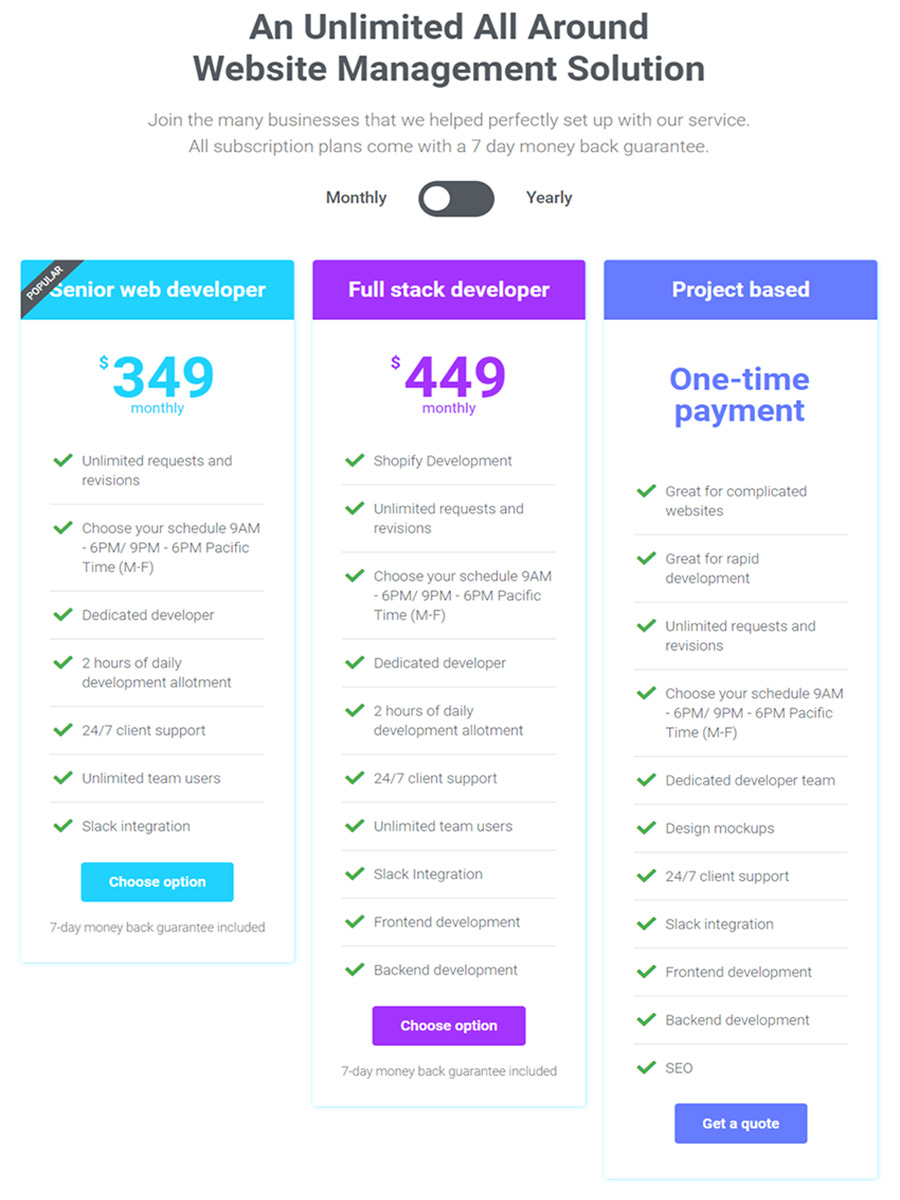 How Soon You'll See Results:
Most development projects on Devlevate can be completed in less than 24 hours. This is for simple project requests. For more complex projects, you'll receive a time quote. You'll get two hours of daily work time and can add more subscriptions to increase that amount of time. So if you have a simple project that takes just an hour, you could see two of those come back in the same day. However, if a project takes longer than two hours, it will be stretched across the work week.
Devlevate Pricing And Package Options:
There are three options available to you at Devlevate. They're listed below.

Senior web developer
● $349/Monthly
● Unlimited requests and revisions
● Choose your schedule 9 AM - 6 PM/9 PM - 6 PM Pacific Time (M-F)
● Dedicated developer
● 2 hours of daily development allotment
● 24/7 client support
● Unlimited team users
● Slack integration
● Full stack developer
● $449/Monthly
● Shopify Development
● Unlimited requests and revisions
● Choose your schedule 9 AM - 6 PM/9 PM - 6 PM Pacific Time (M-F)
● Dedicated developer
● 2 hours of daily development allotment
● 24/7 client support
● Unlimited team users
● Slack Integration
● Frontend development
● Backend development

Project-Based One-Time Payment
● Great for complicated websites
● Great for rapid development
● Unlimited requests and revisions
● Choose your schedule 9 AM - 6 PM/9 PM - 6 PM Pacific Time (M-F)
● Dedicated developer team
● Design mockups
● 24/7 client support
● Slack integration
● Frontend development
● Backend development
● SEO

You can also choose to get SEO work done for your site. It's a one-time fee for up to 15 separate pages on a website. It includes the following:
● $449 one-time fee
● Submit site to Google, RSS feed to Google, & site to Entireweb
● Auto-Ping Search Engines to crawl your site
● Keyword Research & Data Analytics
● Competitive Gap Analysis
● Enhanced Page Title, Meta descriptions, & Headline Tags
● Custom Alt-image Tags
● Geographic Targeting
● Content Optimization
● Schema.Org Markup
● Images Optimization
● NAP Syndication
● Social Signals & Bookmarking
● URL Analysis & Optimization
● Fix Errors in Google Search Console
● Configure Search Settings Analytics & Search Console
● Install & Configure Google Accelerated Mobile Pages
● Web Speed Optimization
● 2 Blogs Every Month
Benefits Of Using Devlevate
● Affordable services
● Two developer schedules
● Designated developer that you can change
● Unlimited project and revisions
● Files and code stored on Devlevate (unlimited storage)
● 7-day money-back guarantee
Why Devlevate May Not Work For You
● Maximum two hours daily work on a single plan
● Shopify, frontend, and backend development are on the higher tier
● SEO is extra
● Developers are all located in the Philippines, so there may be a language barrier
Browse other similar companies
Flocksy

- "Hire Your Perfect Creative Team."

When you need nearly every type of creative service taken care of to design and develop your website, Flocksy's all-in-one platform can handle all the assets and content your site requires and keep it stocked with amazing graphics and copy consistently. They provide unlimited web development, graphic design, motion graphics, video editing, copywriting, and more. Flocksy pre-vets all its developers and creatives, and you'll find some of the fastest turnaround times in the industry. With Flocksy's team of highly trained designers and coders, you'll get the custom web page you want to wow your target audience.
Thrive Pix

- "Unlimited web development for your business"

ThrivePix's mission is to provide you with a consistent flow of website development and updates for your business that allows you to maximize output and scale your business without having to recruit, interview, and hire a development team. They offer unlimited development projects with a team of varied and vetted experts. You'll have a project manager to guide you through the request process and can work on anything from building a new website to creating a sales funnel, eCommerce, or landing page, to updating an existing website.
Growmodo

- "Hire Your Whole Design & Dev Team With a Few Clicks"

Growmodo has aimed to provide on-demand access to a team of designers, developers, and project managers without needing to manage full-time employees. They do things a little differently but still provide unlimited design, development, revisions, and brands, a dedicated project manager, daily updates & progress reports, and no contract. You can pause, upgrade, downgrade, or cancel your service anytime.
Chek Creative

- "A Web Studio Without Limits"

Chek Creative helps businesses by creating custom sites tailored to your specific needs. You'll find unlimited pages created on modern interfaces through Webflow, WordPress, Shopify, and more. You can also create custom campaign and landing pages that promise to have good performance. They can even set up useful automations with Zapier integrations that allow you to link your favorite tools, run custom code when you want, parse out and filter data, and create unique "next step" experiences.