Flocksy

- "Hire Your Perfect Creative Team"
Company 1 of 5 in our list of the Top 5 Unlimited Web Development Companies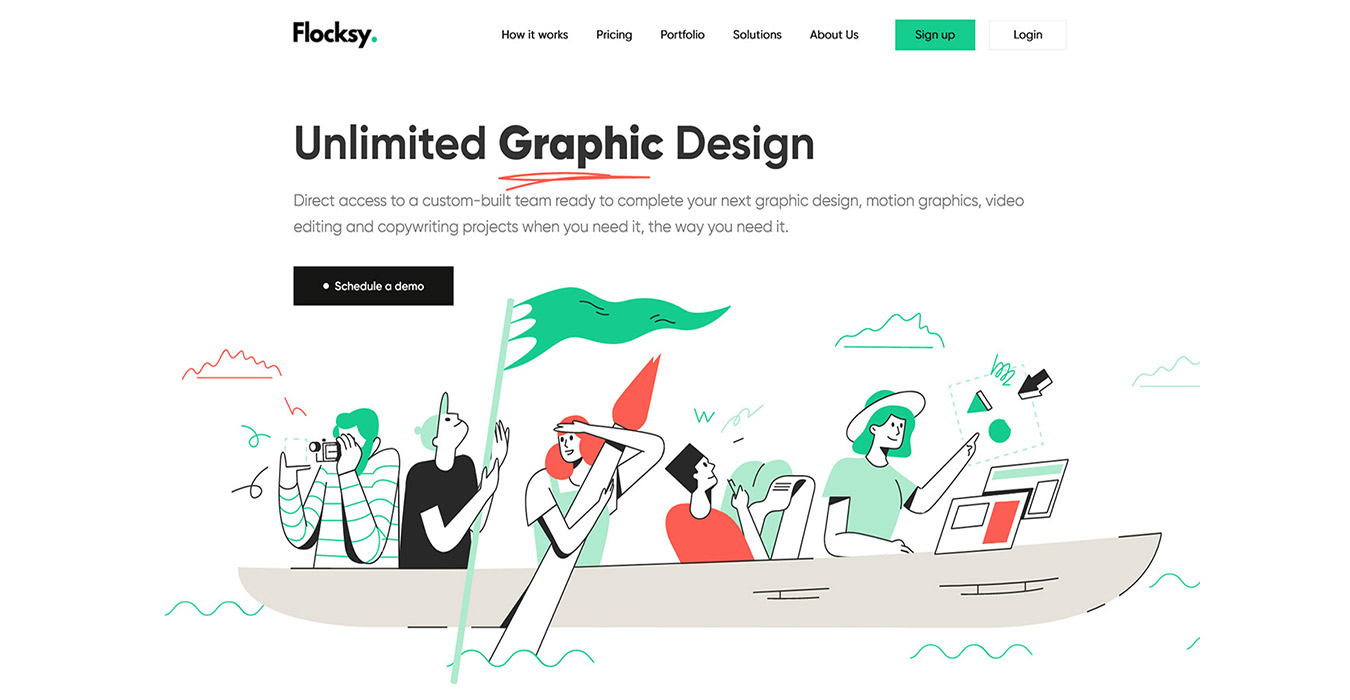 All About Flocksy
When you need nearly every type of creative service taken care of to design and develop your website, Flocksy's all-in-one platform can handle all the assets and content your site requires and keep it stocked with amazing graphics and copy consistently. They provide unlimited web development, graphic design, motion graphics, video editing, copywriting, and more. Flocksy pre-vets all its developers and creatives, and you'll find some of the fastest turnaround times in the industry. With Flocksy's team of highly trained designers and coders, you'll get the custom web page you want to wow your target audience.
The Flocksy Creative Process:
To get the web dev options with Flocksy, you'll choose the highest tier package and sign up on their website. The plan comes with a full suite of creative service options that you can start requesting as soon as you log in to their dashboard. They work on a monthly flat-rate basis where you'll pay a fee for unlimited services that you can cancel anytime. You'll also get a 14-day money-back guarantee.

The intuitive briefs that accompany every project allow you to streamline the request process so that you get great results back faster. They guide you through what to provide your developer, including starting any necessary graphic design and copywriting projects so that they can create your perfect website. You'll also get to cultivate a dedicated team. These creatives will get to know your brand, which improves your experience, generates excellent results, and improves the turnaround time.

Flocksy will assign your website to a developer, or if you're starting a new project and want to work with your previous developer, you can invite them back. No matter what type of project you run or who you're working with, you can use the online Message Center chat in both general and project-specific threads to communicate with your team. You can ask your developer questions, explain necessary changes, and offer feedback. You can also check the project timer, which shows when you can expect your project to finish.

What's more, a dedicated project manager will be there to help you with any questions, concerns, priority changes, etc. You name it, and they'll be there for guidance from the start.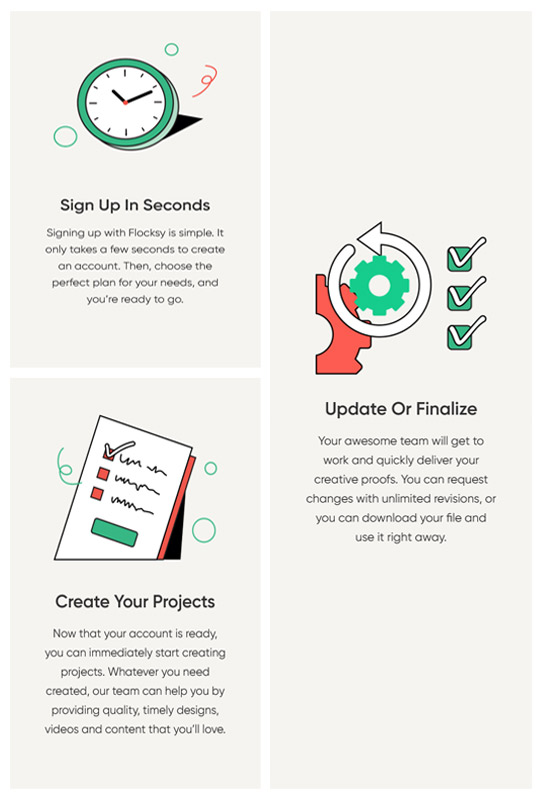 Is Flocksy Right For You?
Thanks to the quality of both their platform and their creatives, you'll find that this talented crew can use your project brief and desires to create something beautiful. Even better, they can do it quickly. They provide unlimited projects and revisions, and it's not just web dev. You'll also be able to get motion graphics, copywriting, custom illustrations, graphic design, video, and more. Whether you're a startup, a larger company with consistent creative needs going through a rebranding, or an agency that wants to outsource some of your current backload, Flocksy is a fantastic choice.
Reasons To Love Flocksy:
For a consistent monthly amount that you can cancel or downgrade at any time, you'll get every creative service you'll need with unlimited requests. You can put in as many web design or development, graphic design, content, or media requests as you want, and the team will truck through them. Juggling service providers with different deadlines and quality is exhausting. With Flocksy, you pay the same monthly fee across the board and can see exactly when to expect your drafts and proofs. Simple

When it comes to getting all the needs met, an in-house team or two, several subscriptions, or using three or four separate freelancers is going to be more expensive. You can work with an experienced team of developers and other creatives who will help you produce an eye-catching website that looks professional, beautiful, and personalized to your brand. And they'll do it on your schedule.
You can also invite your favorite designers and developers back over and over again, so you get the results you want every time. Adding them to your team is as simple as a click. You can also grow your team to a crew of creatives you can count on. Those long-term relationships with your team produce better results than having to work with someone new every time you need a new asset or webpage.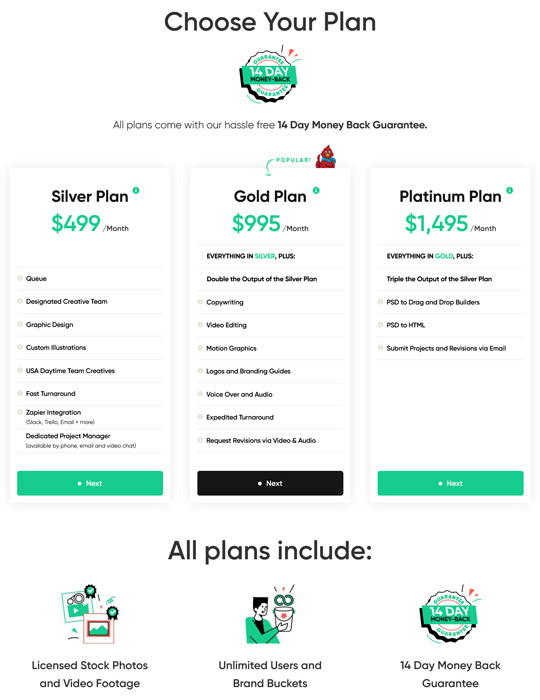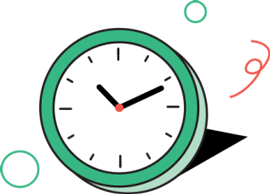 How Soon You'll See Results:
For most simple projects, you'll see results in roughly 24 to 48 hours, and some shorter projects and many graphic design assets come back in 24 hours or less. For more complex projects, such as multi-page websites, you'll get a timer on your project to see exactly when it's coming back, with an average turnaround time of 48 to 72 hours.
Flocksy Pricing And Package Options:
Flocksy has three packages for unlimited projects and revisions. Here is the breakdown:

The Silver Plan:
● $499/month
● Unlimited graphic design
● Custom illustrations
● A designated Creative Team
● USA Daytime Team Creatives
● Turnaround of 24 to 48 hours
● Zapier integration (Slack, Trello, email, etc.)
● A Dedicated Project Manager (communicate via phone, email, and video chat)

The Gold Plan:
● $995/month
● Everything in the Silver Plan
● Double the Output of the Silver Plan
● Expedited Turnaround
● Request Revisions via Video & Audio
● Copywriting
● Video Editing
● Motion Graphics
● Logos & Branding Guides
● Voice-Overs & Audio

The Platinum Plan:
● $1,495/month
● Everything in the above plans
● Triple the Output of the Silver Plan
● Web Projects
● PSD/Figma/Sketch to Drag and Drop Builders
● PSD/Figma/Sketch to HTML

Plus, with every plan, you'll always get unlimited Brand Buckets, Licensed Stock Photos and Video Footage, and a 14-Day Money-Back Guarantee.
Benefits Of Using Flocksy
● Comprehensive creative services
● Exceptionally affordable when considering everything you'll get
● Zapier integration
● Excellent communication (Zapier, Loom, & Message Center)
● Long-term relationships
● Lightning-fast
● 14-Day Money-Back Guarantee
● No Contracts
● Expert creatives
Why Flocksy May Not Work For You
● A subscription to the higher tier is required for web dev.
Browse other similar companies
Devlevate

- "We are Devlevate. We are here to elevate your brand."

Devlevate is an unlimited web development company that focuses on providing advanced web design and development services to allow brands to get back to operations while they handle building the site. They can provide Shopify, WordPress, and custom web development services, including skills in WooCommerce, HTML/CSS, Elementor, Bootstrap, Tailwind, and more.
Thrive Pix

- "Unlimited web development for your business"

ThrivePix's mission is to provide you with a consistent flow of website development and updates for your business that allows you to maximize output and scale your business without having to recruit, interview, and hire a development team. They offer unlimited development projects with a team of varied and vetted experts. You'll have a project manager to guide you through the request process and can work on anything from building a new website to creating a sales funnel, eCommerce, or landing page, to updating an existing website.
Growmodo

- "Hire Your Whole Design & Dev Team With a Few Clicks"

Growmodo has aimed to provide on-demand access to a team of designers, developers, and project managers without needing to manage full-time employees. They do things a little differently but still provide unlimited design, development, revisions, and brands, a dedicated project manager, daily updates & progress reports, and no contract. You can pause, upgrade, downgrade, or cancel your service anytime.
Chek Creative

- "A Web Studio Without Limits"

Chek Creative helps businesses by creating custom sites tailored to your specific needs. You'll find unlimited pages created on modern interfaces through Webflow, WordPress, Shopify, and more. You can also create custom campaign and landing pages that promise to have good performance. They can even set up useful automations with Zapier integrations that allow you to link your favorite tools, run custom code when you want, parse out and filter data, and create unique "next step" experiences.