Reel Unlimited

- "Unlimited copywriting services for startups."
Company 5 of 5 in our list of the Top 5 Unlimited Copywriting Companies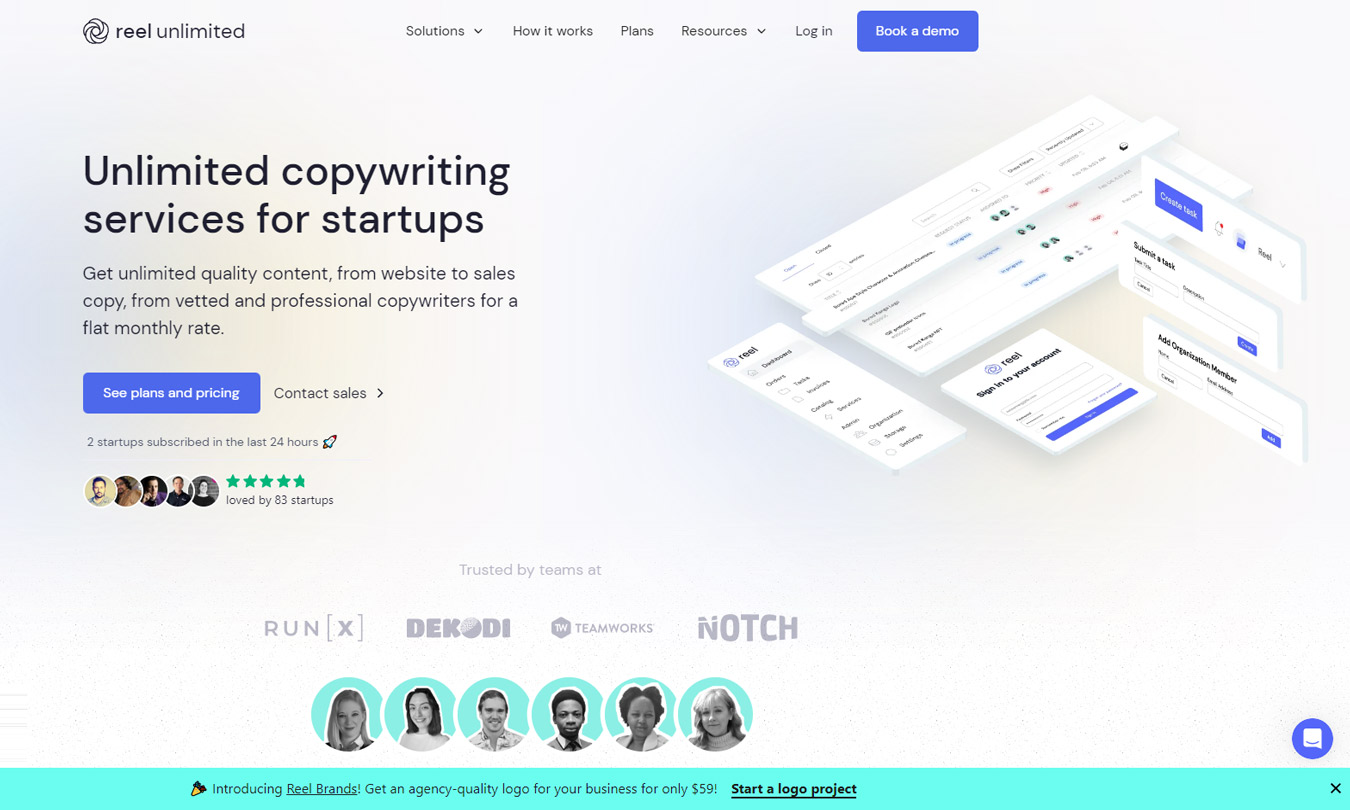 All About Reel Unlimited
With Reel Unlimited's copywriting service, vetted, professional copywriters create various types of content for your brand for a flat monthly rate. The site guarantees most results within 24 hours, whether it's an ad, sales copy, email, or landing page copy. You can cancel anytime, there is no contract, and you can choose from three plans.
The Reel Unlimited Creative Process:
Reel Unlimited's copywriting plan works similarly to the others. You'll first select a plan you think will serve your brand best and create an account. After setting up your account, you can start submitting your writing requests and make as many as you want with the unlimited service.

Then, their writers work on the requests as you submit them. Requests are instantly assigned to the best and most qualified writers from their staff, and in most cases, proofs are returned to you in roughly 24 hours. With Reel Unlimited, you'll also get free and unlimited revisions.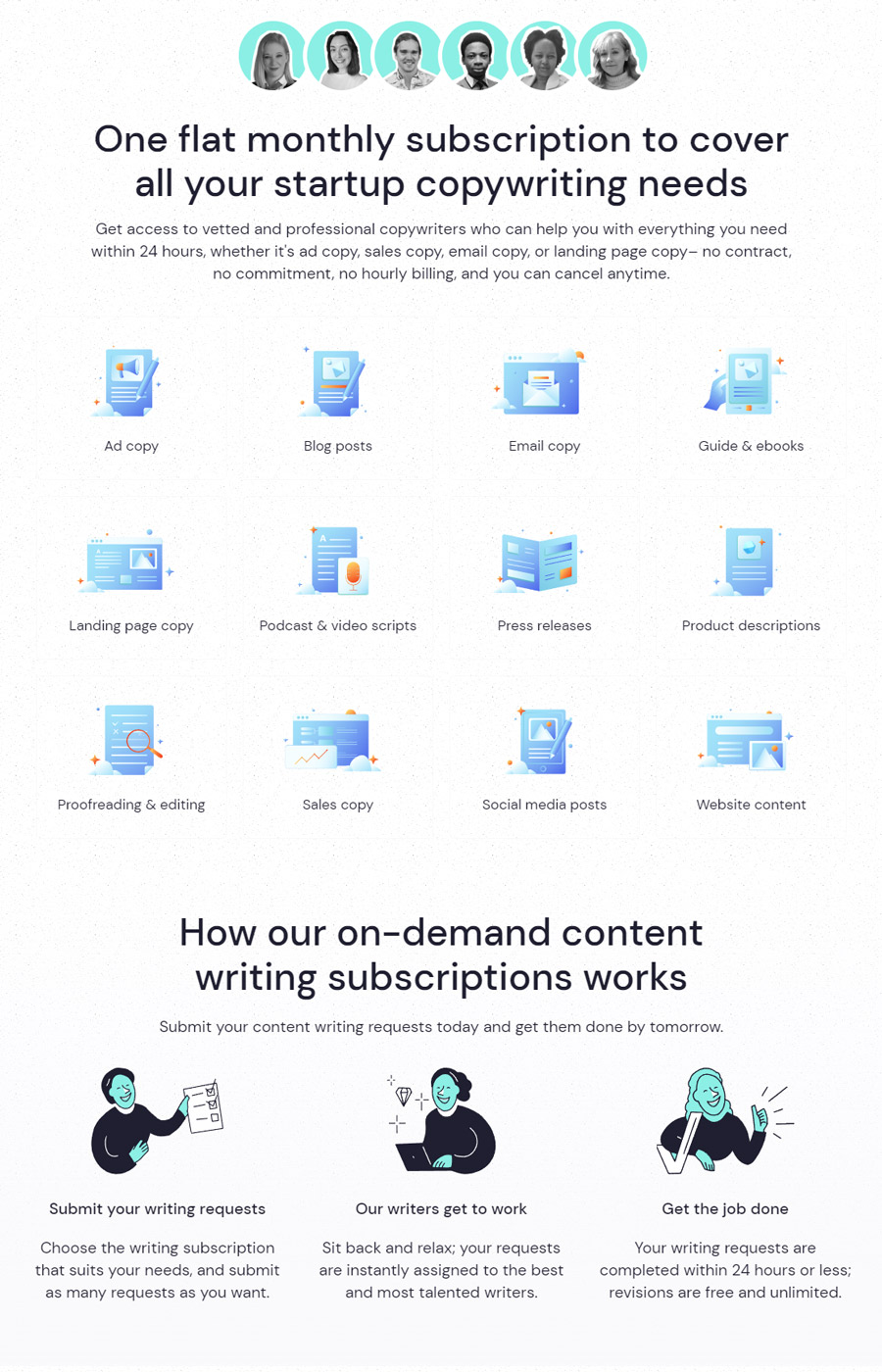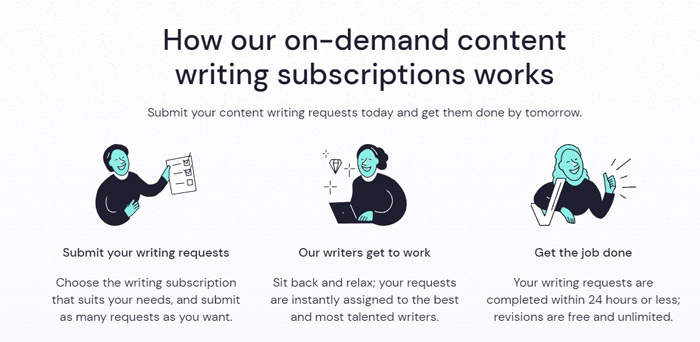 Is Reel Unlimited Right For You?
Reel Unlimited is for those who need regular content and have the budget available to invest in an ongoing monthly charge. It can be more cost-effective than hiring an in-house writer, but their service is also one of the more costly options out there. The site describes its service as best for startups at the beginning of their journey that have achieved VC-backing and who need regular content production to make the fee worth it.
Reasons To Love Reel Unlimited:
On Reel Unlimited, they break down their service offerings very thoroughly, and you can tell exactly what you'll be getting on each available tier. The system can auto-publish the content to your web page on the highest tier and turnaround times are pretty fast. Both of those features together can cut down on the time it takes to produce and post quality content to your site.
Reel Unlimited also offers real-time Slack collaboration between you and your writers via Slack channels. These are available during daily business hours. Also, you'll receive a seven-day money-back guarantee when you sign up. If you aren't satisfied with the content being produced within the first seven days, you can receive a full refund.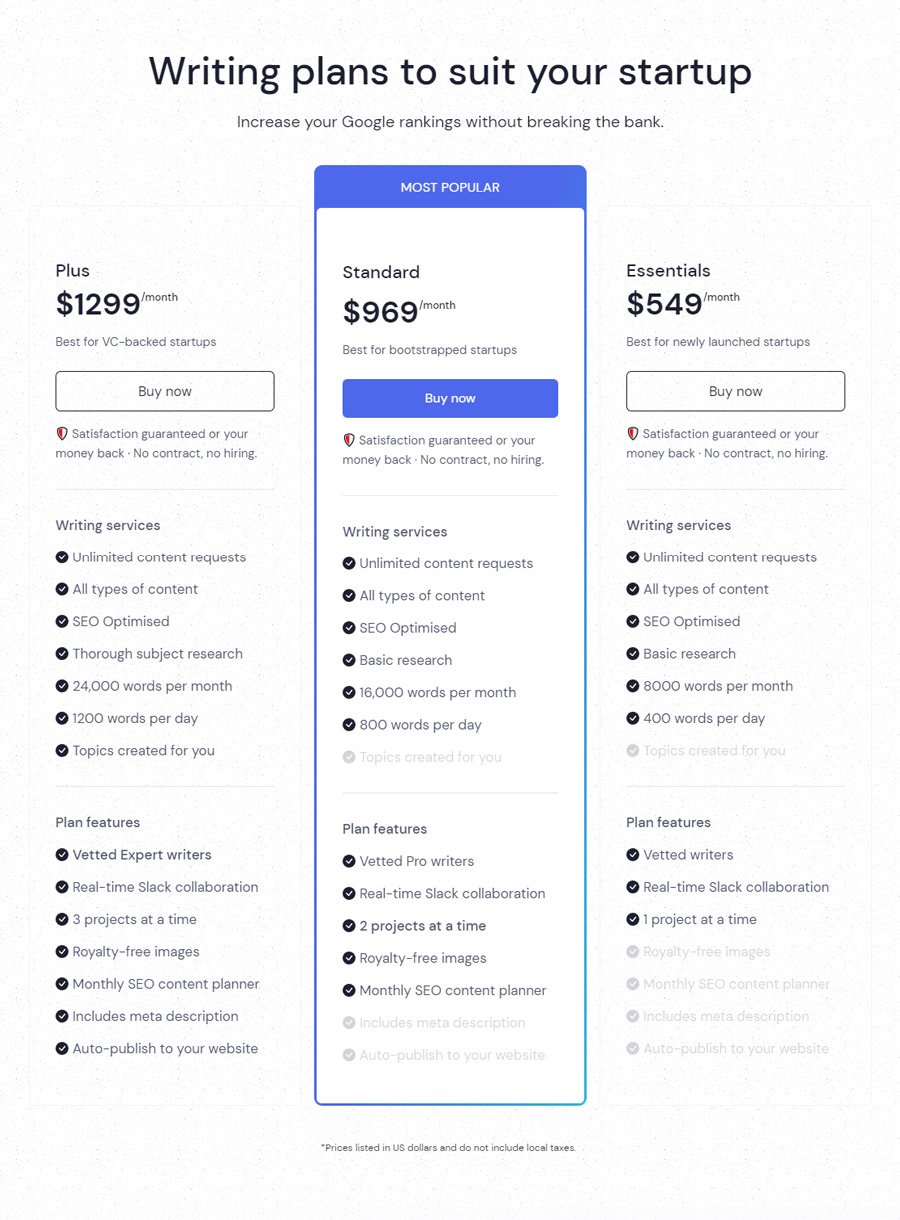 How Soon You'll See Results:
Based on your plan, you'll see a typical 24-hour turnaround time and can get up to 1000 words in that timeframe, Monday through Friday.
Reel Unlimited Pricing And Package Options:
Reel Unlimited has three writing packages:

The Essentials plan
● $549 a month
● Unlimited requests
● 400 words per day & 8000 per month
● All types of content
● SEO optimization
● Basic research
● Unlimited revisions, brands & users
● Dedicated Pro-level writers
● Slack communication
● One project each day

The Standard plan
● $899 a month
● Everything in Essentials
● 800 words per day & 16,000 per month
● Monthly SEO content planner
● Royalty-free images
● Two content projects each day

The Plus plan
● $1249 a month
● Everything in Standard
● 1200 words per day & 16,000 per month
● Monthly SEO content planner
● Two content projects per day
● Royalty-free images
● Topics created for you
● Includes meta description
● Auto-publish to your website
Benefits Of Using Reel Unlimited
● Fast
● Combo options for copywriting and graphic design
● Slack communication
● 7-day money-back guarantee
● Can assign more than one project at a time
● Auto-publish & topic choosing
● 5-day trial
Why Reel Unlimited May Not Work For You
● Has higher prices than most of the competitors
● Daily and monthly word caps with every package
Browse other similar companies
Flocksy

- "Hire Your Perfect Creative Team."

When you need an all-in-one creative services platform that includes every type of marketing and promotional assistance, you want Flocksy. They provide unlimited copywriting, graphic design, video, motion graphics, web dev, and more. They pre-vet all their creatives and offer quick results with incredible quality. Their team of professionals has excellent insight and experience they can use to help you create the compelling copy you need to sell, promote, engage, and convert.
Panda Copy

- "Unlimited Copywriting Made Simple."

Panda Copy offers unlimited copywriting services. The company promises high-quality, reliable copywriting for your business needs without hassle or contracts. Panda Copy provides content from professional writers with a monthly subscription where you'll get unlimited revisions. You'll pay a flat rate and cancel anytime.
Copy Masters

- "Imagine always having content ready for you…"

At Copy Masters, users work with a team of trained, experienced copywriters who can help you scale your content marketing and increase leads with high-quality copy. Copy Masters promises 100% original content you'll completely own from the moment it's delivered. Their promised turnaround time is roughly 24 hours or less. Additionally, Copy Masters employs content marketing experts who can work with you to strategize your content needs.
Gannet

- "Unlimited Copywriting for Unlimited Success."

Gannet promises their clients high-quality content in 24 hours or less on their unlimited copywriting plans. The subscriptions come at a flat rate, which you can cancel at any time. Gannet says its mission is to eliminate the hunt for qualified freelancers and provide access to competent writers who can reliably create the consistent content your company needs in a timely manner.