Panda Copy

- "Unlimited Copywriting Made Simple."
Company 2 of 5 in our list of the Top 5 Unlimited Copywriting Companies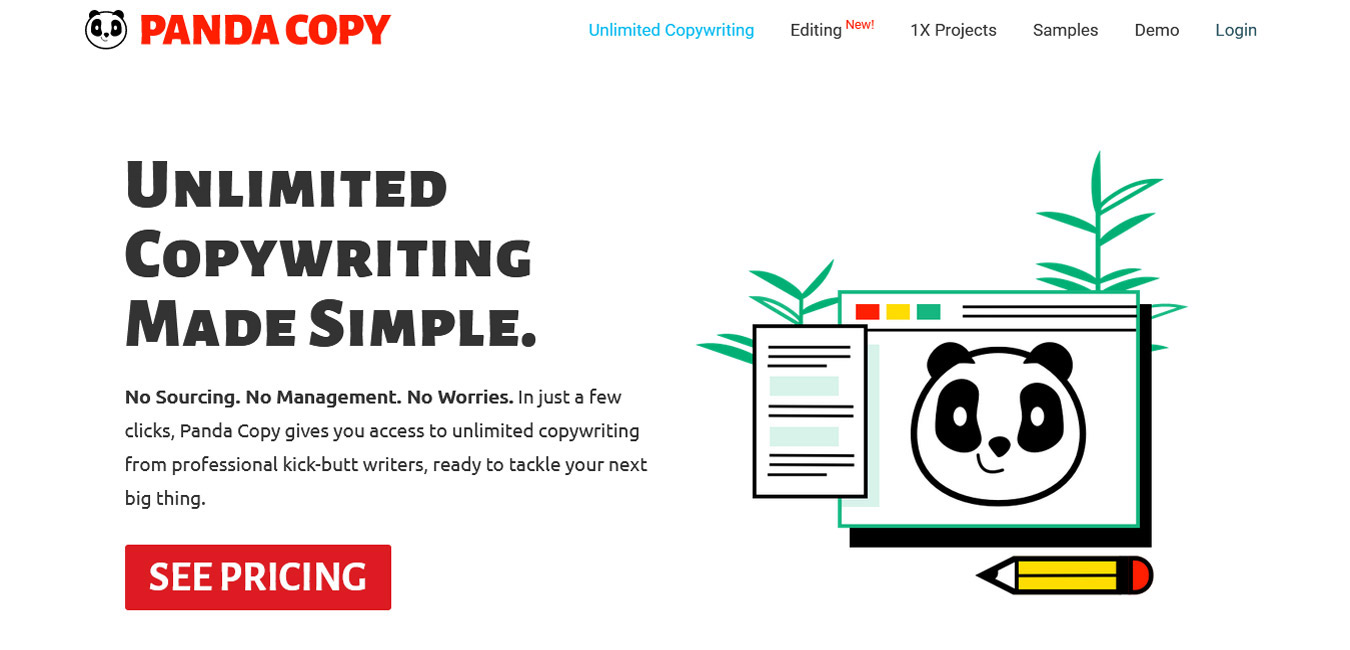 All About Panda Copy
Panda Copy offers unlimited copywriting services. The company promises high-quality, reliable copywriting for your business needs without hassle or contracts. Panda Copy provides content from professional writers with a monthly subscription where you'll get unlimited revisions. You'll pay a flat rate and cancel anytime.
The Panda Copy Creative Process:
Panda Copy has a straightforward process:
● First, choose the right plan for your company and create a login for their portal.
● From there, you can submit your projects and check on their status.
● Their writers will start on your content and get it back to you as quickly as possible.
● You can communicate with your writer about questions or revisions from their online portal.
● Lastly, you'll get a project manager for each request, and customer support is available for any inquiries.

Their writers can assist with many content types, including:
● SEO-focused blog posts
● Web copy
● Product reviews
● Proofreading
● About Us Pages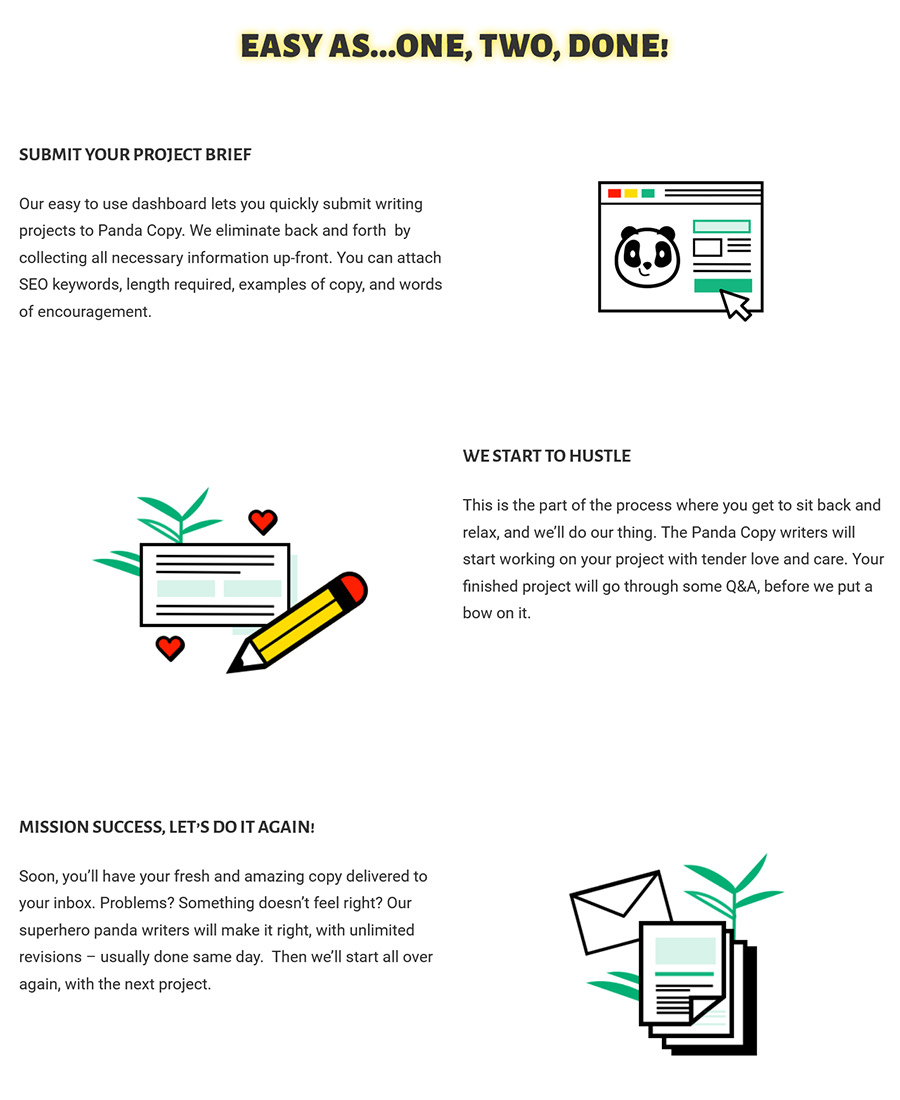 Is Panda Copy Right For You?
When you're looking to scale and build your audience as a small business or startup, consider how important consistent content is to prospective customers. That's what Panda Copy can provide. Their tiers are tailored to provide an affordable service for ongoing copywriting with a higher monthly volume, whether you're a blogger, a growing agency, or a large marketing firm.
Reasons To Love Panda Copy:
Panda Copy's project brief is quite thorough and helps you to provide quite a bit of the necessary information your writer will need upfront, eliminating some of the back and forth between you and them. You can attach SEO keywords, length needs, examples or references, and words of encouragement to the brief that the writer can look back at throughout the project.
Additionally, with a monthly subscription, you get unlimited copywriting project requests with a one to two-business-day turnaround. If you need consistent copywriting assistance, they can be a good choice.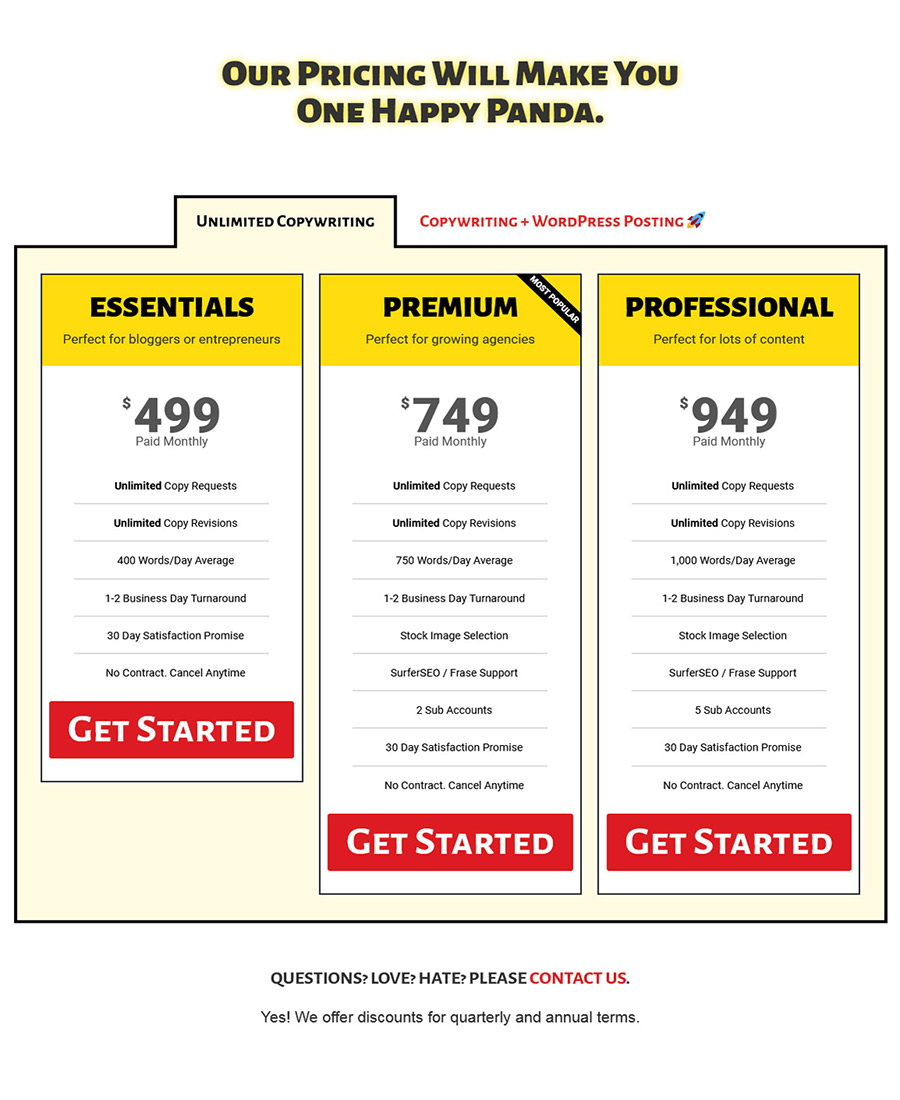 Panda Copy Pricing And Package Options:
There are three subscription packages at Panda Copy. Each one offers unlimited copy requests and revisions but permits a different daily word count and stock image use.

The Silver Plan:
● Essentials- $499 per month. It includes the basics and a 400-word per day average.
● Premium- $749 per month. You'll get the basics from the Essentials plan and a 750 words per day average, stock image selection, SurferSEO & Frase support, and two sub-accounts.
● Professional- $949 per month. You'll get everything above and a 1,000 words per day average with five subaccounts.
How Soon You'll See Results:
Panda Copy states they can deliver a one to two-business-day turnaround for all projects.
Benefits Of Using Panda Copy
● All subscriptions include unlimited copywriting
● Same-day revisions
● Sub-accounts for several sub-users
● 30-day money-back guarantee
Why Panda Copy May Not Work For You
● Closed Saturday + Sunday
● No advanced or technical copy
Browse other similar companies
Flocksy

- "Hire Your Perfect Creative Team."

When you need an all-in-one creative services platform that includes every type of marketing and promotional assistance, you want Flocksy. They provide unlimited copywriting, graphic design, video, motion graphics, web dev, and more. They pre-vet all their creatives and offer quick results with incredible quality. Their team of professionals has excellent insight and experience they can use to help you create the compelling copy you need to sell, promote, engage, and convert.
Copy Masters

- "Imagine always having content ready for you…"

At Copy Masters, users work with a team of trained, experienced copywriters who can help you scale your content marketing and increase leads with high-quality copy. Copy Masters promises 100% original content you'll completely own from the moment it's delivered. Their promised turnaround time is roughly 24 hours or less. Additionally, Copy Masters employs content marketing experts who can work with you to strategize your content needs.
Gannet

- "Unlimited Copywriting for Unlimited Success."

Gannet promises their clients high-quality content in 24 hours or less on their unlimited copywriting plans. The subscriptions come at a flat rate, which you can cancel at any time. Gannet says its mission is to eliminate the hunt for qualified freelancers and provide access to competent writers who can reliably create the consistent content your company needs in a timely manner.
Reel Unlimited

- "Unlimited copywriting services for startups."

With Reel Unlimited's copywriting service, vetted, professional copywriters create various types of content for your brand for a flat monthly rate. The site guarantees most results within 24 hours, whether it's an ad, sales copy, email, or landing page copy. You can cancel anytime, there is no contract, and you can choose from three plans.