Gannet

- "Unlimited Copywriting for Unlimited Success."
Company 4 of 5 in our list of the Top 5 Unlimited Copywriting Companies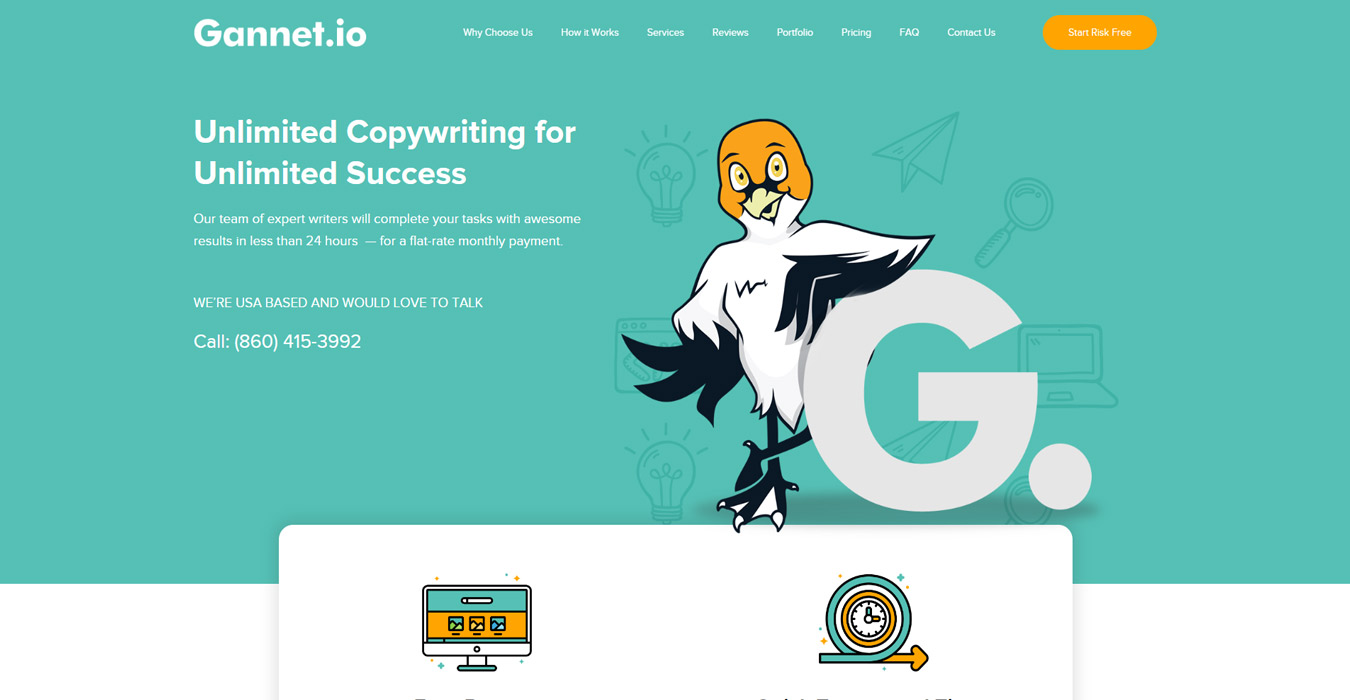 All About Gannet
Gannet promises their clients high-quality content in 24 hours or less on their unlimited copywriting plans. The subscriptions come at a flat rate, which you can cancel at any time. Gannet says its mission is to eliminate the hunt for qualified freelancers and provide access to competent writers who can reliably create the consistent content your company needs in a timely manner.
The Gannet Creative Process:
Getting started with Gannet is simple. According to their website, you just follow the steps below.
● Step 1: Choose a plan and sign up online. The quick process allows you to select the right plan for your needs. However, as of now, the upper-tier package isn't available.
● Step 2: From there, you'll create your account and get access to your Slack channel for communication with your Gannet team of writers.
● Step 3: Then, just submit a project request. When the writer finishes it, they'll send you the first draft.
● Step 4: From the dashboard, request your projects, ask for revisions, and approve all the work your writers send you.

Gannet offers copywriting services for the following types of projects:
● Worksheets
● Sales Letters
● Social Media Posts & Ads
● Email Campaigns
● Google Ads
● PowerPoint Presentations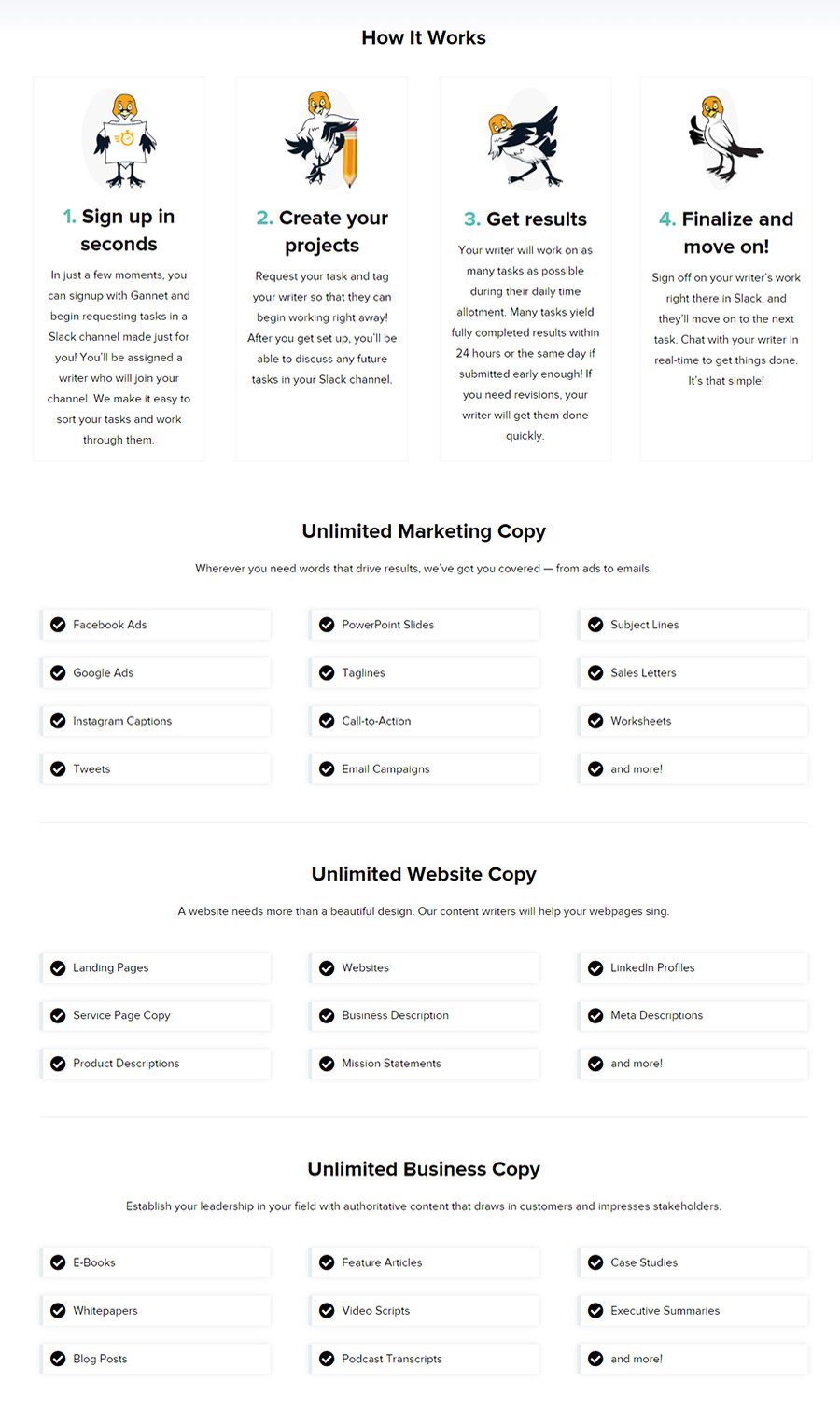 Is Gannet Right For You?
If you have the budget to pay for quality content delivered to you fast on a regular basis, Gannet may be a good option for you. You will have a dedicated writer and an account manager there to guide you. However, the plans, even the lower tier, can be much costlier than other copywriting services on the market. Their primary advantage is that they can get your content back to you particularly fast, potentially in less than 24 hours.
Reasons To Love Gannet:
At Gannet, you can get nearly any type of copy you can think of. And they do promise very high-quality results, and the speed is impressive. Additionally, at Gannet, you can count on paying the advertised price.
There aren't hidden fees or contract commitments. You will also get a 14-day money-back guarantee. The writers have professional backgrounds and are based in the US.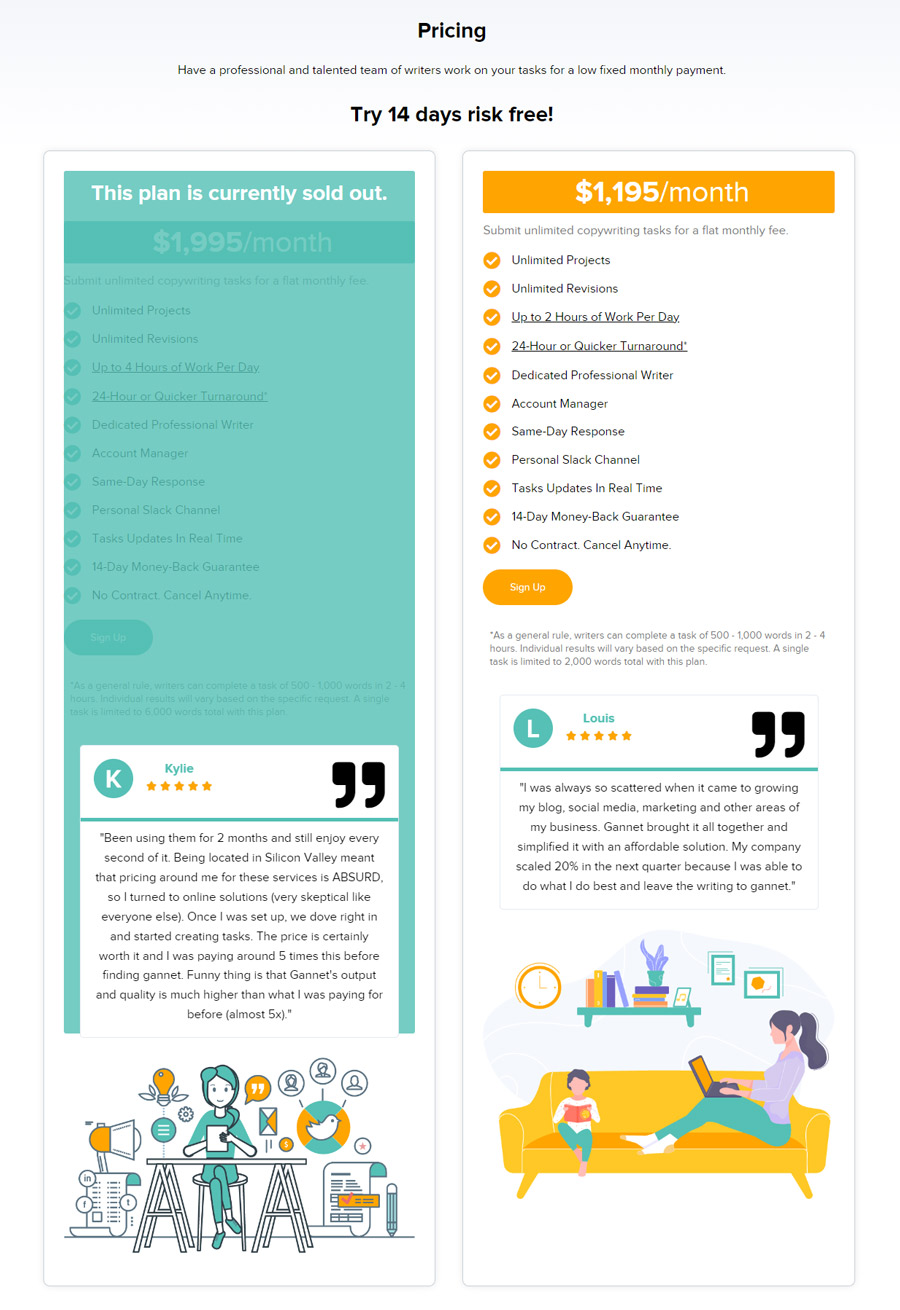 Gannet Pricing And Package Options:
Gannet has two subscription packages you can choose from based on the volume of daily output you need. Both plans offer unlimited projects, revisions, and brands as well as a Slack channel, dedicated writer, account manager, and real-time task statuses. You'll see the plans as follows:

● $1,195/month for 2 hours of work per day
● $1,995/month for 4 hours of work per day (this plan is presently sold out)
How Soon You'll See Results:
For the average of 500-1000 words in two to four hours, you'll get a project back in 24 hours or less. However, you should note that the four-day workday plan isn't available, so you can expect to receive a 500-word piece back to you within 24 hours on the available plan. Longer than that, and it'll be over the 24 hours.
Benefits Of Using Gannet
● Impressive customer support available after hours
● 14-day free trial (also referred to as their money-back guarantee)
● Unlimited tasks and get unlimited revisions
● US-Based Team
Why Gannet May Not Work For You
● The higher tier isn't available
● It's significantly more expensive than its competitors
Browse other similar companies
Flocksy

- "Hire Your Perfect Creative Team."

When you need an all-in-one creative services platform that includes every type of marketing and promotional assistance, you want Flocksy. They provide unlimited copywriting, graphic design, video, motion graphics, web dev, and more. They pre-vet all their creatives and offer quick results with incredible quality. Their team of professionals has excellent insight and experience they can use to help you create the compelling copy you need to sell, promote, engage, and convert.
Panda Copy

- "Unlimited Copywriting Made Simple."

Panda Copy offers unlimited copywriting services. The company promises high-quality, reliable copywriting for your business needs without hassle or contracts. Panda Copy provides content from professional writers with a monthly subscription where you'll get unlimited revisions. You'll pay a flat rate and cancel anytime.
Copy Masters

- "Imagine always having content ready for you…"

At Copy Masters, users work with a team of trained, experienced copywriters who can help you scale your content marketing and increase leads with high-quality copy. Copy Masters promises 100% original content you'll completely own from the moment it's delivered. Their promised turnaround time is roughly 24 hours or less. Additionally, Copy Masters employs content marketing experts who can work with you to strategize your content needs.
Reel Unlimited

- "Unlimited copywriting services for startups."

With Reel Unlimited's copywriting service, vetted, professional copywriters create various types of content for your brand for a flat monthly rate. The site guarantees most results within 24 hours, whether it's an ad, sales copy, email, or landing page copy. You can cancel anytime, there is no contract, and you can choose from three plans.