Undullify is an unlimited graphic design service focused on offering a no-fuss, no worries, no-contract flat-rate service. Undullify focuses on providing a solution for businesses and entrepreneurs looking for help creating the small, day-to-day graphic designs that a business needs to grab attention and attract customers.

The platform sets itself apart from larger graphic design services by offering a narrow scope of smaller graphic design projects that can be produced quickly and affordably by your own dedicated designer.
7 Things I Seriously Love About Undullify

On the surface, Undullify's offerings may appear limited, however, this tight focus allows this graphic design company to provide its customers with some solid benefits. Here are seven of my favorite Undullify features.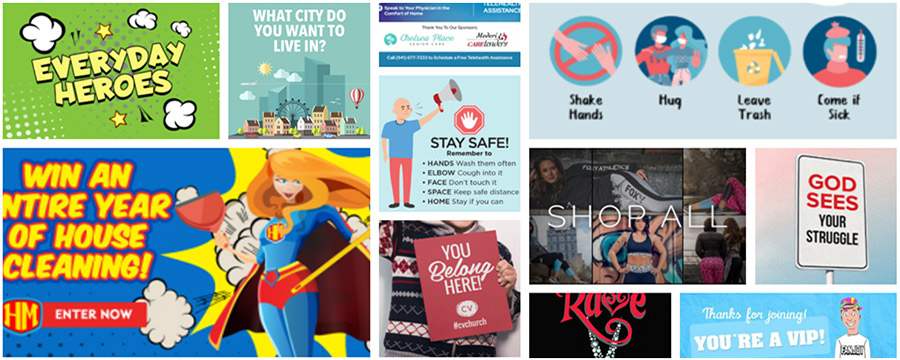 What Does Unlimited Mean?
When comparing unlimited graphic design services it is essential to understand exactly what the term "unlimited" means to each company and what that means for you. For Undullify, unlimited graphic design refers to the client's ability to request unlimited small graphic design projects, across all pricing tiers. There are no limits, or caps on the number of project requests that you may submit. The requested projects will be placed in a queue in the order that they are received and your dedicated designer will work through the projects in order.

That means that you will want to prioritize your most important projects or those with the shortest deadlines first, and then request projects with a bit more wiggle room later to get the best value out of your unlimited subscription plan.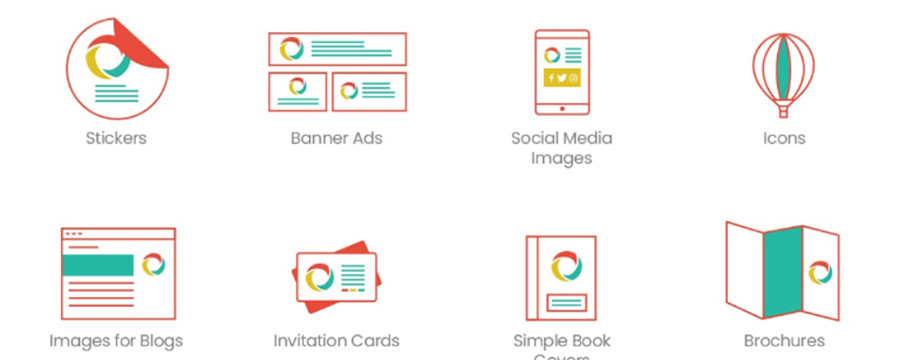 What Undullify Claims To Offer Its Users
Undullify claims to offer small businesses, and startups a "just right" graphic design option that saves them money over hiring an in-house designer, or retaining the services of a professional graphic design firm. Undullify promises to provide subscribers with a dedicated graphic designer who will get to know their business, brand, and design style and build a solid working relationship that allows them to feel confident that they will get consistent high-quality work that hits the mark every time.

Undullify bills itself as the more affordable solution for entrepreneurs, businesses, and brands who are simply looking for someone to complete their small day-to-day graphic design projects like advertising banners, printables, blog post graphics, social media graphics, website graphics, sales funnel graphics, and other small scale graphic design projects that can generally be completed by one designer in 30-minutes or less. This can also include editing, enhancing, or adjusting your existing designs or images.
Undullify Review: Is It Worth The Cost?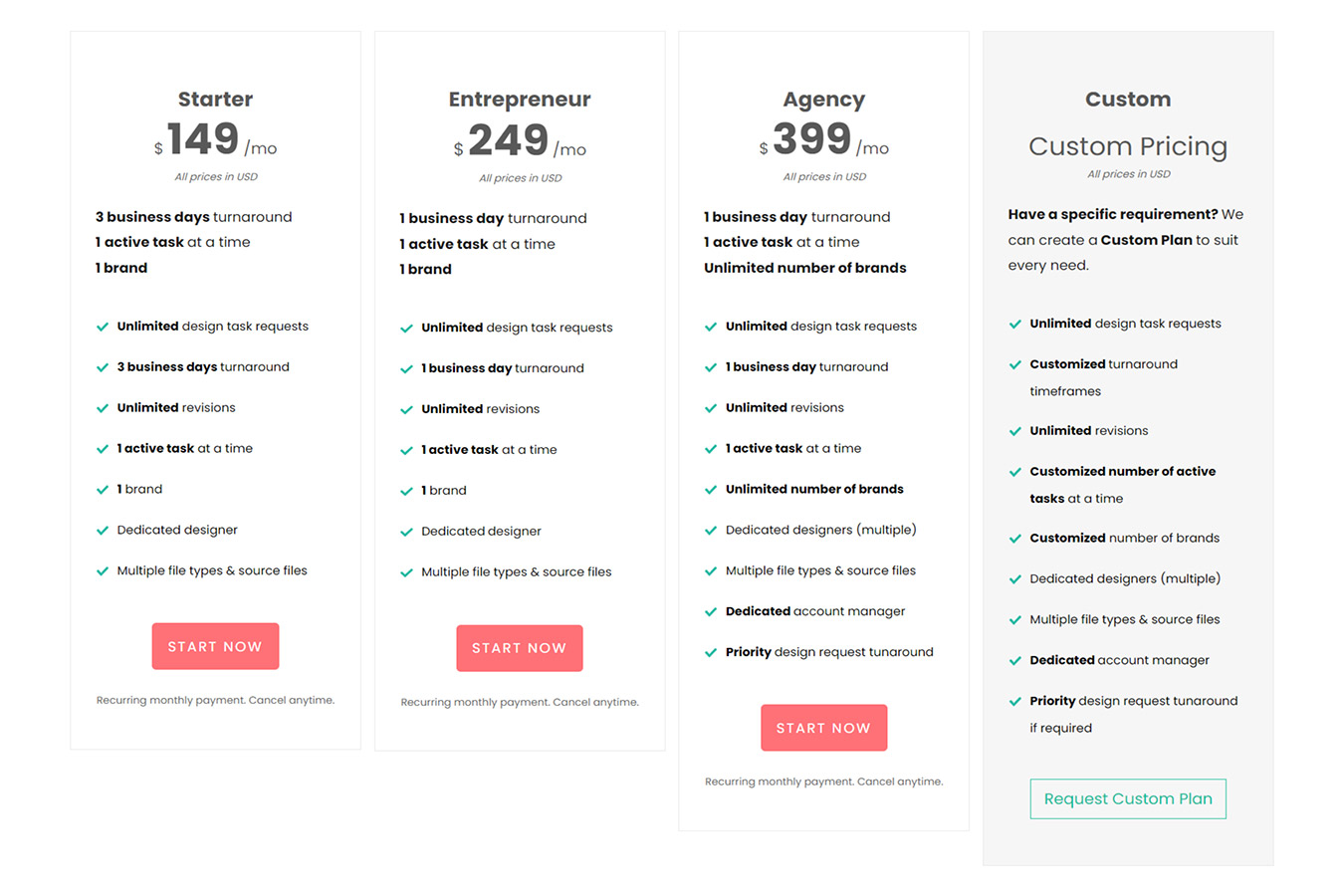 Undullify price packages range from $149 per month to $399 a month, or more for the Custom package. These monthly rates are lower than most unlimited graphic design services, however, it must be noted that Undullify is a limited-scope design service. This means that the range of services offered by Undullify is generally narrower than the services offered by other unlimited graphic design services, hence the lower monthly rate.
When determining if Undullify is worth the cost you will need to consider your specific graphic design needs. If you fit the Undullify client profile: a small business or brand with a need for assistance with a large number of small day-to-day graphic design tasks, then Undullify might be a solid value for you.
However, if you anticipate the need for more complex design projects like a re-branding or website design, or you need additional services like copywriting, web dev, or video editing services, then an all-in-one design service like Flocksy or others may be a far better value.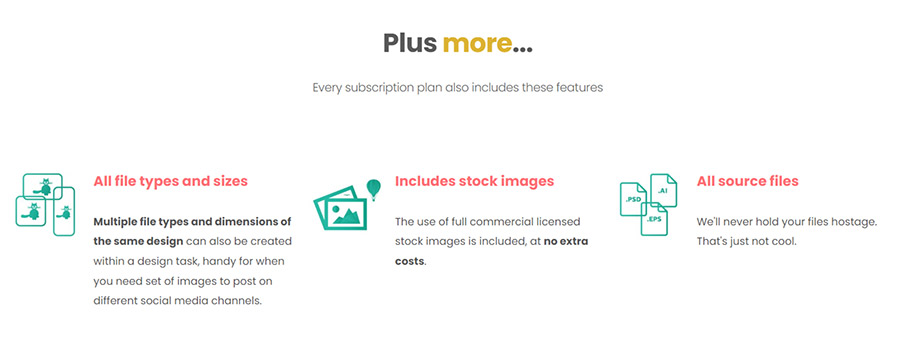 Undullify offers a hassle-free, affordable, no-contract option for small businesses or brands looking for consistent assistance creating their day-to-day graphic design projects. They have built their website and their service with the specific needs of this particular type of customer in mind.

The Undullify website features a comprehensive guide that walks clients through the ins and outs of graphic design for business and marketing purposes and offers a lot of great advice on how to get the most out of their Undullify subscription.
Undullify offers a niche service to a specific type of client at an affordable price. Their pricing and process are straightforward and well-documented on the official website. Undullify promises that there are no hidden costs, no contracts, and they will not hold back client source files or make clients pay extra for additional sizing dimensions or file types. 
For most, the top advantage offered by Undullify is the ability to work with a dedicated graphic designer at every price level. This is a solid benefit as it will allow you to build a strong working relationship with a designer who will understand your unique business needs and brand style and will deliver consistent quality without a lot of hand-holding or explaining on your part.
Every Undullify Monthly Flat-Rate Subscription Includes: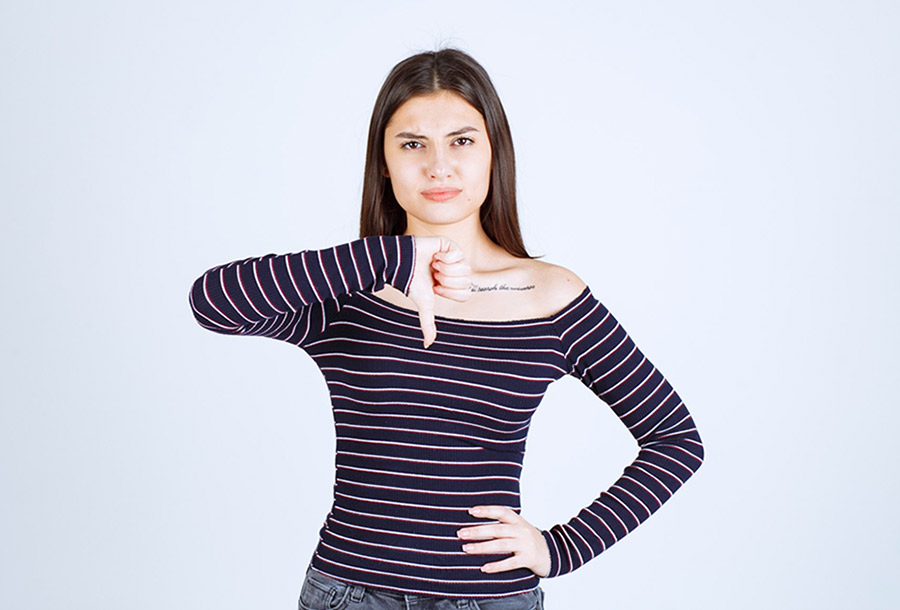 The primary drawback to using Undullify is the limited range of services offered when compared to other unlimited graphic design services. Undullify only provides small graphic design projects that can be completed by one designer in 30 minutes or less.

This means that they will create small projects like social media graphics, blog post images, or marketing printables, but they will not work on large design projects like branding projects, website designs, logo creation, or other large-scale projects. Additionally, Undullify does not offer any services beyond graphic design. Those who anticipate the need for full design services, or who will have a need for additional services like copywriting, video editing, web design or development, or illustration, would probably find better value in a one-stop-shop style unlimited design service, like Flocksy, that is able to handle a broader range of project types under one roof.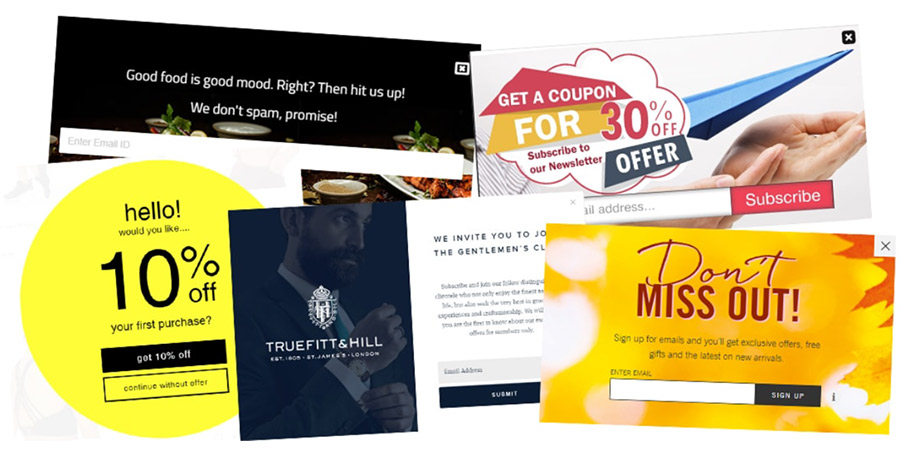 Who's Undullify Best For?
Undullify is a solid choice for small businesses, startups, and entrepreneurs who have already established their core brand design, brand guide, and business website, and now need assistance with their smaller day-to-day design tasks.

Essentially, if you are a busy business owner with a small design budget, and a steady flow of small marketing, promotional, and social graphic design needs, then Undullify may be the most affordable option for you.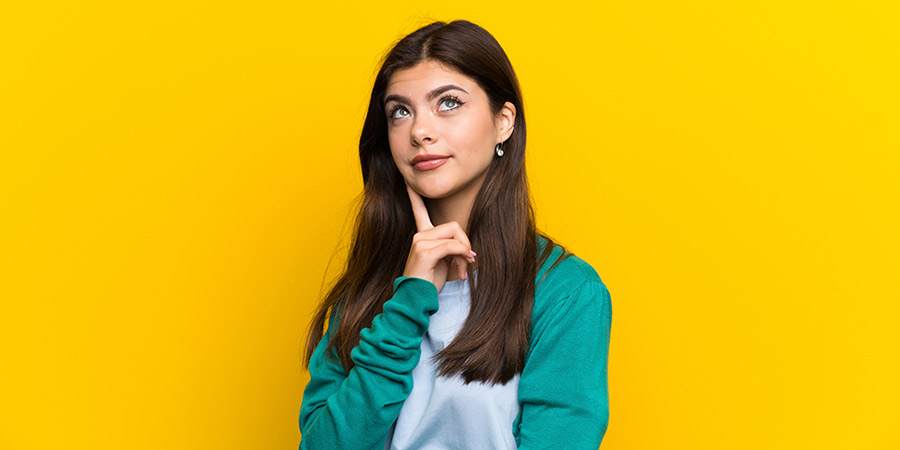 Who Is Undullify NOT Right For?
Businesses or brands who are looking for a full slate of design services to complete a large variety of projects will not find the range that they need with Undullify. If you are looking to re-brand or create a new business or brand web page, craft a logo, or create a marketing campaign from scratch you will need to hire additional designers or subscribe to other service providers to complete those tasks.

Additionally, if you will need copywriting, video creation or editing, motion graphics, or web design or development services, those would require subscriptions with other service providers as well. Those who are seeking a broad range of services would be far better served by choosing an all-in-one design platform, which is capable of handling all of your design needs, large and small, under one roof for one monthly subscription cost.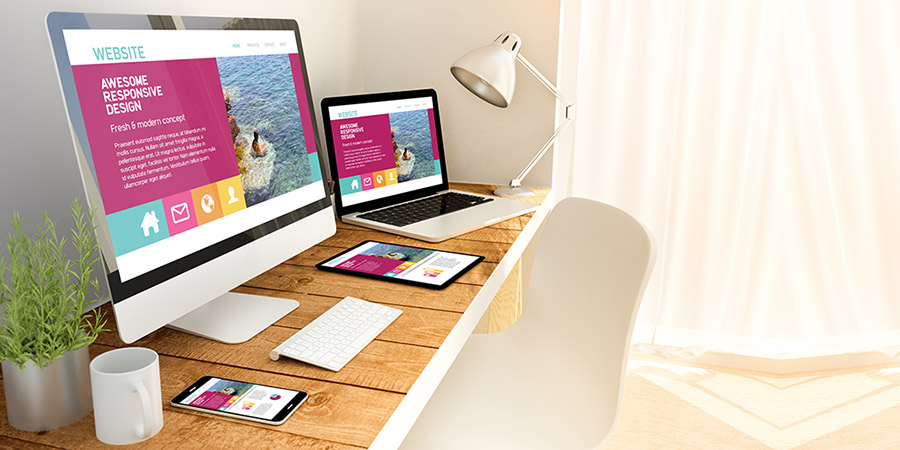 Is Undullify User-Friendly?
Undullify has clearly put a lot of thought into making sure that their service is as simple to use and hassle-free as possible. The Undullify website reflects this effort. The website is easy to navigate, and all of the pertinent information you need to understand how Undullify works and what you can expect from the service is easy to find and presented in a clear and transparent manner.

Undullify makes it easy to get started. You simply choose your monthly subscription plan and register for an account. After registration, a dedicated graphic designer will be assigned to handle all of your design projects. You can begin submitting design requests right away, and your designer will get to work on them in the order that they are submitted. Once the completed design is returned, you can request any revisions needed to get the project dialed in. When you are satisfied, simply finalize the project, and your designer will move on to the next project on the list.

There are no contracts, and you can easily cancel your subscription at any time from the Undullify website.
What Is The Undullify Process?

The Undullify process is designed to be simple, transparent, and hassle-free.

Brands
Depending on the subscription plan you choose, Undullify can provide you with small graphic design assets for one or more brands. The Starter and Entrepreneur plans are limited to graphic design projects for one brand. The higher-priced Agency and Custom plans offer graphic design services for multiple brands.

People
There is not a lot of information available on the hiring practices or selection process used by Undullify to select its graphic designers. However, the client testimonials provided on the Undullify website seem to indicate that the clients are very pleased with the creativity and quality of the work produced by Undullify designers. The big draw with Undullify is the ability to work with a dedicated graphic designer who will get to know your style and your business so that they can deliver consistent results without the need for a lot of back-and-forths to explain your vision on every project.

Projects
Project requests are managed in a straightforward manner and the process for requesting projects and revisions on Undullify is similar to the process used by most unlimited design services.

1. Select A Monthly Subscription Plan
Select from three monthly flat-rate subscription plans or work with an Undullify representative to create a custom plan that meets your exact needs.

2. Complete Registration & Get Matched With A Designer
Provide your individual and/or business details and a payment method to complete your registration. Undullify will then match you with the right graphic designer for your business. If you have chosen the Agency or Custom package you will be assigned a team of designers.

3. Start Requesting Designs
As soon as your registration is complete you can start requesting designs. Simply provide a detailed description of your design project requirements and submit your request. Your designer will get to work, and you should have your completed project in one to three business days depending on the subscription you chose.

4. Request Revisions Or Finalize The Design
When you receive your completed design you can then review it and request revisions to fine-tune it, or, if you are satisfied, you can finalize your design request, and your designer will move on to work on the next project in your queue.
How To Get The Most Out Of Undullify
As with any flat-rate unlimited service, the secret to getting the most value out of your monthly subscription cost is volume. The more projects that you request, and have completed each month, the lower the individual cost you are paying per project. So, how do you go about maximizing the number of projects that you can have completed through Undullify each month? First, you will want to make sure that you are loading up your queue with all of your small graphic design projects. If you always have another project ready to go in your queue, your designer will be able to maintain a steady workflow. If your queue is empty, then your designer is not able to complete any work for you while they wait for you to submit a new project.
Next, make sure that your design requests are as clear and detailed as possible. The more specific that you can be in your expectations the more likely that your designer will get it right on the first try. While your subscription does include unlimited revisions, it is important to remember that revisions take time to complete, and while your designer is working on revising your project no new work can be started.
Undullify offers a great resource guide on their website that provides a lot of useful tips and advice to help clients create design requests that get high-quality results with few revisions. If you choose to try out Undullify, take some time to read this guide to get the best value out of whatever monthly subscription plan you choose.
How Much Does Undullify Cost?
Undullify bills itself as the more affordable alternative for those seeking unlimited graphic design services. Undullify offers three monthly flat-rate subscription plans and a custom pricing option to meet the day-to-day graphic design needs of most small businesses, startups, and small marketing agencies.
The basic package details are provided below.
Starter
Unlimited design task requests

3 business days turnaround time

Unlimited revisions

1 active task at a time

1 brand

1 dedicated designer

Multiple file types & source files
All Undullify monthly subscription plans are paid on a month-to-month basis. There are no long-term contracts, and you can cancel at any time. It is important to note that Undullify does bill monthly through recurring payments. This means that the payment method used to register and pay for your first month of service will be automatically charged each month until you formally cancel your subscription.
For those who are unsure whether Undullify will be able to meet their design needs, here are a couple of alternative unlimited graphic design services that offer similar services.

Design Pickle is another popular unlimited graphic design platform. Design Pickle offers similar unlimited graphic design services, with expanded options. The basic Graphics plan includes both graphic design and custom illustration, and you can find more advanced creative options like motion graphics in the highest-priced Graphics Premium tier.

Design Pickle subscription packages are much pricier than those offered by Undullify. Both platforms offer unlimited design requests, unlimited revisions, and similar turnaround times at each price tier. However, you will need to pay for the Pro or Premium plan to get a dedicated designer at Design Pickle.

Design Pickle has a solid reputation for delivering high-quality work, and they may be able to provide you with more graphic design options than Undullify, like custom illustrations and design presentations, but the monthly subscription rate will be significantly higher. Like Undullify, Design Pickle focuses solely on graphic design services. Those who need additional creative services like copywriting, web development, video creation or editing, and more will likely find that an all-inclusive unlimited creative service is a far better value.

Visit Website

For those who are seeking a broad range of creative options without the hassle (and expense) of subscribing to a bunch of different creative service platforms, or the hit-and-miss experience of working with a revolving door of freelancers on creative marketplaces, Flocksy offers all of the creative design services you need under one roof.

Flocksy monthly flat-rate subscription packages are similar in cost to Design Pickle and higher in cost than Undullify. However, it is important to note that both Undullify and Design Pickle subscriptions are limited to unlimited graphic design services only. Flocksy's lowest-priced tier, the Silver plan, includes unlimited graphic design and custom illustration services, while the Gold plan will give you access to unlimited graphic design and illustrations AND copywriting, video editing, motion graphics, logo design, branding guide creation, voice-overs, and more. If you are in need of a new website design or web development services the Flocksy Platinum plan can provide those services as well.

Flocksy makes it easy to power through all of your design projects. A built-in chat feature and a variety of popular integrations, like Loom and Zapier, make it even easier to communicate and collaborate with your dedicated team members and your Flocksy project manager. Best of all, Flocksy can offer some of the best turnaround times in the industry, with some simple design projects completed in less than 24 hours and most video and motion graphics projects ready for review in as little as 24 to 48 hours.
Frequently Asked Questions

Undullify offers a solid solution for small businesses and startups looking for affordable assistance in creating their small day-to-day graphics. Undullify's low monthly flat-rate subscription prices can be particularly appealing to those who are just getting started and dealing with the limits of a small budget. However, if you need larger graphic design projects like logo designs, custom illustrations, or motion graphics these will need to be completed by another service, or a freelancer on a project-by-project basis which can increase your costs exponentially.

If you anticipate the need for a variety of creative services, like video editing, copywriting, voiceovers, and web design or web development then you are likely to get more value for your dollar by choosing an all-in-one monthly flat-rate service from an unlimited creative platform like Flocksy. An all-inclusive unlimited monthly subscription may cost a bit more than you may pay for the unlimited graphic design services offered by platforms like Undullify, but you will save time and money in the long run by eliminating the need to subscribe to multiple services or work with a large number of different freelancers.