Penji offers unlimited graphic design services designed to make getting designs simple. They offer several important graphic services under a single plan and state they believe in making the design process better for everyone involved, including the artist.

Their system allows you to create a project and get results fast, thanks to the AI programming that matches a creative with your design needs. They provide unlimited project requests, unlimited revisions, and a 24 to 48-hour turnaround time.
7 Things I Seriously Love About Penji

When it comes to Penji unlimited graphic design, there are some clear benefits to working with them. My top seven include: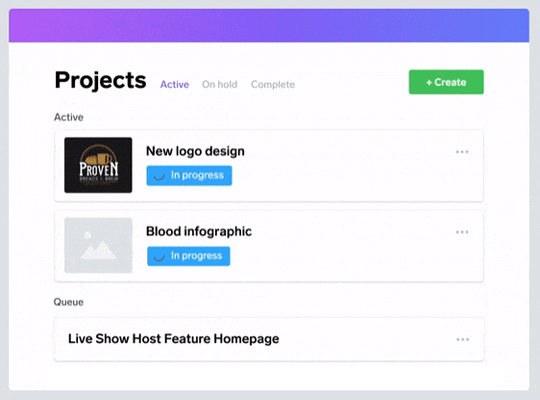 What Does Unlimited Mean?
Unlimited design at Penji means the same thing that it does at most unlimited graphic companies. You can submit as many projects as you like, with no daily or monthly cap, and the team will work on them as they come in. It'll be first-come, first-served, and depending on your plan, you may have more than one "active" project at a time. When a project is completed, the system will automatically put your next project in the queue into active mode.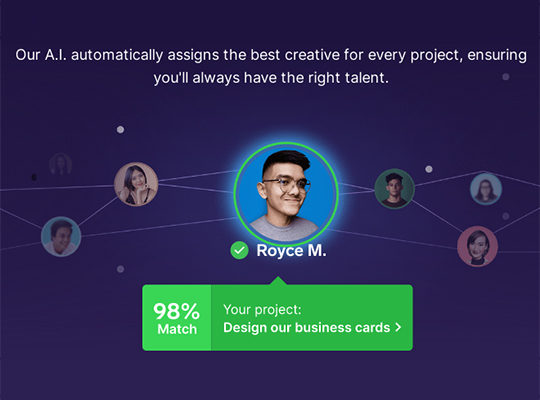 What Penji Claims to Offer Its Users
Penji claims to provide over 120 design types, from print to marketing and merchandise images. They also offer animation services. They state that their average turnaround time is one to two business days. While those various design types are available, most of them fall under the higher-tier plans. Additionally, the turnaround time for a more complex project, such as web design and animations on the higher plans, takes up to three to four days.

Penji also states that they only hire the top 2% of designers that apply, asserting that this is the world's top 2% of talent. It is difficult to verify if these statistics are legitimate. As a part of their plans, Penji states that they're a fixed rate unlimited graphic design service, and they back all their plans with a 30-day money-back guarantee.

They refer to their services as a subscription, not a contract, and you can cancel their services in their app or contact their support team. According to their site, the cancellation process is supposed to be straightforward, with no fine print.
Penji Review: Is It Worth the Cost?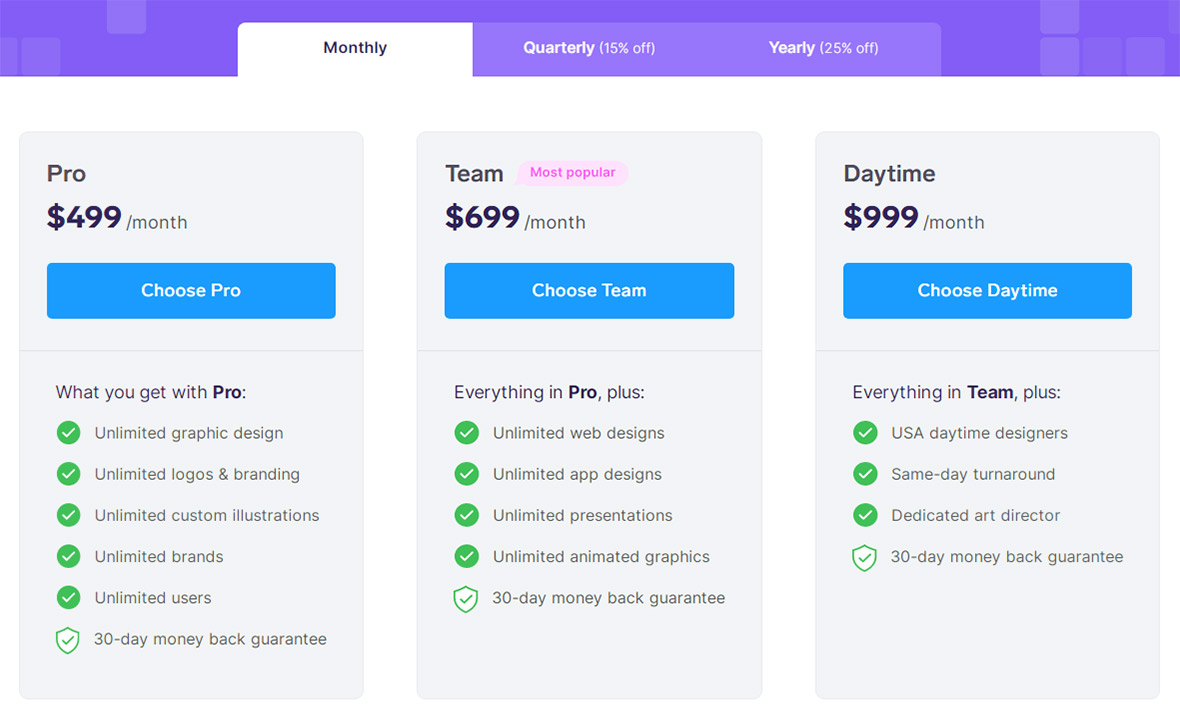 With plans of $499, $699, and $999, Penji is one of the most affordable design service platforms around. With the types of images and files available on the higher-tiered plans, it can be well worth the cost if you're an active account user. The $699 plan comes with unlimited graphics, logos, illustrations, web design, animations, app designs, and presentations, making it well worth the cost.
With the 30-day money-back guarantee, which is one of the longest in the graphic design service industry, and the quality of the work they put out, users can feel confident that working with the Penji designers will be worth their money.
When it comes down to it, you'll want to consider how much you actually need to determine if it's a good choice for you. It could be worth the price if you're looking for several graphics as a recurring part of your business.
If you don't need as much or if you're also looking for copywriting, video, or web development work, you might want to consider going with an all-in-one option that'll provide each of those services under one company umbrella.

Penji created their own SAAS software so that you can manage your designs, designers, feedback, and projects from one easy-to-use place. In all their literature, you can tell that they work hard to make things understandable, straightforward, and efficient.

Additionally, at Penji, they provide unlimited revisions and a simple revision process, complete with the Point & Click Tool, which makes getting your design right much faster. You'll always be working with pre-vetted designers, get all the files you need, and have customer support available 24/7.
With all your projects on Penji, you'll receive: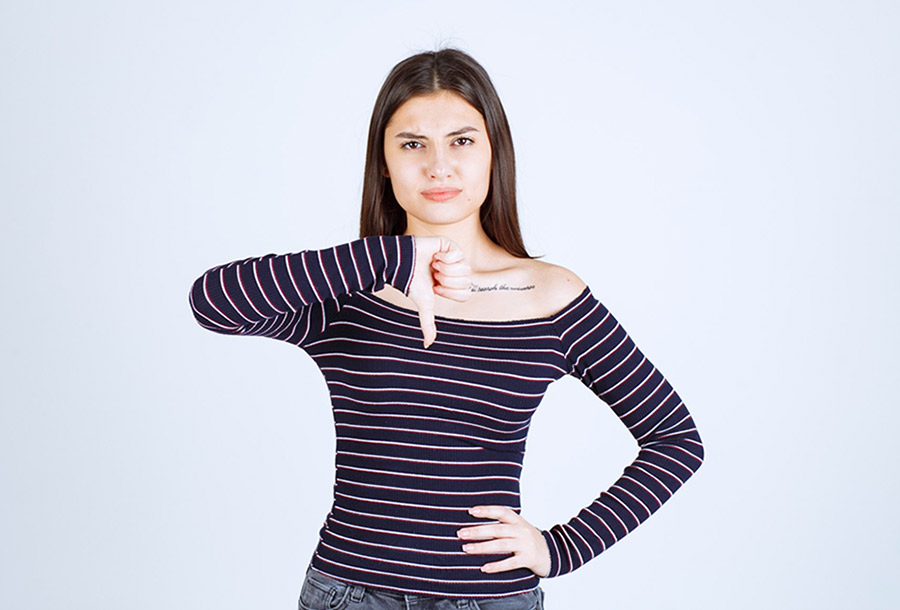 If you don't need design work often, the monthly rate can be a bit high, but this is the case for any design service. Penji is better for those with several hours of design work needed. Because of the flat rate model, which most graphic design services have, it's the best bang for your buck when you use it often.

The Penji dashboard and email support are available for questions and needs. You can call your project manager, who will pass along details to the designers. Plus, the Point & Click feedback tool does make providing changes a bit easier.
The designers primarily use Adobe Creative Suite (Photoshop, Illustrator, Indesign, or PDF formats) programs. They don't provide sources for Sketch, which is a widely used Mac-based alternative design software. However, Penji designs will provide the font files, which other graphic design services usually don't include without asking.
When you fill out their design brief, you'll need to be as detailed as possible. The more questions the creatives have about your project, the longer it will take them to start working on it, and since they only work on one project at a time, questions can really slow down the process. However, it is nice to see that the artists will ask for clarification until they feel comfortable working on your project.
Additionally, if you're unsure about anything and you're giving Penji a try, remember that the 30-day money-back guarantee is a bit tricky. It's not applicable to quarterly or yearly plans, you'll have to submit a request, and they'll attempt to keep you on the platform first before they issue the refund.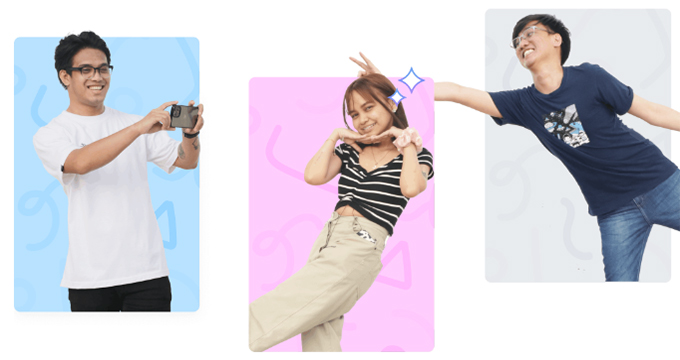 Who's Penji Best For?
Penji is a very good fit for bloggers or sole proprietors who want to include high-quality custom images and infographics in posts and on their site, social media marketers who require branded graphics for Instagram, Pinterest, Facebook, and more, and agencies looking to supplement their design offering without hiring more employees. Penji is also a good fit for businesses looking to create ads for PPC campaigns, merchandise designs, and the full host of branded assets. Larger companies tend to enjoy their rigorous vetting procedure and high-quality results.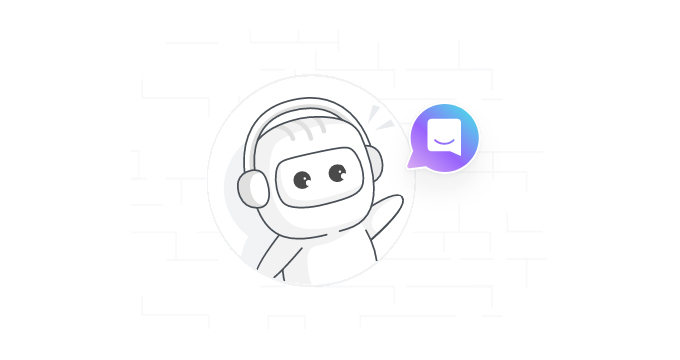 Who is Penji NOT Right For?
Penji is not a good option for people who don't plan on taking full advantage of its offerings.They won't be getting the turnout necessary to offset the costs. It might also not be a good fit for those looking for the entire range of creative services, including web development, video, and copywriting.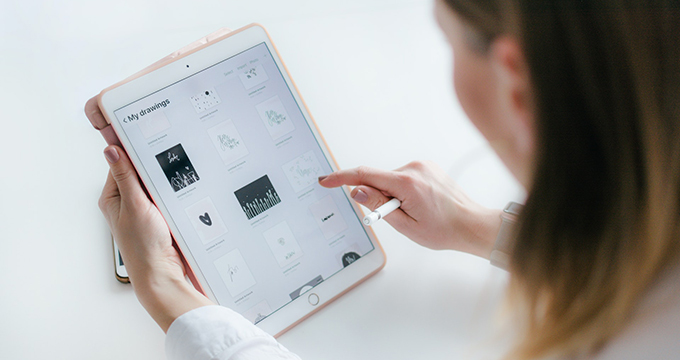 Is Penji User-Friendly?
The Penji platform is simple and easy to use. Setting your brief up is pretty simple and getting the project going. You will want to provide details in the brief to ensure the designer knows what you're looking for. A checklist to the side of the design brief shows your items to include as you're writing it up.
What is the Penji Process?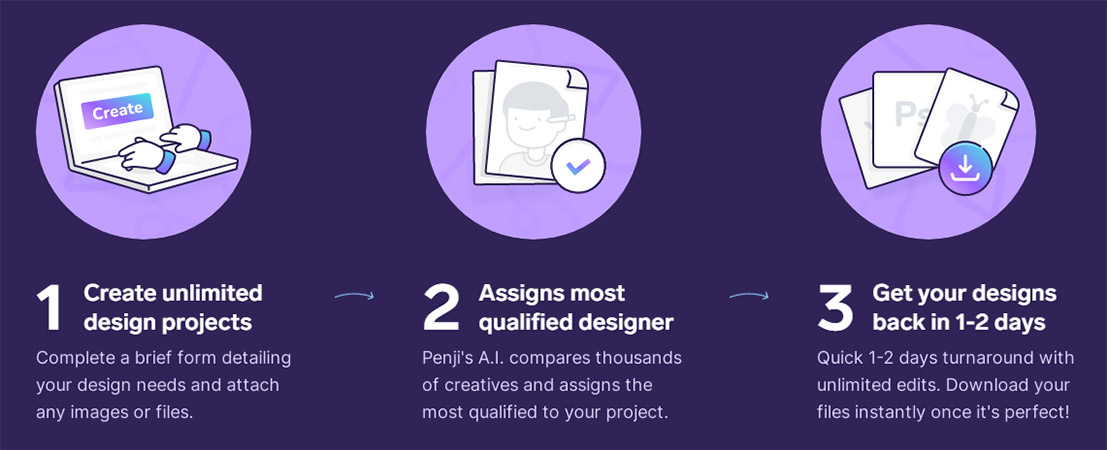 After signing up with Penji, you'll need to set up your brand. First, you'll need to go to the "Brands" menu once you've logged into the dashboard. You'll see a form after choosing the "Create brand" option. There, you'll want to fill in the following fields:

Brands
You can establish brands for each customer you run as a part of an agency or if you own multiple businesses. By having separate folders for each brand, the Penji designers won't get confused about what colors, logos, and fonts you need for each of their projects. You can also view all the brand's projects and tasks simultaneously on the Penji dashboard.

People
When you work with a team or even have a few trusted individuals working on your brand, you'll likely want them to be able to assist you with submitting design requests. By setting up your team on Penji, they can do just that and review projects as they're completed. You can send a maximum amount of user invitations based on the plan that you sign up for, and they'll be counted toward that number once the person participates.

Projects
When you're ready to start a project, you'll click on the "New Project" link. From there, choose a design category from the dropdown menu and give your project a title. If the available categories don't fit your project, you can request a custom project.

You'll put in different details based on the type of project you need. No matter which type of project you request, you'll need to choose the brand for the task, provide your source file type, include a detailed project description, and upload any necessary files as attachments.

To ensure the designers don't need to go back and forth with you about your project, provide as many details as you can. Examples of what you do and don't like, inspiration images, and a description of the mood or vibe you're going for can be included so that the artists have a very good idea of what you want.

Once you've created your project and filled in all the necessary information, the Penji AI will assign a designer to complete your graphic design request. Penji's designers typically do not work on weekends, though they may put in the occasional Saturday. And remember, more complex projects will take longer to complete.

When your project assets are returned to you, you can approve them right away or ask for revisions using the Point & Click tool. You can also communicate with the designer in that revision window and answer any questions they may have about your revisions.

Revisions are typically completed in 24 hours. You can keep these edits going for as long as you like since Penji provides unlimited revisions. Your new files will appear in the revision and chat area.

You can download the files when you've approved your design and close out the project. Now, your next project will move up in the queue and be assigned to a new designer. You can submit unlimited project requests to create a backlog of projects for designers to work on, but they'll work on them one at a time.
How to Get the Most Out of Penji
To really get the most of the design service platform, Penji users should request several projects and keep their queues full. That way, you keep the cost per project down. Additionally, to ensure that your designer can start working immediately, fill out the design briefs with more information than you think is necessary. There's no such thing as too much detail when it comes to Penji design briefs.
How Much Does Penji Cost?
Penji has three pricing tiers- Pro, Team, and Daytime. They are $499, $699, and $999, respectively.

When you need all your creative assets, Flocksy is the place to go. While it can be more expensive than Penji, you'll also be getting copywriting, video, voice-overs, web development, motion graphics, and more. They also provide integrations with Zapier and Loom video messaging to make communicating with your team easy and informative. You'll also find a similar commenting feature for design revisions. Their quality is truly impressive no matter what type of creative project you need, and the turnaround times are nothing short of impressive. As an all-in-one creative content provider, it can't be beaten.

Visit Website

Design Pickle is a very similar service to Penji. However, the most glaring difference is that Design Pickle is much more expensive. While the quality of the designs and turnaround times are similar, Penji is more affordable. They also do more in the graphic design industry and the world as a whole to promote charitable causes and provide assistance where they can.

Visit Website
Frequently Asked Questions
Here are the most asked questions about Penji.
Penji graphic artists are from over 20 countries across Asia, Europe, Australia, and North & South America. They're as diverse as the people requesting projects. When artists sign on with Penji, they become full-time employees with competitive salaries and benefits.
Because the designers work a typical full-time job, you can expect those hours. However, you won't be billed by the hour or day. Penji offers a fixed-rate billing model gives with unlimited design projects. They can start on an assignment as soon as the previous one is marked complete, which can sometimes be on the same day.
All the Penji plans are eligible for a full refund within the first 30 days of signing up if you're unhappy with the designs you've received. The Penji plans are not a contract, and you can cancel at any time. There isn't any fine print in their billing, and canceling if you aren't satisfied with the service is fairly straightforward. However, with the 30-day money-back guarantee, you must request a cancellation within the app or contact their support team. They'll review your request and work to find a solution that can help you get more out of your account prior to canceling. If you're still unsatisfied, they'll start the process of a refund, which can take some time, according to reviews online.

Additionally, all annual and quarterly plans cannot receive a refund. They advise that if you choose to work with Penji on one of these more long-term plans to be aware of the commitment that is involved.
Penji is a good resource for small or large businesses that need regular graphic designs created often throughout the month. As long as you'll be taking advantage of the unlimited requests and you don't need another service like copywriting or video editing, it's a good fit for you.

Penji is also more affordable than several other graphic design services. For a steady stream of quality graphics at a lower rate, Penji is a solid option. However, they don't provide video or content services. If you are looking for video, copy, web development, etc., you're better off going with an all-in-one platform like Flocksy. Flocksy provides the same level of graphic design service, along with video, motion graphics, illustrations, web development, copywriting, voiceovers, and more for just a bit more than the Penji Team plan. If you need such a consistent stream of high-quality graphics that the higher-tiered Penji plans provide, you'll likely also benefit from the other services that Flocksy offers. Instead of juggling several creative service providers, an all-in-one platform like Flocksy puts all your assets in one place and makes it so much easier to manage.