Graphically is an unlimited graphic design subscription that can handle your tasks while providing unlimited scalability that you can change as you need. You'll own all the rights to the work they create, which will be done by a hand-picked designer. You can get unlimited deliverables with most projects back in about 24 hours.
7 Things I Seriously Love About Graphically

There are some great things about Graphically. Here are our top seven: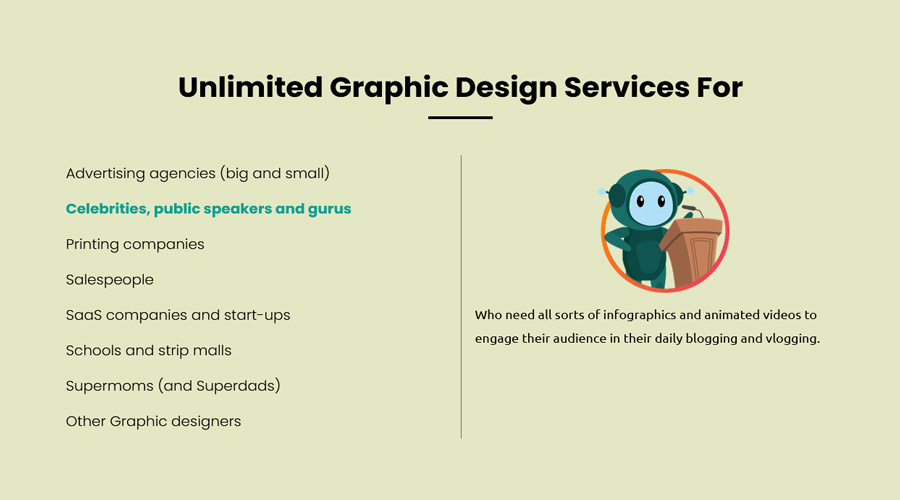 What Does Unlimited Mean?
An unlimited graphics subscription with Graphically means that you can put in as many requests as you like into their queue, and they'll work on them one at a time, or more if you choose the higher plan. There's no monthly cap to project requests, and you can ask for unlimited revisions as well.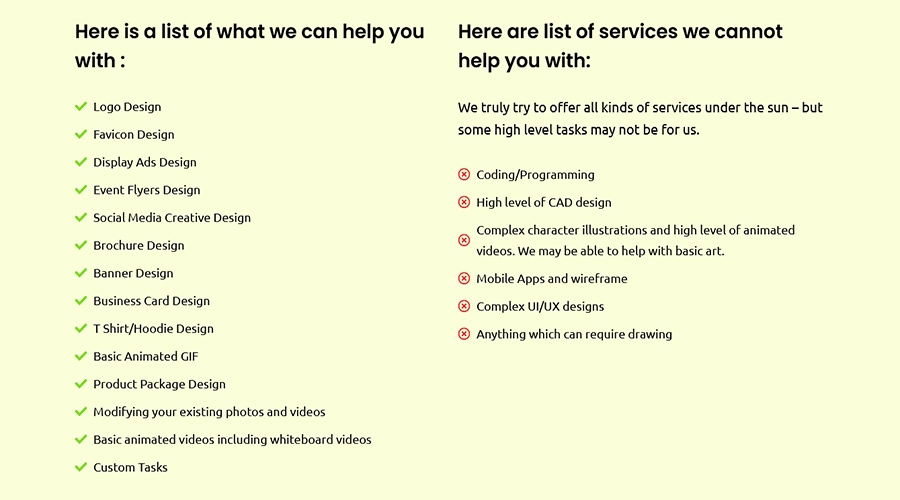 What Graphically Claims to Offer Its Users
Graphically states that by offering one low price with fast turnaround times for a monthly subscription, you'll save money compared to "any other method" of having graphic design work done for your brand. They promise that by using their service, you'll be able to focus on other important tasks instead of the administrative work of hiring designers and managing them, which can improve your bottom line. Graphically says that they'll also be able to provide a better visual aesthetic for your business by providing an effective way to get professional designs.
Graphically Review: Is It Worth the Cost?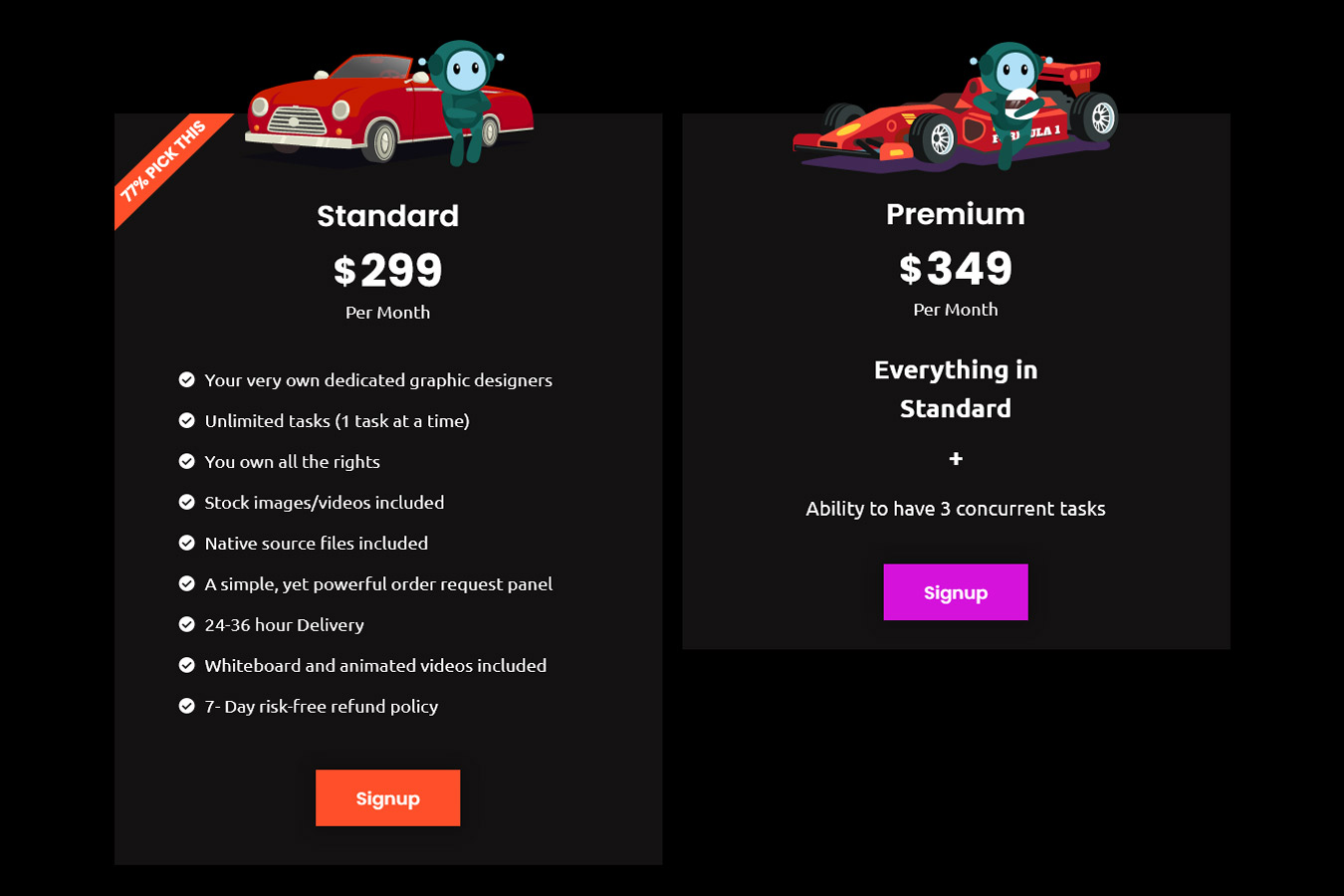 Graphically is very affordable compared to other similar services. For their base plan, the designers can provide assets for a number of graphic types, including some basic GIFs and animated videos. However, they can't provide custom illustrations or anything that might require them to draw. More complex graphic designs are also not covered according to the scope of service listed on their website. This could include lengthy infographics, web design or development, fillable PDFs, branding guides, or presentations.
If you need basic graphic design assistance and don't want to pay a large monthly fee, Graphically can be a great choice. However, if your graphic design needs are complex, you require several types of video, or you need copywriting or web development, you may be better off going with an all-in-one service.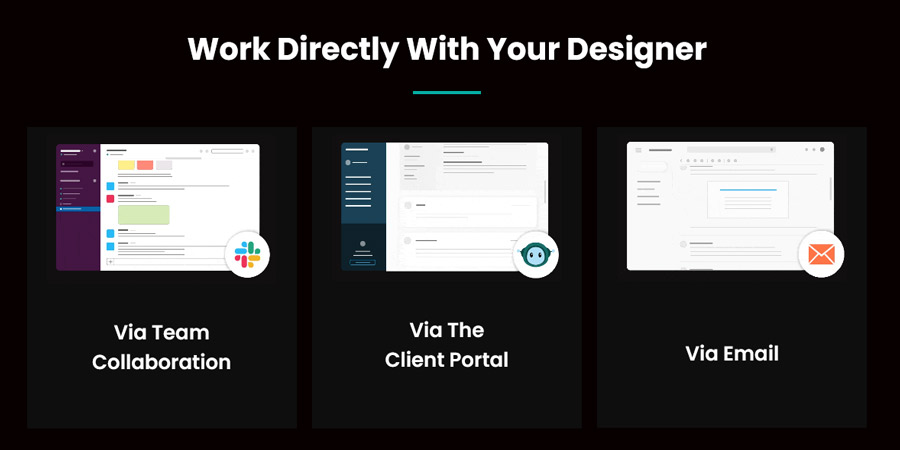 Using Graphically is a straightforward, easy-to-operate platform experience that can provide good basic graphic design assets for small businesses, startups, bloggers, or influencers.
With all Graphically projects, you'll get: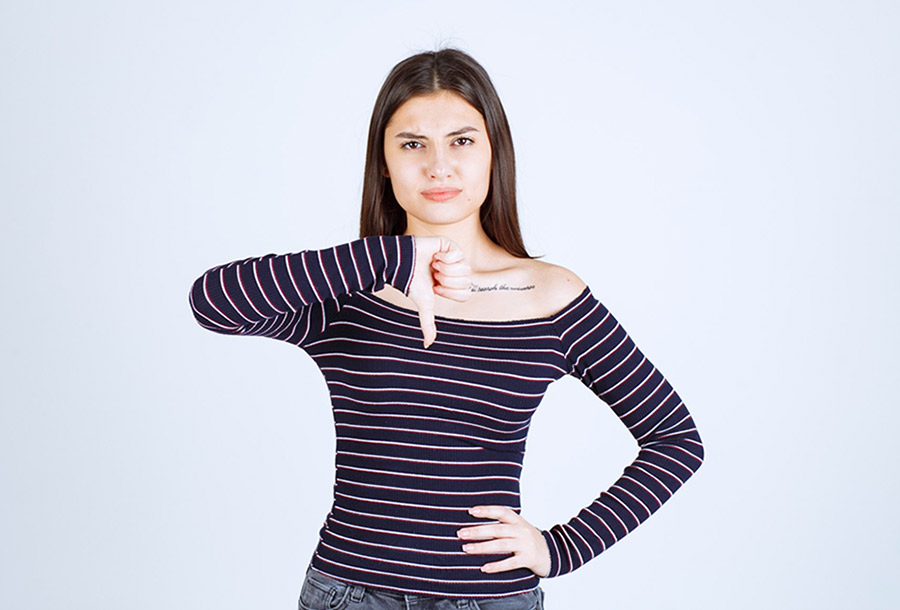 The focus on Graphically appears to be on turnaround time. While they do get your assets back to you quickly, the quality of results isn't necessarily on par with other companies. Many of the designs in their portfolio look templated and relatively basic. What's more, you can't get custom illustrations or anything drawn from them according to their site. It looks like they stick with basic vector designs and stock photos for most of their projects. They can handle simple GIFs but won't be able to work on more complex videos or motion graphics.

There isn't much information about how their platform works either. While you can schedule a demo with them, it would be nice if there was more information available about what you can and cannot do on their portal and if clients are able to store assets, copy completed projects, and include a library of reference materials.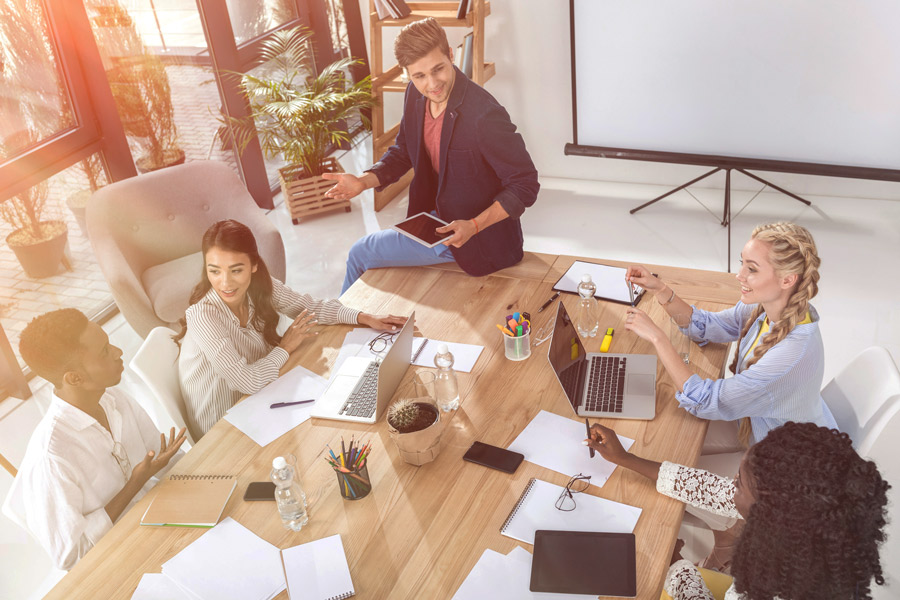 Who's Graphically Best For?
If you're a small business, startup, or individual who needs graphic design assets for your business or online shop, Graphically can be a good choice. They provide the design work you need to focus on other things that demand your attention. They are also budget-friendly for smaller clients that can't afford to go with a premium subscription. If your demand is a bit higher, they have a premium tier that allows you to get multiple assets worked on simultaneously. This makes them an appealing option when you just need basic graphics done quickly and affordably.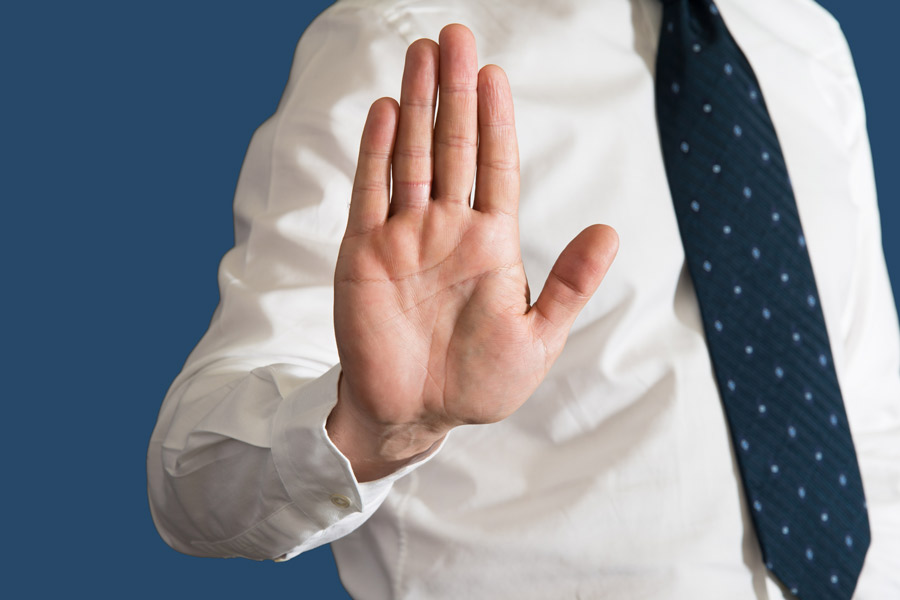 Who is Graphically NOT Right For?
If you're looking for incredibly high-quality graphics and don't want to spend any time on revisions, with artists getting it right on the first try, you may want to consider another provider. They emphasize that revisions are there and to take advantage of them. This likely means that the designers account for revisions and see the first iteration they send you as a rough draft. Which makes the fast turnaround time they're known for seem a bit misleading.

When you need multiple content and visual assets created and need more complex designs, an all-in-one service may be better. With a comprehensive creative services subscription, you'll be able to get the highest quality across several project types, including video, web development and design, and copywriting.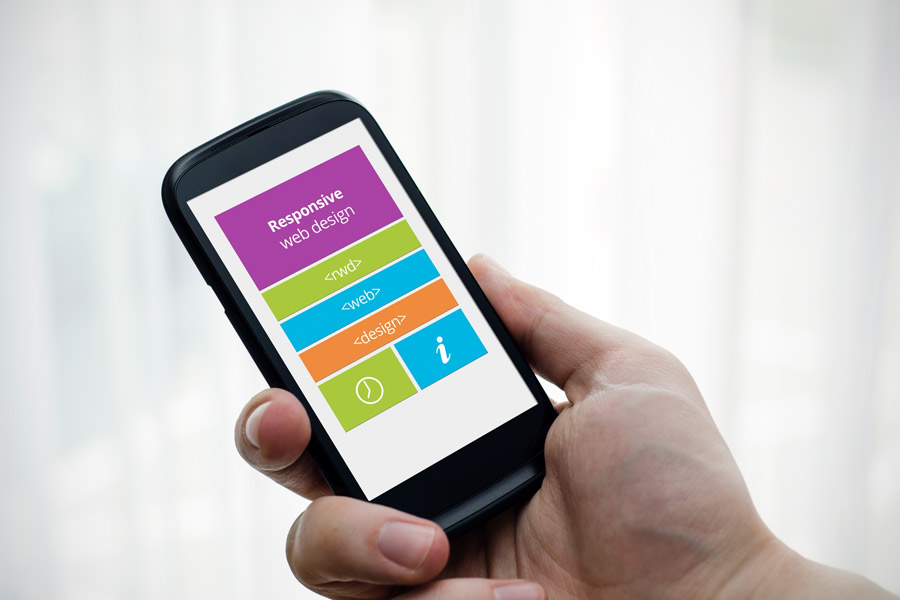 Is Graphically User-Friendly?
From what you can tell on their site, the platform is simple. However, there isn't much of an explanation of how the portal works or how exactly you go about requesting a project. You can request a demo to walk you through the process so that you can see what it'll be like beforehand.
What is the Graphically Process?


Brands
Graphically states that they can and do work with agencies and other graphic designers looking to outsource work. It's unclear if they'll allow you to store several brand guidelines or files in their system or attach them to project requests.

People
When you request a graphics project from Graphically, they'll assign a dedicated designer to the task. The designer will get to know your brand as they continue to work with you.

Projects
Graphically's process is straightforward.
● Submit your request- Their support staff will queue up your request and work on it as soon as you have an active project slot available. You can then focus on other tasks that require your attention, knowing that someone is working on your design.
● Your dedicated designer gets to work- You can check in with them, get an update, or request something you forgot to add to the brief before you hit submit all in real-time on the client dashboard.
● Receive your project request, review, and enjoy- Each Graphically designer dedicated to you handles one ongoing project request at a time. The goal of this setup is to ensure the quality of each project. It also creates an easy model for you to scale and adjust as your needs change.
● Scale as quickly as you want to- Speaking of scaling, if you need three tasks worked on at a time, there's an option to change your subscription. You can scale to three concurrent Graphically design projects without any wait time by signing up for the higher tier plan.
How to Get the Most Out of Graphically
The best way to ensure you're getting your money's worth at Graphically is to keep those requests flowing. Unlimited graphic design services work for those that have an ongoing need for designs that will keep the queue full of projects all month long. That way, you'll be getting designs back regularly and lower your cost per project.

Additionally, because you'll likely need a second and potentially third take on your design, you'll want to budget in enough time to account for those revisions. Graphically wants to get you out the designs quickly, so there may be a little back and forth between you and the designer to get it perfect. Take advantage of those unlimited revisions to be sure you love your final result.
How Much Does Graphically Cost?
Graphically offers two tiers of subscriptions.

Design Pickle also offers unlimited graphic design service plans. You'll find same-day turnaround on the higher tiers, and they can also provide motion graphics and Canva file delivery on the highest package. They are a well-known provider of high-quality graphic designs but don't provide additional creative services, such as copywriting or video. They can also be one of the most expensive options when you're looking to get every service they offer. If you do want a premium subscription, this is a good option if you have the budget. However, if you're looking for premium services and you also need copywriting, video, or web dev, you might be better off going with the service below.

Visit Website

When you need more creative services than just graphic design and video, the perfect one-stop shop to handle everything in your backlog is Flocksy. For a similar price range as Graphically, Flocksy provides a comprehensive array of services, from copywriting to web design to video to voice-overs and web development. And, of course, you'll get unlimited graphic design and video, including motion graphics and custom illustrations (including hand-drawn & digitally painted), for a flat monthly fee. In fact, their top-tier plan covers all of it for significantly less than it would cost to have all those services performed by Graphically.

What's more, they also offer Zapier integration and Loom video messaging, along with a built-in chat feature, to make it so much easier to communicate with your team and get updates. Everything Flocksy creatives make is 100% original and not templated, and you'll get total ownership and all the necessary files. The turnaround times are also fantastic and can be faster than Graphically, with a less than 24-hour turnaround on most projects and videos and motion graphics in 24 to 48 hours.

Visit Website
Frequently Asked Questions
Here are the most frequently asked questions about Graphically.
Since Graphically offers two plans that cover one active project or three, you can expect to receive from one to three simple graphic design projects back in roughly 24 hours, which can equal a project a day, depending on your plan and the overall complexity of your project.
Graphically provides a full 7-day money-back guarantee if you aren't completely satisfied with their service that's risk-free. If you aren't satisfied with their service within the first seven days of signing up, you can cancel your subscription and receive a full refund.
No, there is no contract with Graphically. You can cancel at any time and will not be subject to a contract cancellation fee or something similar.
What is the free graphic editor?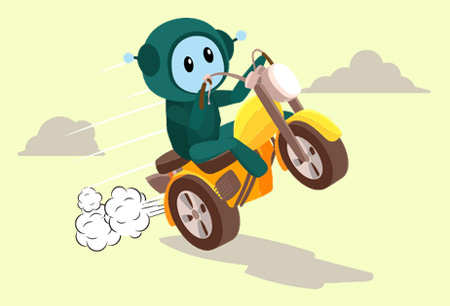 Graphically provides a free editor for performing basic graphic design and editing work within your web browser. The tool can be helpful when you want to make a simple modification to a graphic or if you want to create a reference for your Graphically designer to use while they are working on a project.

When you don't have access to other graphic design software, you can use their editor to create fairly simple designs quickly. You can use it to throw something together based on your rough idea, and then their designers will perfect it and turn it into something that you can use in your branding. They will include source files that you can further edit as needed and put in the work required to make the design look more professional.
As a customer, you get unlimited revisions on all of your projects, but you may want to play around with a design yourself before you submit it for revisions, as it will take the team time to complete your edit. If you just need a quick modification like a crop or different hue, or if you want to see how something might look, the free online graphic editor can allow you to do that without waiting for the team to get back to you. Otherwise, you can submit your design revisions to your designer and wait for them to perform the design process and get your final results back to you.
While working with the designer will potentially produce higher quality designs, the free editor is a useful tool in a pinch or when you only want to get an idea of how something might look.

When you're in the market for quick graphic designs and a service that you can scale to get even more back during that short timeframe, Graphically can be a good choice. They are fast, and they can be a much more affordable option than some of their competitors.

However, their capabilities do appear to be simple, and more complex designs that reach that "premium" level may not be suited to their business model. If you're looking for something on that level, you might be better off going with a more expensive service if you have the budget.

When you do have a fixed amount you can spend, or you're a small business with simple needs, Graphically fits well. For something more comprehensive that includes other creative works you might need, an all-in-one service is a better choice.

For the full host of creative services, including copywriting, video, and web dev, or if your backlog is particularly large with a pressing time frame and a demand for exceptional quality, you should consider going with a different provider, such as Flocksy. They can get results back to you in a similar time frame that are potentially better quality and you can also get videos, custom illustrations, web design and development, and copywriting services.