99designs is a digital graphic design service that assists brands and businesses with getting the high-quality designs they need to market and promote themselves. They use a combination of freelance graphic design projects and crowdsourcing contests, essentially combining design contests with a freelance marketplace.

99designs has a community of more than 250,000 artists with specialties in roughly 90 design categories. As of now, over 444,000 people and businesses have used them to get their logos, website designs, t-shirt designs, and more created quickly.
7 Things I Seriously Love About 99Designs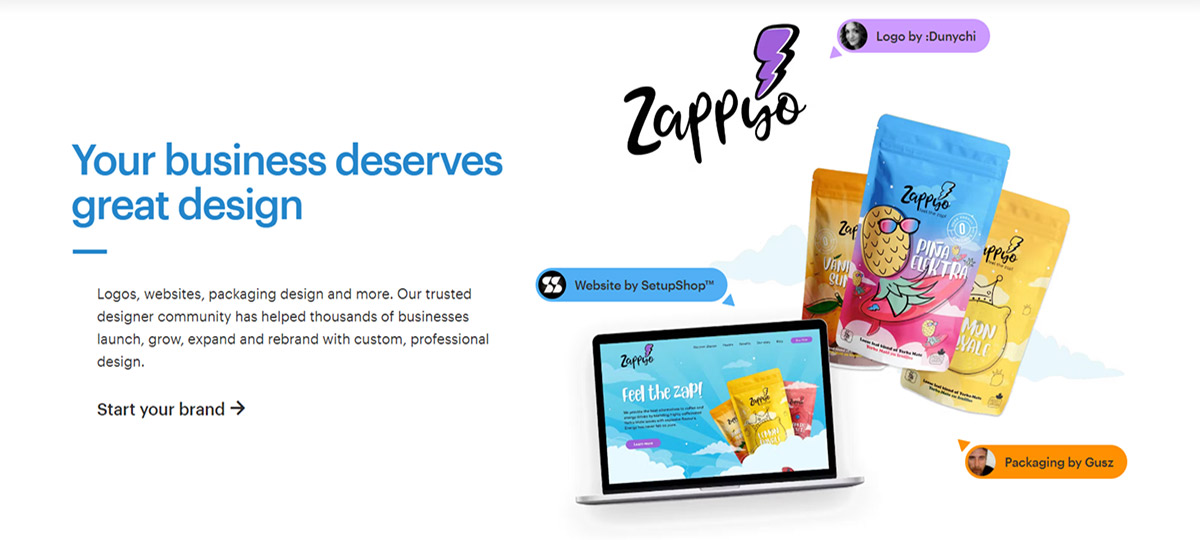 There are some great things about 99designs. Here are my top seven.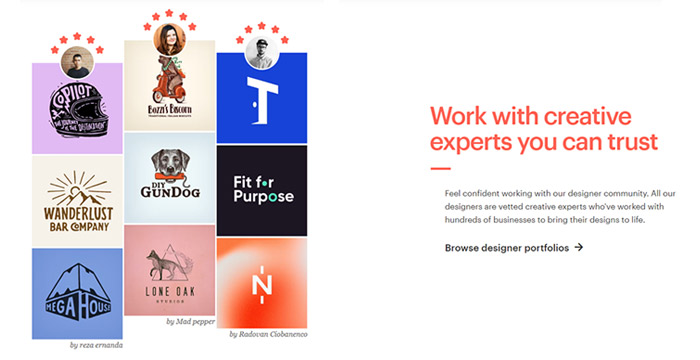 What Does a Contest or 1-on-1 Project Mean?
There are two options for creating a project request on 99designs. You can either start a design contest or find a designer through the direct project options, also called 1-to-1 projects.

When you choose to "hire a designer," you can work one-on-one with a designer for a specific project. You'll check out the selection of 99designs available projects and can get quotes from designers for the work you need. This is similar to working on Freelancer or Upwork. If you have a very specific project style and type in mind, 99designs suggests this type of format.

When you want to see several different styles and submissions, a design contest is a good choice. This competition between graphic designers will provide many options to choose from, and then you'll select the winning design for your project (logo, website, etc). After submitting a design brief and choosing a budget plan on 99designs, designers will start submitting options for you to review.

During the contest, you'll be able to provide feedback that will help designers improve their submissions. At the end of the set time frame, you'll pick a winner. They'll get the predetermined prize amount, and you'll get full ownership of the winning designs. You'll get the files and copyright and can start using the designs however you want.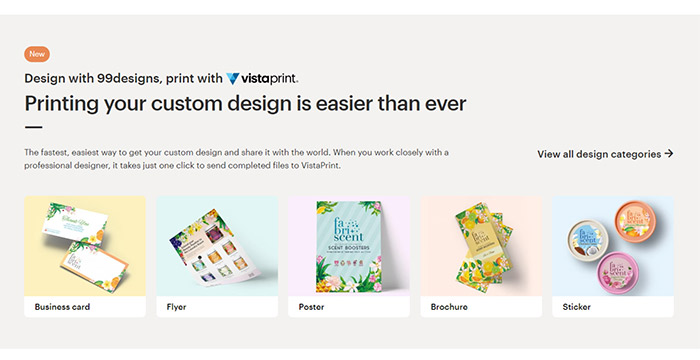 What 99designs Claims to Offer Its Users
99designs promises that starting a project with them is simple and easy to manage. By following their brief, you can provide designers with your project needs and either find a certain freelancer to work with or start a contest. They say it should only take a few minutes and captures your unique style and specification requirements. You can request anything from simple to very complex projects according to their site.

When you're starting a contest, they promise that you'll receive several design submissions on each contest tier where you will choose a single winner and get complete ownership of all the files so that you can start using the image however you want. There is also a 100% money-back guarantee on design contests.

The design contest pricing is indicated on their website in four categories. We'll go into that more below.

When you're working one-on-one with a designer, 99designs will provide you with a space to work within their platform, and you'll be able to communicate with them while they work on your design.

You can look through designers' profiles, portfolios, and ratings to help you pick the right designer for each project. They claim to have a large global community of more than one million graphic designers that you can filter by specialty to find the right person for your job. This includes looking through freelancers based on the design category, industry requirements, the designer's skill level, and language.

The prices for working directly with a freelance designer vary based on the project type, but you can see an estimate within the pricing section on their website. There'll be more on this below.
99Designs Review: Is It Worth the Cost?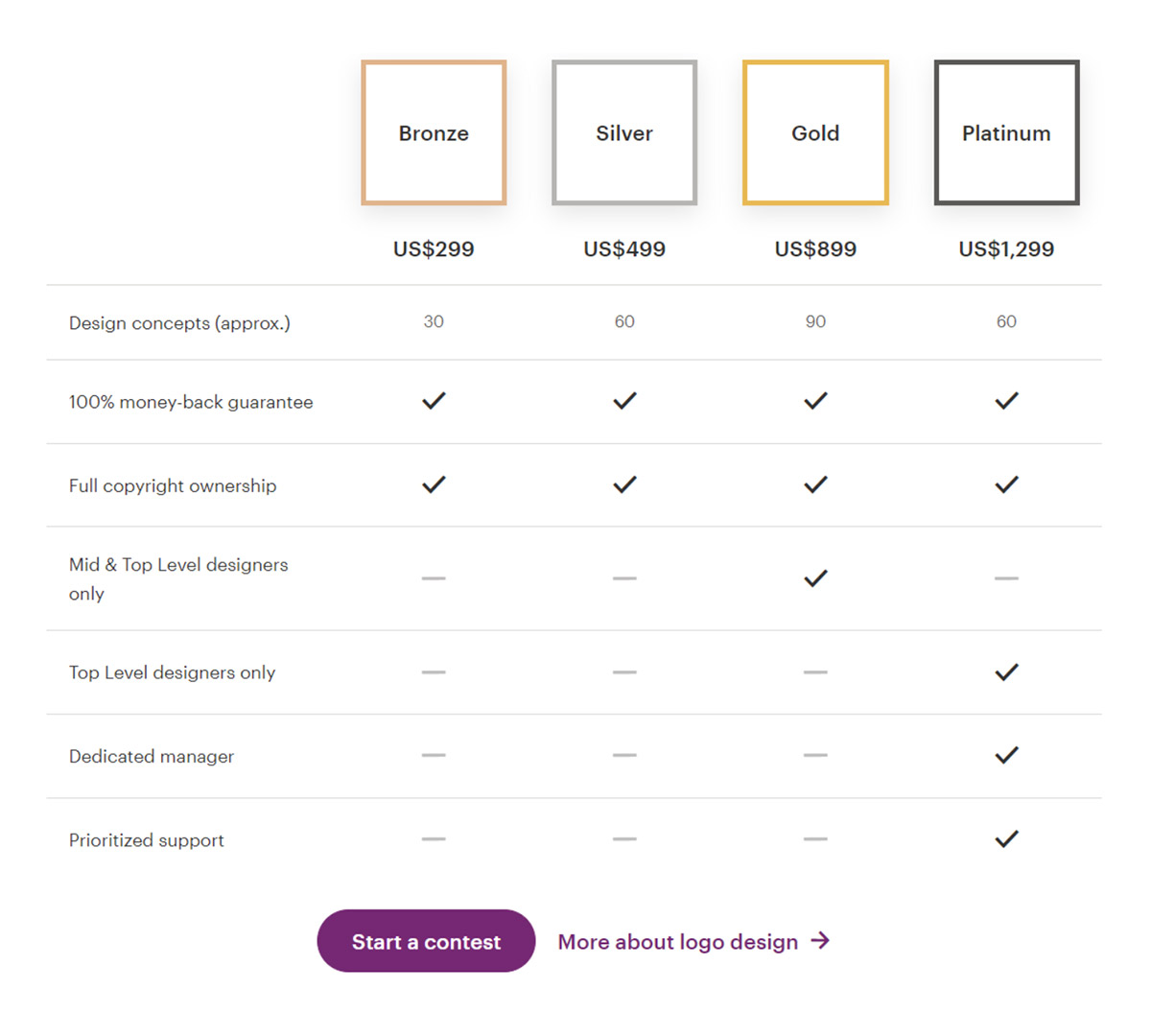 If you have sporadic design needs and want several different takes on a design without having to shop around through several freelancers, 99designs contests can be a good option. You'll receive several submissions so that you can see your project in many styles, which can save you time and money when you want numerous takes. If you're looking for single one-off tasks, the 1-on-1 Project option can be a good choice. You'll receive several quotes and be able to choose the specific person you work with based on their qualifications. It makes finding a freelancer faster, and the large community can lead to competitive prices.
However, if you're looking for consistent graphic design work and need someone to be regularly producing content for you, you may be better off going somewhere else. While 99designs does have a team option that allows you to get a project manager and team of designers to produce regular content, the terms aren't stated well, and it looks to be far more expensive than other services.
An unlimited creative subscription that can manage all your project needs would be a better fit. When you're only looking for graphic design, there are several monthly subscriptions that can help you, but even better is the service that can provide you with all your designs, copywriting, video, web design and development, and more. Flocksy is a good example of this.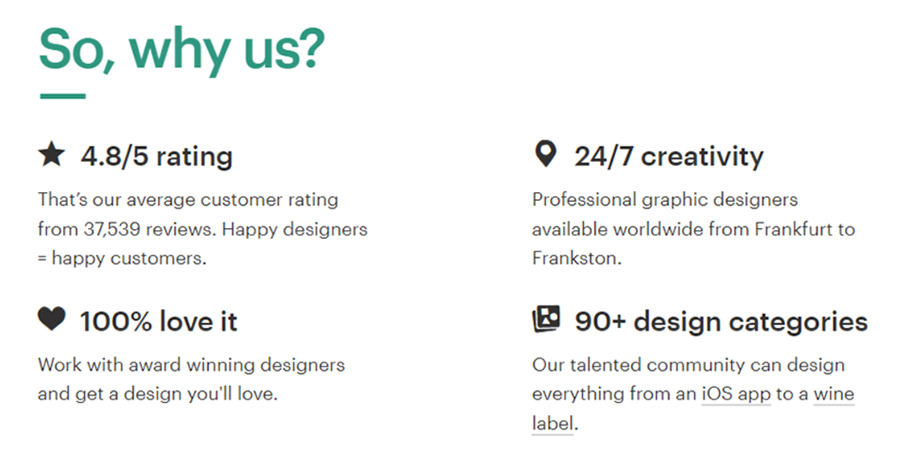 A contest provides a lot of great benefits when you want to see several takes on your design, and using 99designs to find a freelancer for a one-off project can be faster and less expensive than trying to find one on your own. Here is a brief rundown of what you'll get with 99designs.
With all your projects on 99Designs, you'll receive: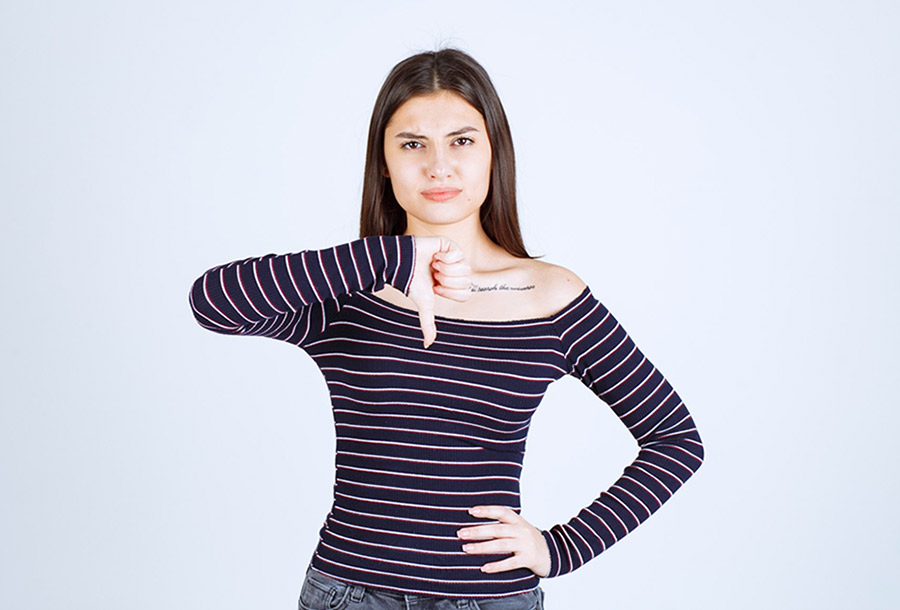 While 99designs can be less expensive than big-name designers or going with an agency, it is still expensive. If you want to work with their top-tier designers, you'll have to choose their more expensive packages: Gold and Platinum. What's more, because the crowdsourcing model creates losers, you may see higher prices from freelancers and more basic concepts during a contest because the artist doesn't want to do too much work "for free."
There are price minimums for each design category when you're setting your budget. The minimums aren't too expensive, but it isn't a true "set your own price" system.
The information displayed in the artists' profiles still leaves something to be desired. You can't speak with their previous employers or take a deeper look into their education and experience. 99designs vets its designers through an internal system of quality assurance, but what they judge as acceptable may not meet your standards.
Unless you show your art around before you start using it, you may not know if the person you've chosen actually has the quality level your industry is looking for. What you like might not match up with what your customers enjoy or expect to see. Hiring someone based on a small portfolio isn't the same as hiring someone based on their education and training.
While it can be faster to use 99designs than to hire an in-house artist or freelance designer, it still takes time. You'll need to wait for the contest to finish out, and if you're using the direct work model, you'll need to allow the designer time to complete your project. This can be slower than working with an unlimited model that can usually turn designs around in 24 to 48 hours.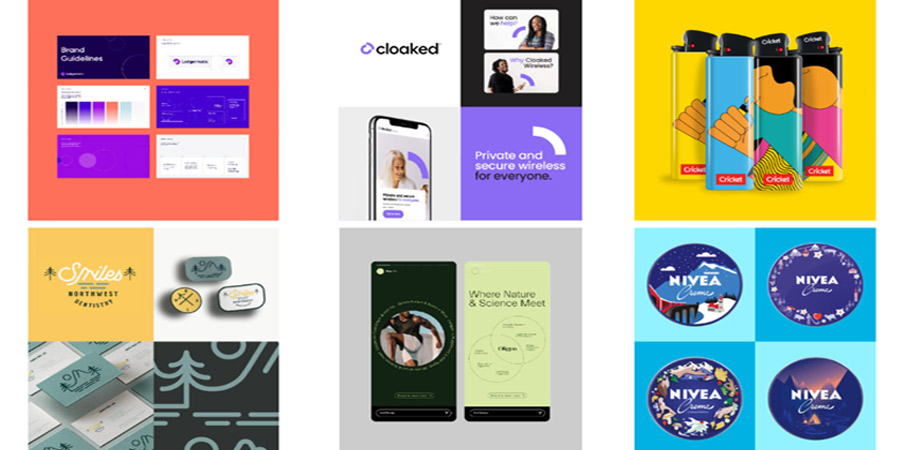 Who's 99Designs Best For?
99designs is best for people looking for help with one-time graphic design projects that they can take a little bit of time with. Because you can work with the same artist repeatedly, it may look like a good option for continuous work, but the prices aren't guaranteed. You could be paying very different amounts for seemingly similar projects because, ultimately, the freelancer provides you with a quote or accepts a job they think is worth the offered amount.

If you need logos, startup graphics, and the like, 99designs can be a good way to see several options, which you might not be able to do otherwise, and if you can't afford an in-house designer, you can still get good work.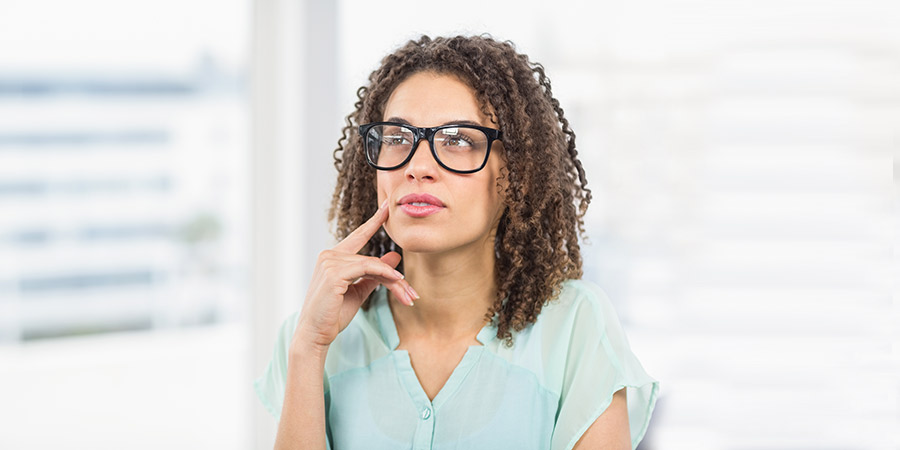 Who is 99Designs NOT Right For?
If you're looking for consistent work on your graphic design projects, help with video, copywriting, and similar work, or you want your projects done faster, you will likely be better suited to working with an unlimited subscription model or hiring a permanent designer.

If you can't afford to hire a graphic designer, the unlimited model will likely suit you a lot better because you'll be paying the same flat monthly rate for an unlimited number of projects instead of needing to pay for each project separately.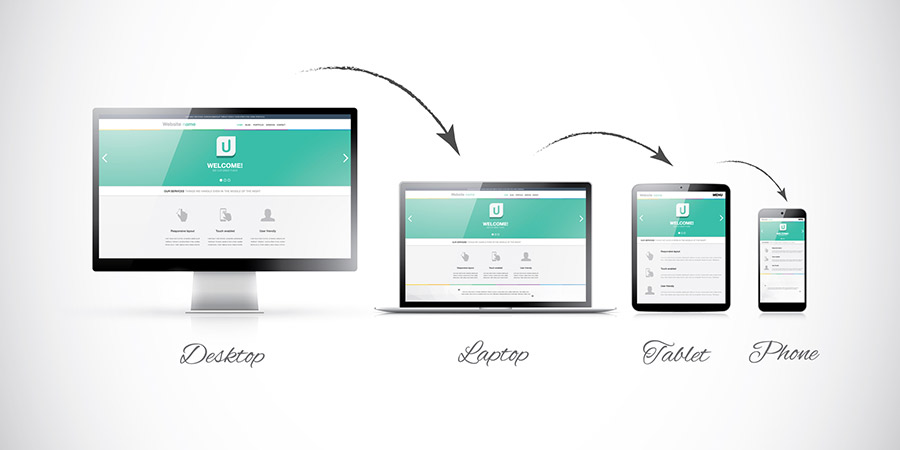 Is 99Designs User-Friendly?
From what is detailed on the site, the platform for communicating with your designer looks pretty straightforward. Although, there isn't much information available about it prior to signing up.

The design brief process is very simple, and it walks you through each step of the request process with helpful prompts and places to upload references and essential files.
What is the 99Designs Process?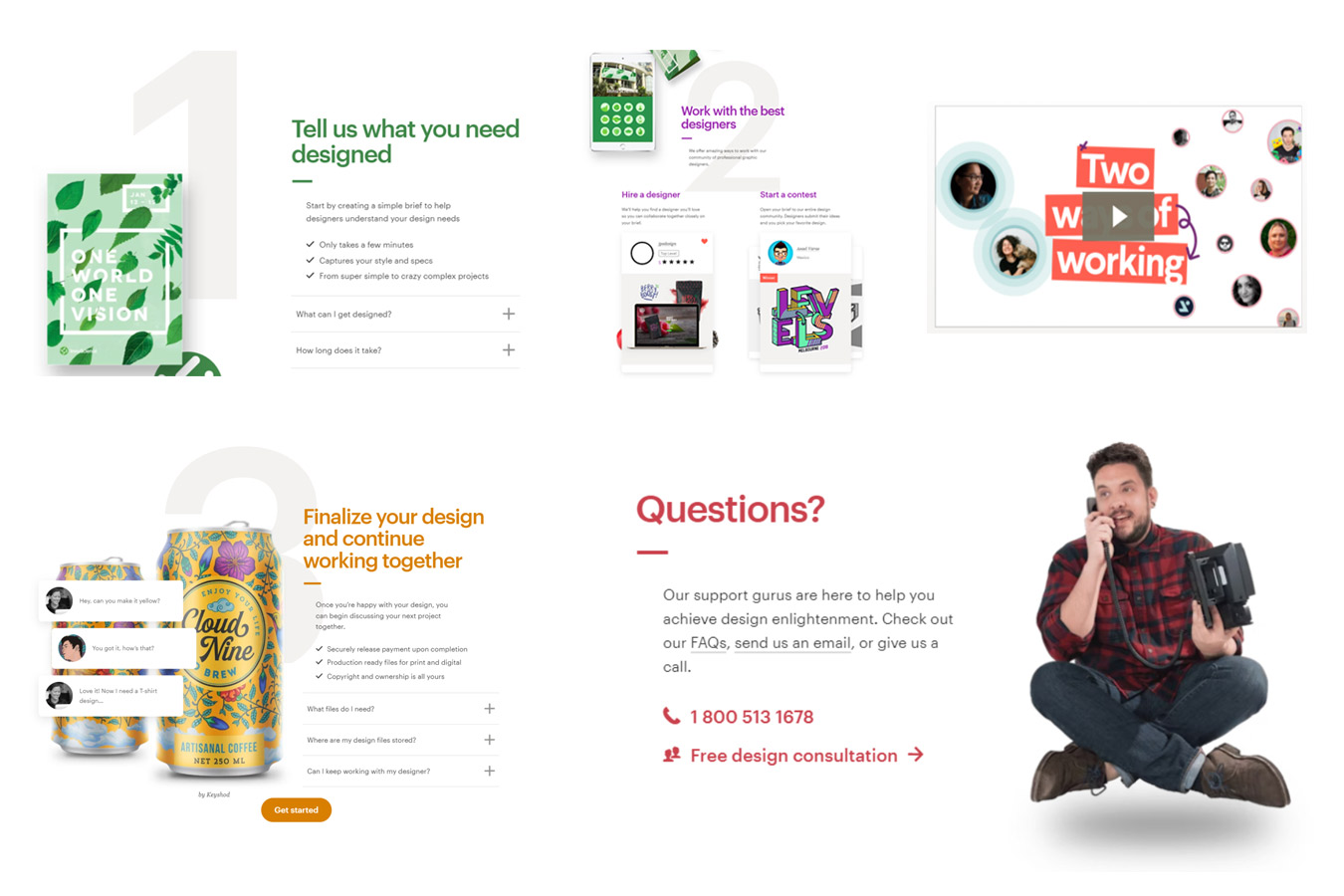 Working with 99designs seems to follow a relatively simple process that begins with the project brief and the way you want to work with their freelancers, either directly or through the contest process.

Brands
There isn't a limit to the number of brands that you can request since both the direct freelancer and contest options don't use an ongoing structure. They're individual projects.

People
99designs states that they have a dedicated quality team that ranks their freelancers as Entry, Mid and Top Level based on their skills. To participate on 99designs, a designer needs to have their application approved and then they can join the community. The site states that its Designer Curation team reviews each application to determine the applicant's quality. If accepted, the team assigns them to Entry, Mid or Top Level based on their level of professionalism and current skills.

Projects
99designs' process is straightforward and breaks down as follows:

● Describe what you need to be designed- You'll begin with them by filling out the simple project brief to help designers understand what you need and like. Filling out the brief should only take a few minutes. The brief will include sections to detail your style preferences and specifications.

● Determine how you want to work with their designers- Now you'll choose if you want to work with the community through direct work or through a contest.
○ Hire a designer- 99designs helps you find a designer to collaborate with on your next design project.

■ The designers have project experience in over 90 skill sets.

■ You can review their portfolios and request quotes to find the right person.

■ You choose to invite a designer you found through browsing or wait to receive quotes on a posted project request.
○ Start a contest- You can work with their design community, where the designers submit their options, and you choose the winning design.

■ You get creative concepts from several designers

■ Then, you choose a single design to own and use

■ These contests have a 100% money-back guarantee (explained more below)

● Finalize your design- Once you're happy with your design, you can approve it if you're working one-on-one, or you can award a winner in your contest. You'll also have the designer's information, so if you want to work with them again, you can.
○ 99designs will use its secure payment process to release the funds
○ You'll receive all the necessary files for print and digital use
○ The copyright and ownership will be 100% yours
How to Get the Most Out of 99Designs
Here are some tips on using 99design's service to the fullest.
● Write a detailed design brief- Designers throughout the project will turn to your brief for instruction. By making it as detailed and informative as possible, you'll help them see your vision that much clearer. You'll see better results when they understand your needs and what you do and don't like.
● Create a personal profile- Just like you're looking through a designer portfolio and profile, the designers will look at yours. They want to be sure that you'll uphold your end of the client-artist relationship. By having a professional profile, you'll reflect your trustworthiness and reliability.
● Guarantee your contest- While it does render the money-back option null and void, guaranteeing a project will attract better designers because they don't want to work hard on a design only for no winner to be selected.
● Use a blind contest- A blind contest means that the other artists can't see the submissions. This can be useful when you want to keep the entries as varied and original as possible. 
● Offer consistent feedback- Feedback and revisions are incredibly important. Your artists can't get inside your head as much as you'd like them to be able to just "know" what you want. By letting them know what you love and what you don't, and why, you'll ensure you get your desired results. During the Qualifying Round, it's a good idea to visit the submission regularly and offer guidance. 
● Get outside opinions- Ask colleagues and potential consumers to participate in a poll. Use their feedback and thoughts to gain insight into the design and how it can be improved or tweaked.
How Much Does 99Designs Cost?
99designs pricing is different depending on the type of design project you need to be worked on and whether you choose the contest or direct work option.
For one of their most common projects, logos, pricing starts at $299 and goes up to $1,299. Higher-priced packages offer more concepts and higher-rated designers. For another popular example, web page design starts at $599. Another important thing to note is that the video production and photography categories, which start at $499 and $299, respectively, require you to be in the United States. They will provide a local pro who comes out to the site to perform the recording, so contests are not applicable for these options.
You can also hire designers for 1-to-1 projects that have very varied pricing. There are over 90 design skill sets that each have their own price ranges, and they do become more expensive when you work with higher-ranked individuals and when the project is more complex.  Every 1-to-1 project is unique, and the freelancer will determine the pricing quote based on your project request. When you're inviting a designer to work on a project for you, while you can set the budget, if it's too low, it may not be accepted by the designer. And as stated above, there are minimum prices.
As a client, you'll also pay a flat 5% platform fee, which is designed to account for payment processing, marketplace protection, and customer support.

DesignCrowd is a graphic design crowdsourcing service that serves small to large businesses. The platform brings together freelance designers and artists from across the world with companies and brands in need of logo designs, illustrations, web design, business cards, merchandise designs, and more. There are numerous types of design contests you can start on the platform, and they also offer tiered pricing that adjusts the number of submissions you receive.

Visit Website

When you need more creative services than just graphic design and video, Flocksy can handle everything in your creative content backlog. For a better pricing structure than 99designs, Flocksy provides a comprehensive array of services, from web design to video to copywriting, to voice-overs to web development, for a flat monthly rate. And, of course, you'll get unlimited graphic design, including motion graphics and custom illustrations (both hand-drawn & digitally painted). In fact, their top-tier plan covers all of it for significantly less than it would cost to start individual projects for all those requests through 99designs, and you can't get copywriting through them.

What's more, they also offer Zapier integration and Loom video messaging, along with a built-in Message Center, which makes it so much easier to chat with your team and get updates. Everything Flocksy creatives design or create for you is 100% original, and you'll get complete ownership of all the necessary files. The turnaround times are fantastic and can be much faster than 99designs, with a less than 24-hour turnaround on several simple projects and videos and motion graphics in 24 to 48 hours.

Visit Website
Frequently Asked Questions
Here are the most frequently asked questions about 99designs.
Yes, 99designs is a legitimate business. They offer crowdsourced graphic design for logos, websites, and more. They were founded in 2008 in Melbourne, Australia, and have a US office in Oakland, California.
99designs offers a 100% money-back guarantee during the first 60 days of payment on all contests except-
Contests with a guaranteed prize
Contests within the final round because the final round initiates a guaranteed contest update.
When you have awarded a winner.

Additionally, the 99designs 100% money-back guarantee policy will only apply to design contests that meet these criteria. It does not apply to 1-to-1 Projects.
No, the services on 99designs are not under a contract term. They are one-off services.
When you're looking for a more premium version of the design contest, 99designs can be a good option. You'll get the several submissions you want in a contest, and it can be more than you'd get with some other companies. However, they can only perform some types of creative content, limited to graphic design and some videos. If you're looking for web development or copywriting, you'll need to go elsewhere.

If you do need those comprehensive services or if your backlog is especially large and has a pressing deadline, you should consider going with an all-in-one provider where you'll pay a flat monthly rate for a host of services, such as Flocksy.