Hoping to offer high-quality design at a lower price than the competition, 48 Hours Logo launched in 2010. They have had over three million unique logos created since then They understand that great design can be very expensive and most of us have tight budgets, so, to offer great quality at a low price, they did something different. Instead of charging a fixed fee for a logo or design, they've adopted a crowdsourcing model.
48 Hours Logo offers logo design and brand identity contests which allow clients to choose a winning design. Crowdsourced design competitions offer clients access to material from many designers at a competitive cost. The company is geared towards small to medium sized businesses and does its best to offer the logo design and branding services on an affordable and budget-friendly basis.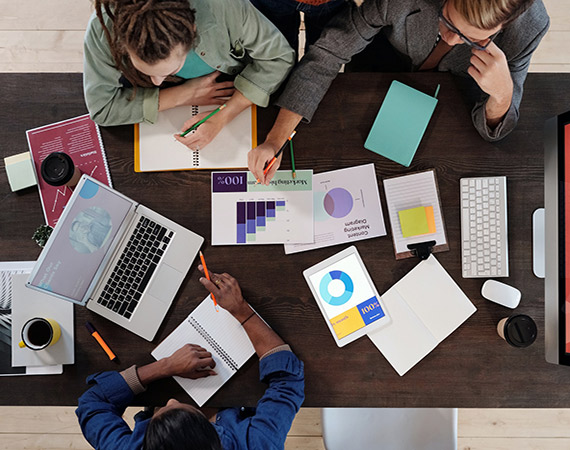 Offerings
48 Hours Logo is an option for those who want affordable logos and branding materials from multiple sources without the hassle of consulting multiple agencies. Unlike some companies, 48 Hours Logo does not restrict your contest options by contracts and offers refunds if clients don't get enough submissions from designers.

Another plus, the company has hundreds of active designers, including brand identity and logo design experts for a variety of industries (each with a portfolio to showcase their work and rankings). These designs can be used for social media sites, logos for merchandise, or for promotional materials such as posters and brochures.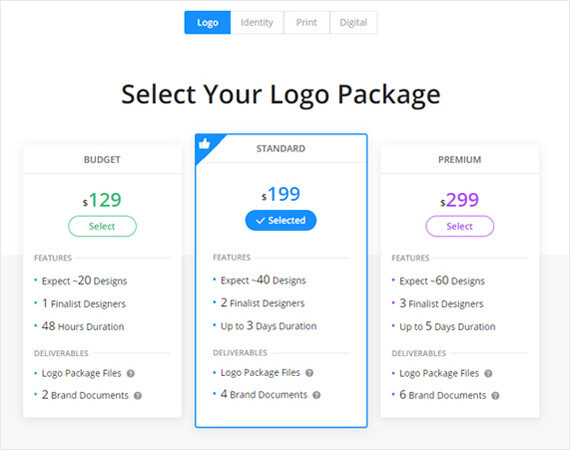 Cost
48 Hours Logo offers three different packages: logo design, brand identity design, and the combined logo and brand identity design. With each package, revisions are available until the client is satisfied.

The logo design package come at two price points: standard and gold prize package, which attracts the highest skilled designers but comes at a price of $198. With pricing starting at $129 per package, their products are geared towards those of us who simply don't have alot of money to spend.
48HoursLogo PROS
Their logo design contests cover the full gamut of the logo design process and are designed to help business owners find the perfect logo design.
The contests will be judged by the client, presumably on best use of color, emotion, functionality, hierarchy, simplicity, and consistent design among other elements; and clients are able to use the designs in their marketing materials, web site, store fronts, and more.
Affordable pricing options and fast turnaround time provides an easy way to get into the world of logo design for those who are not designers.
To avoid the headache of searching for designers, 48 Hours Logo offers a platform for designers to showcase their talent. Many of the designers participating have portfolios that can be viewed on their website.
Each designer contributes a logo design within a 48hours turnaround, giving clients a realistic idea of when to expect the final product.
While this leaves a lot to be desired in comparison to a traditional logo design process, the results can be satisfying and are more professional than one would expect thanks to the competitive businesses model they've adopted.
48HoursLogo CONS

On the negative side 48 Hours Logo does not get great customer satisfaction reviews. People have voiced frustration and not all have been happy with the service.

Ultimately, If you are looking for a cheap alternative to a costly logo design process, 48 Hours Logo is an option to consider but you may or may not be happy with the results.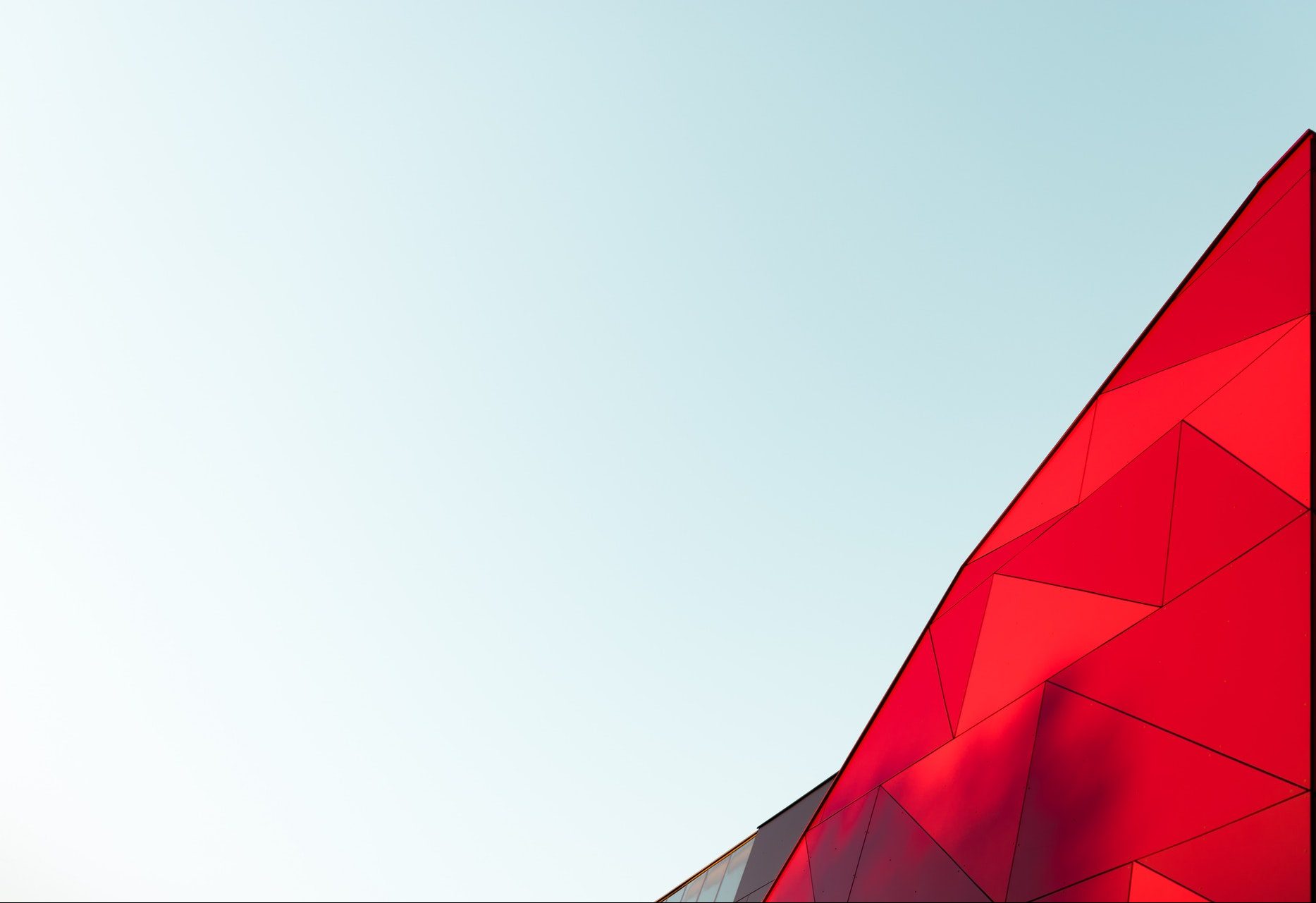 Some tips to help you determine if the contest model might be right for you:
---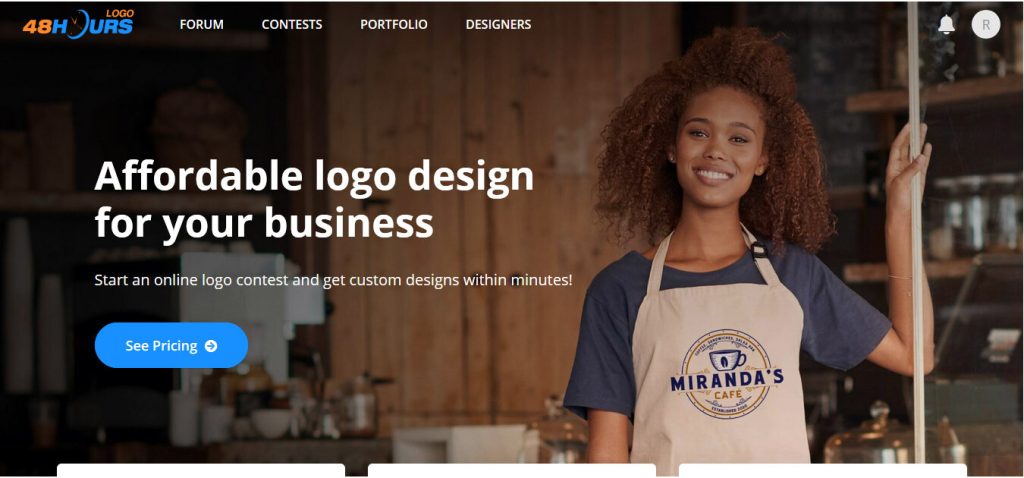 Consider design elements you might like to emphasize (or downplay) within your logo. Some businesses might consider them too important to sacrifice.

Select a specific amount of time for the submission process (48 hours here). This might be enough time to do your own research, get in touch with a few design agencies, and use the contest to gauge the potential quality of the proposed designs.
Articles
The 48 Hours Logo website also offers a few great articles about design, including some great bits on creating a brand.